Gov. Hochul says New Yorkers should have 'confidence' money is secure after Signature Bank fails
NEW YORK - Signature Bank branches opened Monday as Gov. Kathy Hochul assured New Yorkers that their deposits at the bank were secure. 
Hochul urged customers to stay calm at a Monday morning press conference. 
"We want to make sure that there's not a ripple effect, because of people getting anxious, start withdrawing. Then it creates instability," Governor Hochul warned. 
The State Department of Financial Services took possession of Signature Bank on Sunday night, after regulators said keeping it open could threaten the stability of the entire financial system.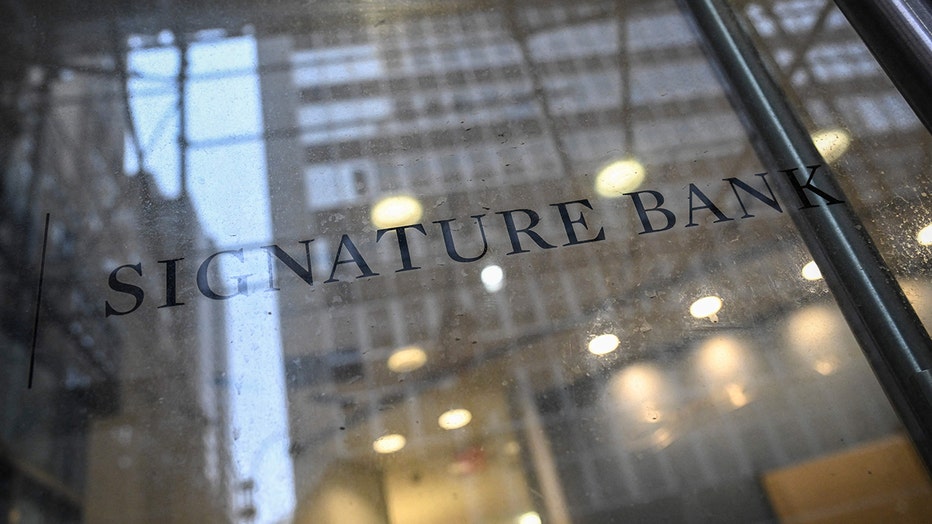 A general view shows a branch of Signature Bank in New York city on March 13, 2023. (Photo by ED JONES/AFP via Getty Images)
It is now considered the third largest bank failure in U.S. history. 
But Hochul promised that deposits were  protected – even those whose holdings exceed the $250,000 insurance limit. 
"This is an unusual circumstance, but the main message I want to deliver is that New Yorkers should have confidence that their money is secure, and wherever they've chosen to bank, that is protected," Hochul continued.
Financial experts said that after Silicon Valley Bank collapsed, people rushed to withdraw their money from Signature Bank, causing instability in the financial market. 
RELATED: US government says all Silicon Valley Bank clients will have access to funds
That is when state regulators stepped in and the Federal Deposit Insurance Corporation (FDIC) took over its assets worth more than $110 billion. 
"A number of banks were under everyone's watchful eye," Department of Financial Services superintendent Adrienne Harris said, adding, "So Signature, because of the amount of outflows we saw on Friday, we knew we were going to have to take action over the weekend so that they could open on Monday."
Almost one-quarter of Signature Bank's deposits came from the cryptocurrency market. It also banked a variety of small businesses including vendors at the Hunts Point Produce Market and is one of the city's biggest multifamily mortgage lenders.
Some of Signature Bank's customers told Fox 5 that they are sticking with the bank for now. 
"Everything is going on as normal," said one customer. "They've transferred money. The money is there and was insured. Business as usual."
"Am I nervous? No, it's backed. It's secure," said another customer leaving the Signature Bank branch in Murray Hill. "The government's doing the right thing. So all of it's good, and I left a ton of money in the bank."
According to Hochul, this is not a taxpayer funded bailout like in 2008. Rather, the money for the deposits come from the fees that banks pay into the deposit insurance fund. 
As far as Signature Bank goes, existing management has been fired and federal regulators will be soon searching for a new owner.