Google is adding AI to search engines: Here's how it will work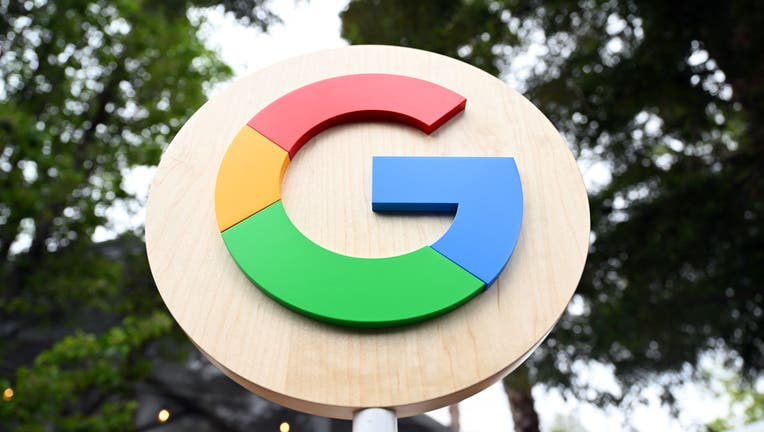 article
The go-to internet search engine of the past 20 years is changing in a big way: Google is transforming its classic search engine bar into an "AI-powered snapshot that quickly gives you the lay of the land."
Google executives made the announcement Wednesday at the company's annual Google I/O event.
"We are at an exciting inflection point," Alphabet CEO Sundar Pichai told a packed conference. "We are reimagining all our products, including search."
Cathy Edwards, Google's vice president of engineering, gave the following example of how the new AI search engine will work:
READ MORE: Google launches no-password log in feature
If you type "good bike for a 5 mile commute with hills" in the search bar, the integrated results page will first show important considerations – like which designs are better for gravel, roads, etc. and what kind of suspension you'll need.
From there, the user can ask a follow-up question or select a "suggested next step."
Selecting a follow-up question or a suggested next step will bring you to "conversational mode" for even more interaction with the chatbot. Edwards said regular search results will also appear on the pages.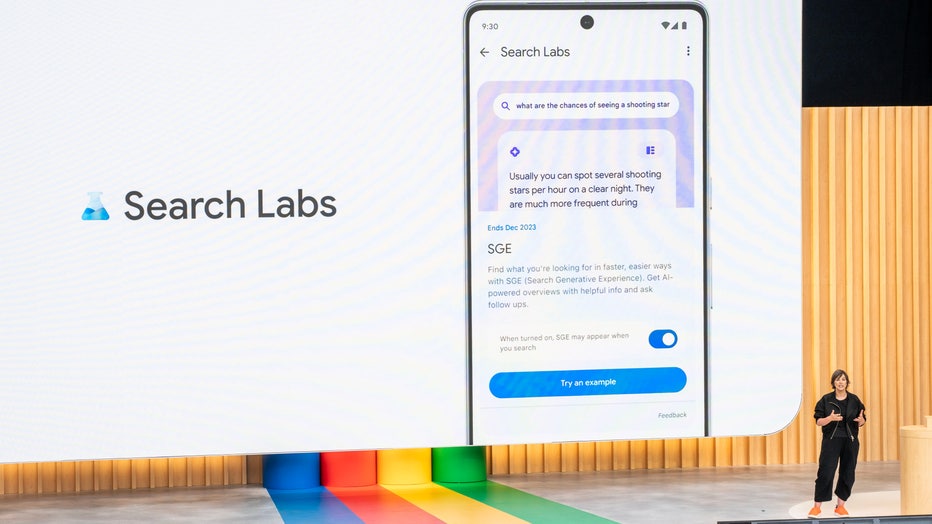 Cathy Edwards at the Google I/O annual developer conference at the Shoreline Amphitheater in Mountain View, California on Wednesday May 10, 2023. (Melina Mara/The Washington Post via Getty Images)
Google isn't predicting how long it will be before its search engine will include generative AI results for all comers. People in the U.S. can join a waitlist to test how generative AI will be incorporated into the search lab. It may take several weeks before Google starts sending invitations to those accepted from the waitlist to test the AI-injected search engine.
READ MORE: Spotify removes AI-generated songs from platform
The Mountain View, California, company has been under intensifying pressure to demonstrate how its search engine will maintain its leadership since Microsoft began to load AI into Bing, which remains a distant second to Google.
The New York Times reported Samsung is considering dropping Google as the default search engine on its widely used smartphones, raising the specter that Apple might adopt a similar tactic with the iPhone unless Google can show its search engine can evolve with what appears to be a forthcoming AI-driven revolution.
Both Google and Microsoft are tapping into technology similar to that which powers the artificially intelligent chatbot ChatGPT, which has created one of Silicon Valley's biggest buzzes since Apple released the first iPhone 16 years ago.
READ MORE: Heard of ChatGPT? Google just unveiled Bard, a rival to the popular AI chatbot
Google, which is owned by Alphabet Inc., already has been testing its own conversational chatbot called Bard. That product, powered by technology called generative AI that also fuels ChatGPT, has only been available to people accepted from a waitlist. But Google announced Wednesday that Bard will be available to all comers in more than 180 countries and more languages beyond English.
What else is new with Google AI?
Although people will have to wait to see how Google's search engine will deploy generative AI to find answers, a new tool will soon be more broadly available to all users. Google is going to add a new filter called "Perspectives" that will focus on what people are saying online about whatever topic is entered into the search engine. The new feature will be placed along existing search filters for news, images and video.
More AI technology will be coming to Google's Gmail with a "Help Me Write" option that will produce lengthy replies to emails in seconds, and a tool for photos called "Magic Editor" that will automatically doctor pictures.
Besides using its annual tech showcase to tout its prowess in AI, Google also unveiled the first foldable smartphone in its Pixel line-up of gadgets. Google's entry into a new type of smartphone design that allows users to deploy the device as a mini-tablet too comes nearly three years after Samsung — the leading maker of smartphones powered by Google's Android software — introduced its first bendable model.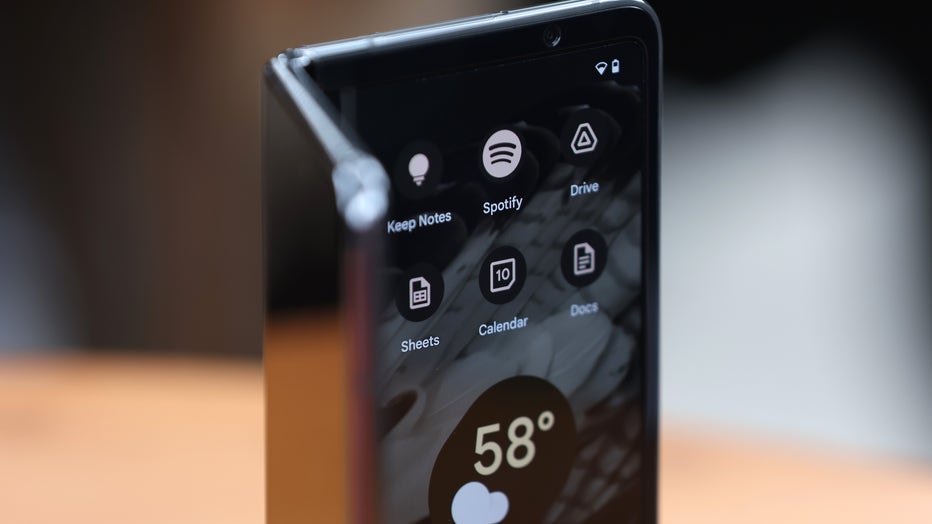 The new Google Pixel Foldable phone is displayed during the Google I/O developers conference at Shoreline Amphitheatre on May 10, 2023 in Mountain View, California. (Photo by Justin Sullivan/Getty Images)
Foldable phones so far have remained a niche market, largely because of prices ranging between $1,500 and $2,000. Last year, about 14 million foldable phones were sold worldwide, accounting for just 1% of overall smartphone shipments, according to the research firm International Data Corp.
Google's foldable Pixel phone will sell for $1,800 and begin shipping next month. It will unfold with a hinge and, of course, be packed with AI.
The Associated Press contributed to this report.