George Santos bobbleheads play audio clips of alleged lies in his own words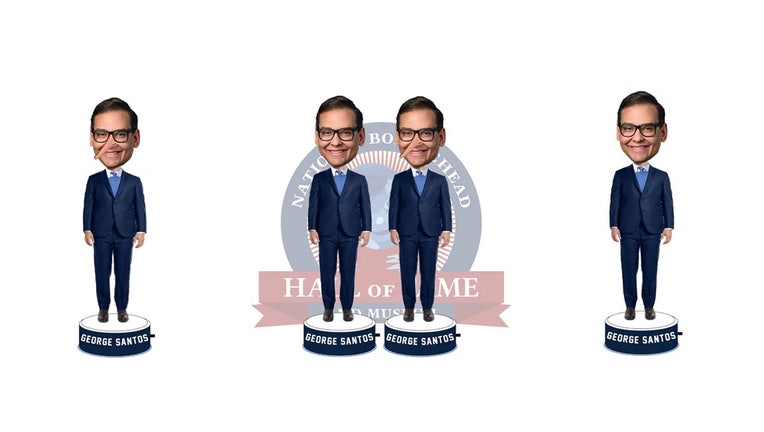 article
NEW YORK - George Santos is being featured on bobbleheads... one with a Pinocchio-style nose.
The National Bobblehead Hall of Fame and Museum is unveiling George Santos bobbleheads.
The organization claims it received a number of requests for a Santos bobblehead.
There are two versions of the bobblehead – a standard version and one with an elongated nose, which will play audio clips of Santos' alleged lies in his own words at the touch of a button.
The special edition bobbleheads are expected to be shipped in May.  They cost $30 each, or $55 for a set of the two styles.
The museum says that five dollars from each purchase will be donated to dog-related GoFundMe campaigns after Navy veteran Rich Osthoff, of New Jersey, claimed Santos raised $3,000 for lifesaving surgery for his beloved service dog and kept the cash.
Related:  Rep. George Santo says 'I've lived an honest life'
Osthoff revealed Santos, then introduced as Anthony Devolder, launched a GoFundMe campaign in 2016 to raise $3,000 for lifesaving surgery for Osthoff's beloved service dog and kept the money.
Santos, the recently elected Republican congressman from New York, has been caught in a number of alleged lies and deceptions about his resume, family heritage and personal life. He is currently under investigation by multiple organizations. 
In a newly resurfaced interview on a Brazilian podcast, Santos claimed he was the target of an assassination attempt. He also said he was mugged on Fifth Avenue in the summer of 2021.
The source of Santos' income is still under scrutiny. On Tuesday, amended campaign finance reports with the FEC show hundreds of thousands of dollars previously marked as personal loans were no longer from personal funds of the candidate as Santos once claimed.
The National Bobblehead Hall of Fame and Museum is located at 170 S. 1st St. in Milwaukee, Wisconsin.