Gaza crossing opens for foreign passport holders, wounded as Israeli strikes pound refugee camp
RAFAH, Gaza Strip - Hundreds of dual passport holders and dozens of seriously injured Palestinians were allowed to leave Gaza on Wednesday after more than three weeks of siege, while Israeli airstrikes destroyed apartments in a densely populated area for the second straight day.
The group were the first people to leave Gaza -- other than four hostages released by Hamas and another rescued by Israeli forces -- even as bombings have driven hundreds of thousands from their homes, and food, water and fuel run low. It remained unclear whether more people would be allowed to leave Gaza in coming days.
Al-Jazeera television, one of the few media outlets still reporting from northern Gaza, aired footage of leveled apartments in the densely populated Jabaliya refugee camp near Gaza City, and of several wounded people, including children, being brought to a nearby hospital. The Hamas-run government said airstrikes killed and wounded many people, but the exact toll was not yet known.
The Al-Jazeera footage showed nearly identical scenes as the day before; dozens of men dug through the gray rubble of demolished multistory buildings in search of survivors.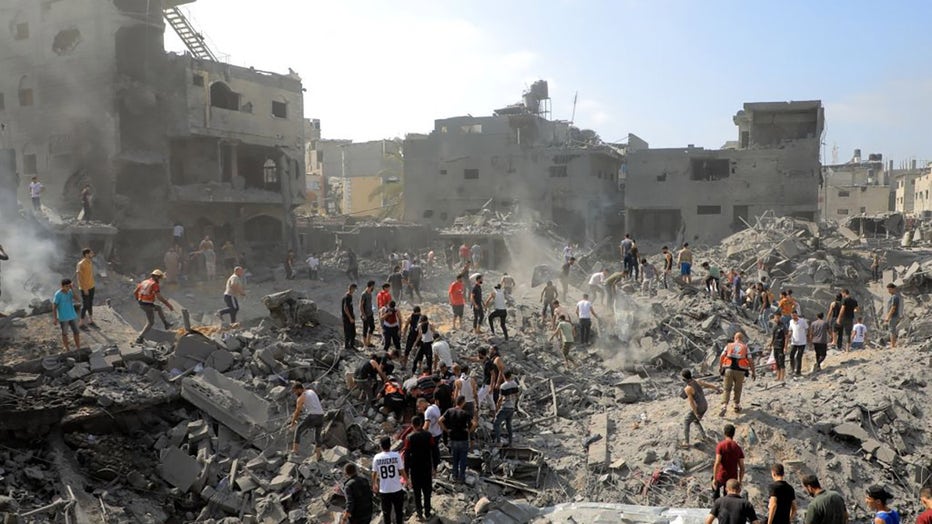 Palestinians conduct a search and rescue operation after the second bombardment of the Israeli army in the last 24 hours at Jabalia refugee camp in Gaza City, Gaza on November 01, 2023. (Photo by Palestinian Ministry of Interior/Anadolu via Getty Ima
The toll from Tuesday's strikes was also unknown, though the director of a nearby hospital said hundreds were killed or wounded. Israel said those strikes killed dozens of militants, including a senior Hamas commander who was involved in the militants' bloody Oct. 7 rampage that ignited the war, and destroyed militant tunnels beneath the buildings.
In a sign of increasing alarm over the war among Arab countries, Jordan on Wednesday recalled its ambassador from Israel and told Israel's ambassador to remain out of the country. Jordan, a key U.S. ally, signed a peace deal with Israel in 1994, the second Arab country after Egypt to do so.
Jordan's Deputy Prime Minister, Ayman al-Safadi, said the return of the ambassadors is linked to Israel "stopping its war on Gaza … and the humanitarian catastrophe it is causing." He warned of the potential of the conflict to spread, threatening "the security of the entire region."
Israeli army advances deeper into Gaza
Israeli ground forces pushed to the outskirts of Gaza City, days after launching a new phase of the war that Israel's leaders say will be long and difficult. Internet and phone service was cut for several hours Wednesday, a replay of the temporary communications blackout when Israeli ground troops first advanced in large numbers into Gaza over the weekend.
Over half of Gaza's 2.3 million people have fled their homes, and supplies of food, medicine, water and fuel are running low. A territory-wide blackout has left hospitals reliant on generators that could soon be forced to shut down.
The strikes in Jabaliya underline the anticipated surge in casualties on both sides as Israeli troops advance toward the outskirts of Gaza City and its dense residential neighborhoods. Israeli officials say Hamas' military infrastructure, including hundreds of kilometers (miles) of underground tunnels, is concentrated in the city, which was home to some 650,000 people before the war.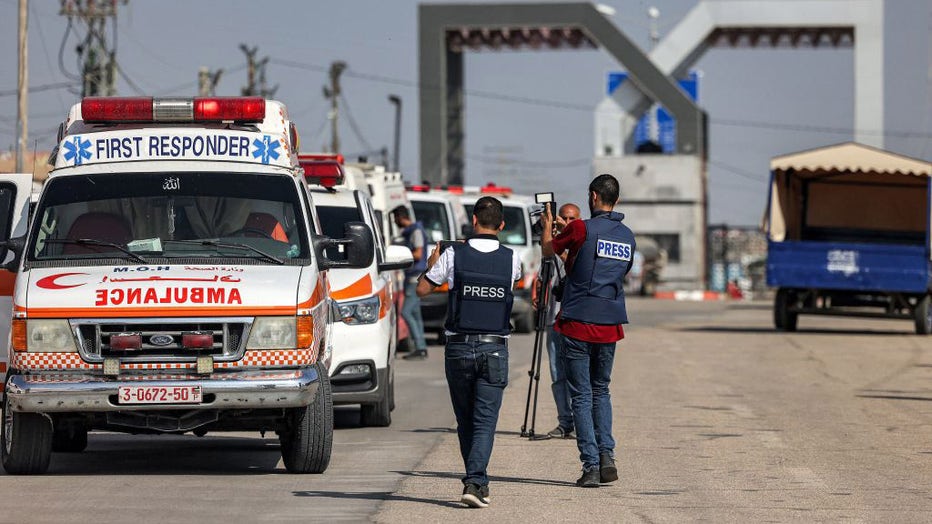 Journalists film as Palestinian health ministry ambulances cross the gate to enter the Rafah border crossing in the southern Gaza Strip before crossing into Egypt on November 1, 2023. (Photo by MOHAMMED ABED/AFP via Getty Images)
Border opens to allow some people out
Six buses carrying 335 foreign passport holders left Gaza through the Rafah crossing into Egypt as of mid-afternoon Wednesday, according to Wael Abu Omar, a spokesman for the Palestinian Crossings Authority.
The authority said the plan was for more than 400 foreign passport holders to leave for Egypt. Egypt has said it will not accept an influx of Palestinian refugees because of fears Israel will not allow them to return to Gaza after the war.
Dozens of people could be seen entering the Rafah crossing — the only one currently operating — and ambulances carrying wounded Palestinians exited on the Egyptian side.
Egypt had earlier said that more than 80 Palestinians — out of many thousands wounded in the war — would also be brought in for treatment. But Dr. Mohamed Zaqout, a Health Ministry official in Gaza, told The Associated Press that 10 of the patients died before they could be evacuated to Egypt. The criteria for medical evacuation were not immediately clear.
Lack of power, communications cause harm
Those who remain behind are contending with multiple crises, made worse Wednesday by the communications blackout. The Palestinian telecoms company Paltel said internet and mobile phone services were gradually being restored in Gaza following a "complete disruption" that lasted several hours.
The International Committee of the Red Cross said such blackouts make it harder for civilians to seek safety. "Even the potentially life-saving act of calling an ambulance becomes impossible," said Jessica Moussan, an ICRC spokesperson.
The Palestinian Health Ministry, meanwhile, said that the Turkish-Palestinian Hospital, Gaza's only facility offering specialized treatment for cancer patients, was forced to shut down because of lack of fuel, leaving 70 cancer patients in a critical situation.
Death toll keeps rising
More than 8,700 Palestinians have been killed in the war, mostly women and minors, and more than 22,000 people have been wounded, the Palestinian Health Ministry said Wednesday, without providing a breakdown between civilians and fighters. The figure is without precedent in decades of Israeli-Palestinian violence.
Over 1,400 people have died on the Israeli side, mainly civilians killed during Hamas' initial attack, also an unprecedented figure. Palestinian militants also abducted around 240 people during their incursion and have continued firing rockets into Israel.
Fifteen Israeli soldiers have been killed in Gaza since the start of the ground operation.
Israel has been vague about its operations in Gaza, but residents and spokesmen for militant groups say troops appear to be trying to take control of the two main north-south roads.
An estimated 800,000 Palestinians have fled south from Gaza City and other northern areas following Israeli orders to evacuate, but hundreds of thousands remain in the north.
Israel has allowed international aid groups to send more than 200 trucks carrying food and medicine to enter from Egypt over the past 10 days, but aid workers say it's not nearly enough.
After war in Gaza, then what?
Israel has vowed to crush Hamas' ability to govern Gaza or threaten it, while also saying it does not plan to reoccupy the territory, from which it withdrew soldiers and settlers in 2005. But it has said little about who would govern Gaza afterwards.
In congressional testimony on Tuesday, U.S. Secretary of State Antony Blinken suggested that "at some point, what would make the most sense is for an effective and revitalized Palestinian Authority to have governance and ultimately security responsibility for Gaza."
Hamas drove the authority's forces out of Gaza in a week of heavy fighting in 2007, leaving it with limited control over parts of the Israeli-occupied West Bank. Palestinian support for the President Mahmoud Abbas has plunged since then, with many Palestinians dismissing the PA as little more than Israel's police force because it helps suppress Hamas and other militant groups.
In other developments:
In the West Bank, Israeli forces raided the Jenin refugee camp Wednesday morning, killing three Palestinians, local health officials said. The Israeli military said it carried out a drone strike in the camp, hitting several militants. Since the war began, 130 Palestinians have been killed in the West Bank, either by Israeli forces or by Jewish settlers.
In northern Israel, mortars and anti-tank rockets were fired from Lebanon toward several Israeli communities, causing no injuries and prompting Israeli strikes on the launch sites, the military said. Hezbollah and Palestinian militants in Lebanon have exchanged fire with Israeli forces on a daily basis over the border.
___
This story has been updated to clarify that, in addition to four hostages released by Hamas, a fifth was rescued by Israeli forces.
___
Magdy reported from Cairo. Associated Press writers Wafaa Shurafa in Deir al-Balah, Gaza Strip, and Amy Teibel in Jerusalem, contributed to this report.