Gabby Petito took photo of her injuries on same day Moab officers responded to domestic violence call: lawyers
TAMPA, Fla. - A new photo from the phone of Gabby Petito shows her injuries just before she and Brian Laundrie were in contact with the Moab, Utah police department, according to lawyers for the slain girl's family.
The law office of Parker and McConkie released the photo saying it was taken by Gabby, showing how she was "violently assaulted and was likely strangled and/or suffocated prior to her interaction with Moab police on August 12, 2021.
"According to available data, the image was taken a 4:37 PM, at or before the approximate time of the initial 911 call," Parker and McConkie's press release said.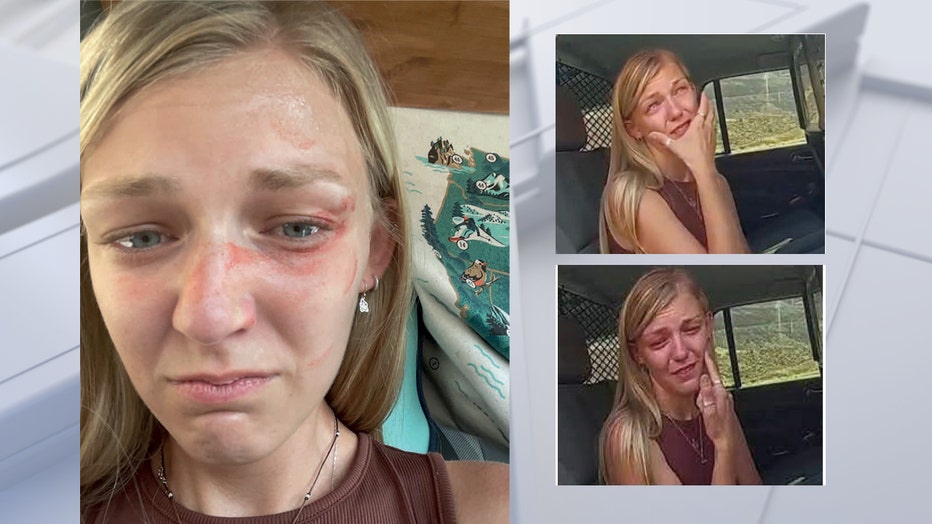 Left: Photo from Gabby Petito's cell phone taken Aug. 12, 2021 (Parker & McConkie)Right: Still images from Moab, Utah police body cameras on Aug. 12, 2021
Gabby's parents have filed lawsuits against the parents of Brian Laundrie, who is believed to have killed his fiancée while the couple was on a road trip across the country in the summer and fall of 2021. They have also filed a lawsuit against the Moab, Utah Police Department for allegedly neglecting to see the signs of domestic violence.
During their trip, someone called 911 to report a domestic incident in Moab, Utah between a man and woman in a white van. When Moab police caught up with the couple – Brian and Gabby – they were told by both parties that they had a heated argument in which Gabby hit Brian. 
MORE: Laundries denied motion to avoid 'emotional distress and embarrassment' during civil trial
Gabby went missing a month later, launching a nationwide search for the girl whose fiancé had returned to his parents' home in Florida, driving her van. The suit alleges that Christopher and Roberta Laundrie, and their lawyer Steven Bertolino, knew Gabby was dead during the time the search was underway.
Body camera videos from Moab police's interactions with Gabby and Brian show Gabby describing fights between the couple.
According to the Petito family lawyers, "Gabby pointed out the injury to Officer Pratt, but he ignored her and did nothing more to investigate or document the injury."
In Moab's body camera video, Gabby appeared to be wearing the same shirt as she is in the photo provided by Parker and McConkie.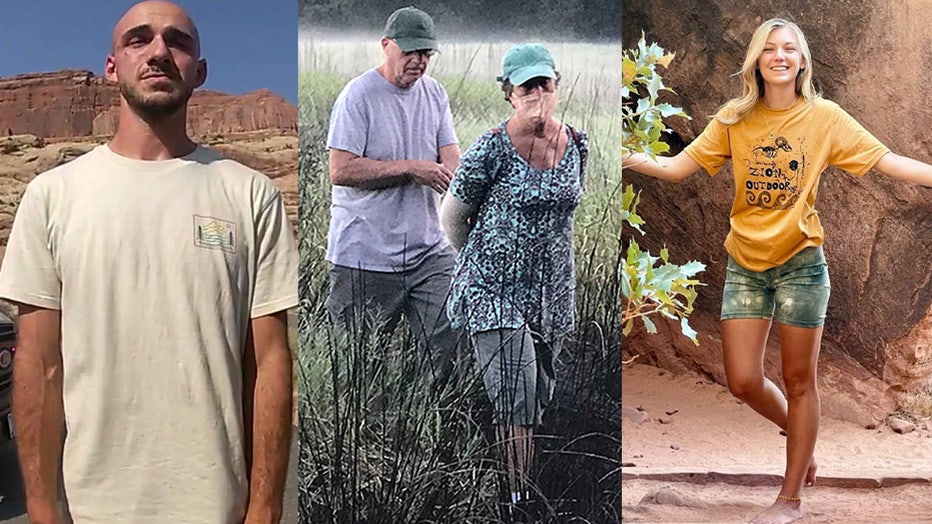 Left, Brian Laundrie; middle, Christopher and Roberta Laundrie; right, Gabby Petito
RELATED: Gabby Petito's family backs proposed 'lethality assessment' law in Utah to better screen for domestic violence
In the video, Gabby tells the officer what happened. 
Petito: He like grabbed my face, like, I guess. He didn't, like, hit me in the face. He didn't, like, punch me in the face.
Officer: Did he slap your face or what?
Petito: Well, he like grabbed me, like, with his nail, and I guess that's why it hurts. I definitely have a cut. Like, I can feel it.
"The photo demonstrates the cut previously noted on her left cheek as well as blood smeared from her forehead, across her left eye and cheek and over her nose, indicating that she was grabbed over her face in such a way that her airways were likely obstructed. Gabby documented the injury and, during the stop, attempted to tell the Moab officers, however, the seriousness and significance this type of assault and injury was completely ignored.
"The officers ignored this critical evidence and did nothing to follow up on, or to further investigate, Gabby's report that Brian had violently grabbed her face and cut her cheek. The Utah Criminal Code's definition of aggravated assault includes any act that impedes the breathing or circulation through an act of violence by 'applying pressure to the neck or throat' or by 'obstructing the nose, mouth, or airway.'" ~Parker and McConkie
This story was reported from Tampa, Florida.