How to get a free taco from Taco Bell during 2023 World Series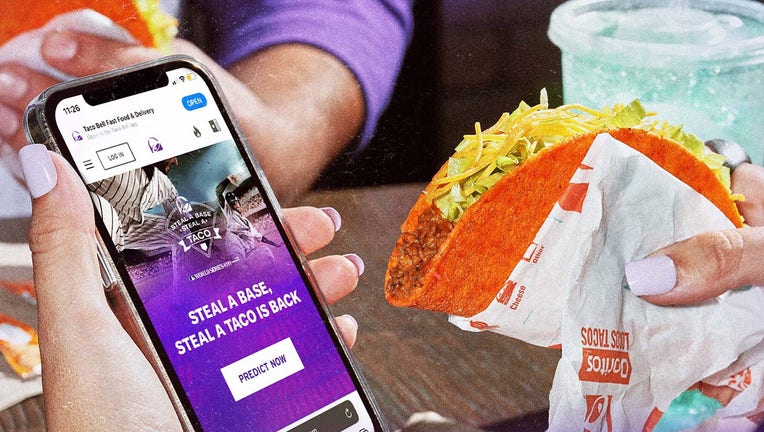 article
IRVINE, Cailf. - The Texas Rangers host the Arizona Diamondbacks on Friday in Game 1 of the World Series, and Taco Bell is offering the chance for baseball fans to score free tacos. 
Taco Bell and MLB previously announced the return of the annual "Steal a Base, Steal a Taco" promotion, which also begins Friday. 
The first player to steal a base in the World Series will be crowned as this year's "Taco Hero," earning a free Doritos Locos Taco for Taco Bell Rewards Members nationwide. Fans can visit tacobell.com to sign up for a free Taco Bell Rewards Program account.
Fans have within 10 days of the base being stolen to redeem.
The taco-clinching steal has happened in Game 1 of the Fall Classic each year since 2018, according to the MLB. The teams of past Taco Heroes are 8-3 in the World Series.
Fans will also have the opportunity to win "Taco Bell for life" – which is awarded as a $15,000 digital gift card. The fast food chain teamed up with Fanatics Collectibles' trading card brand, Topps, to create Topps TacoFractor cards. The special cards are hidden at random within Topps Chrome and Cosmic Chrome packs.
Those who have a TacoFractor card of the first player who steals a base during the 2023 World Series could win the $15,000 digital gift card prize. 
To claim the prize, TacoFractor cardholders with 2023's Taco Hero can open a redemption claim through a Topps.com account online and confirm the legitimacy of the card by mailing it in for verification.  
Friday's Game 1 of the World Series begins at 8:03 p.m. ET on FOX. 
Former President George W. Bush, the former Rangers owner, will throw out the ceremonial first pitch for a Fall Classic that few saw coming. A Rangers-Diamondbacks matchup had 1,750 to 1 odds when wagering opened last fall.
RELATED: 93-year-old Texas Rangers superfan excited to attend World Series
And while baseball fans cheer on this year's first stolen base, Taco Bell is also celebrating a legal victory over the trademark of the expression "Taco Tuesday."
In May, Taco Bell filed legal petitions to cancel two "Taco Tuesday" trademark registrations. In July, Taco John's, which owned the trademark in 49 states, decided to abandon its trademark registration.
But Gregory's Restaurant and Bar held the trademark registration in the 50th state, New Jersey, for more than 20 years. On Oct. 20, 2023, the eatery surrendered it.
"When we set out to free Taco Tuesday, we did it for all who make, sell, eat and celebrate tacos," Taco Bell Chief Global Brand and Strategy Officer and incoming Chief Executive Officer, Sean Tresvant, said in a statement.  "Taco Bell wants everyone to have the opportunity to celebrate Taco Tuesday, including Gregory's Restaurant and Bar. Thanks to Gregory's choice to relinquish the trademark registration, New Jersey businesses and fans can fully enjoy Taco Tuesday, effective immediately."
Taco Bell noted that all restaurants who make or sell tacos can use the popular "Taco Tuesday" phrase without concerns of legal consequences. 
RELATED: Taco Bell giving away free tacos to celebrate trademark 'Taco Tuesday' ending
This story was reported from Cincinnati.