Former Taliban commander appears in NYC court on charges of killing American troops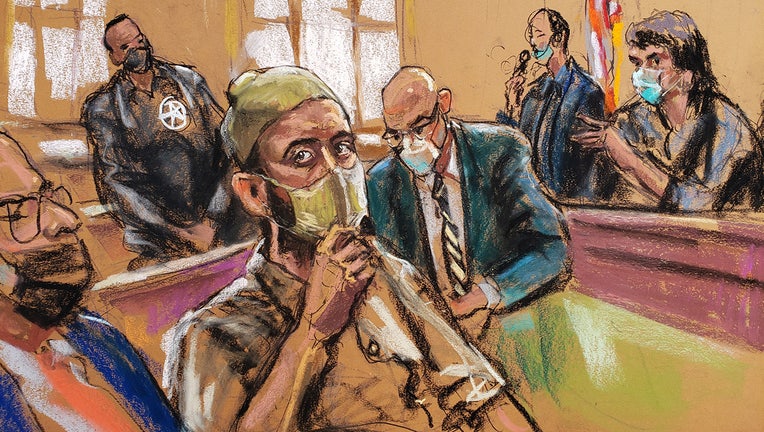 article
NEW YORK - An Afghan man already facing charges in the 2008 gunpoint kidnapping of a New York Times reporter and another journalist has pleaded not guilty to new charges in connection with the killing of three American soldiers.
Haji Najibullah appeared in a federal court in Manhattan on Friday.
He was previously charged with crimes related to the 2008 kidnapping of an American journalist and two Afghan nationals.
In addition to those charges, the superseding indictment charges Najibullah with attacks on U.S. troops conducted by Najibullah and the Taliban fighters under his command, including a June 26, 2008, attack on an American military convoy that killed three U.S. Army servicemembers – Sergeants First Class Matthew L. Hilton and Joseph A. McKay, and Sergeant Mark Palmateer – and their Afghan interpreter, as well as an Oct. 27, 2008, attack that resulted in the shooting down of a U.S. military helicopter.
Get breaking news alerts in the free FOX5NY News app!  |  Sign up for FOX 5 email newsletters
The feds claim that Najibullah, 45, was a Taliban commander in 2007 and 2008 and carried out numerous acts of terrorism against the U.S. military in Afghanistan.
Among the attacks was the Oct. 2008 downing of a U.S. military helicopter using RPGs in the vicinity of Sayed Abad, Wardak Province, Afghanistan. The Taliban subsequently claimed responsibility, asserting that it was "shot down [by] the mujahideen of the Islamic Emirate."
Najibullah was arrested in October 2020 and extradited from Ukraine to the United States to face charges including hostage taking, conspiracy, and kidnapping. Prosecutors alleged he orchestrated the abduction of David Rohde, who then worked for the New York Times, and Afghan journalist Tahir Ludin as they were heading to interview a Taliban leader.
Both victims made a dramatic escape from a Taliban-controlled compound in Pakistan's tribal areas more than seven months after their Nov. 10, 2008, kidnapping. Their driver, Asadullah Mangal, was a third kidnapping victim and escaped a few weeks after Ludin and Rohde.
If convicted, he faces life in prison.
The Associated Press contributed to this report.