Florida woman sues Frontier Airlines for $100M over bag sizes, fees
ORLANDO, Fla. - A Florida woman has filed a $100 million class-action lawsuit against Frontier Airlines alleging the airline is not a budget airline, and that it uses "bait-and-switch" tactics when it comes to its baggage requirements and fees.
Amira Hamad filed her class-action lawsuit in federal court in June, following a recent roundtrip flight out of Orlando International Airport.
According to court documents, Hamad alleged that Frontier Airlines is "not a budget airline," that it does not have the lowest fares, and that it "breaks its fees into tiny little pieces and checkpoints to water down the appearance of what is actually an average airfare."
The crux of the lawsuit appears to stem over the definition and size requirements of a "personal item," which is included with Frontier's airfare, compared to a carry-on or checked bag, which is not included and costs extra.
Hamad claims she was the victim of "bait-and-switch" and "gotcha" tactics when she booked a round-trip flight with the airline in May 2023.
According to the lawsuit, Hamad claims Frontier charged her $100 to bring her bag on the plane, which she believed to be a personal item.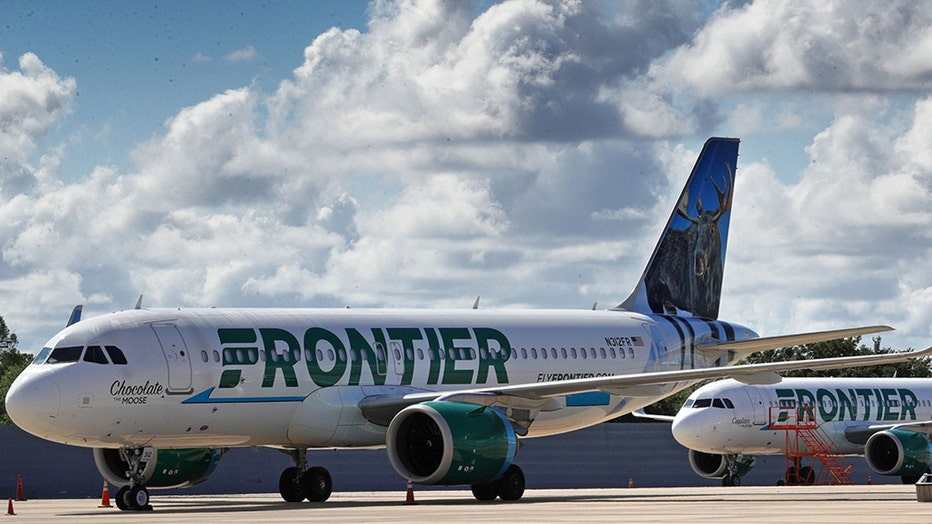 Frontier Airlines planes parked at Orlando International Airport, Tuesday, April 7, 2020, as U.S. domestic and international carriers slash flights in response to the coronavirus crisis. (Joe Burbank/Orlando Sentinel/Tribune News Service via Getty Im
Frontier's website stated that personal items cannot exceed 14 inches in height, 18 inches in width, and 8 inches in depth – including handles, wheels, and straps, according to the lawsuit. 
The lawsuit includes photos of Hamad's bag inside Frontier's bag sizer, which shows that it would not fit.
Hamad said she took her same personal item to Spirit Airlines and put it in one of their size baskets to check the size and it fit. She claims both airlines advertise the same dimensions for a personal item. 
The lawsuit alleges that Frontier's bag sizer is smaller than the dimensions advertised on its website and that Frontier does not explain the "additional charge" for oversize personal items.
"Frontier even incentivizes its gatekeepers by providing them bonuses for each 'personal item' that they charge at the gates," the lawsuit alleges.
Read the lawsuit below.
The woman accuses Frontier Airlines of deceptive or misleading practices, breach of contract, fraudulent misrepresentation, and misleading advertising. The lawsuit alleges violations of Florida's Deceptive and Unfair Trade Practices Act (FDUTPA) and Consumer Protections Act. 
She is seeking at least $100 million in punitive damages, $10,000 for each alleged violations of the FDUTPA, and refunds of her fees and travel expenses. 
In a statement to FOX 35, Frontier Airlines said it does not comment on pending litigation.