Florida murder suspect arrested in missing Lyft driver's car after North Carolina police chase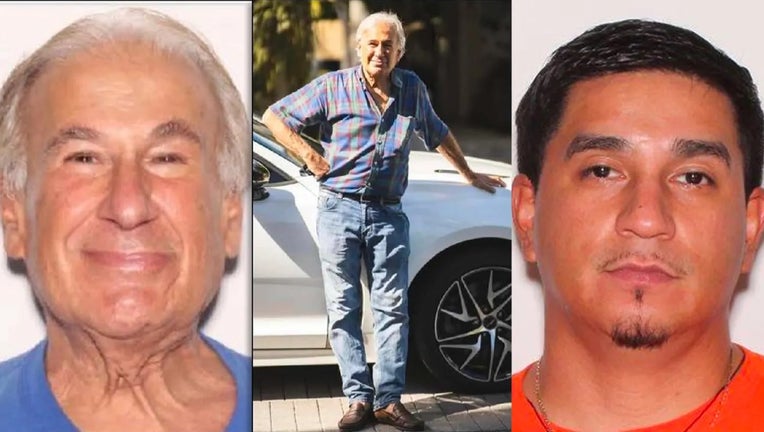 article
Gary Levin, a 74-year-old Lyft driver from Palm Beach Gardens in Florida, hasn't been in touch with his family since last month.
On Thursday, his family says deputies in North Carolina chased his car at high speeds through three counties. It crashed, and they found someone else behind the wheel: a Florida man wanted on unrelated murder charges.
Wauchula police had been looking for Mathew Scott Flores since at least Jan. 24 in connection with the shooting death of Jose Carlos Martinez. On Jan. 25, they said he may have been driving a 2017 Nissan after swapping the license plates.
"Early indications are the vehicle Flores was in was in fact Mr. Levin's vehicle, and that connection will be confirmed as soon as possible," Wauchula Police Chief John Eason told Fox News Digital Friday. He said he'd already dispatched investigators up to North Carolina.
'DOPPELGANGER' KILLER ACCUSED OF BUTCHERING LOOKALIKE TO FAKE HER OWN DEATH AND FLEE FAMILY
Flores was taken to a hospital with unspecified injuries after his capture.
Stephanie Velgara, an alleged accomplice in Martinez's death, is also in custody.
Eason said the investigation remains ongoing and there could be additional charges. Wauchula police had previously said there may also be more suspects involved in the Martinez murder.
Levin's daughter, Lindsay DiBetta, first revealed the connection on Facebook Friday morning.
"The car was found in North Carolina, no sign of my dad on 2/2. The driver was involved in a high speed chase but was eventually caught," she wrote. "This is not a good person, he had a warrant out for his arrest for a recent homicide and he was trying to flee."
DiBetta told Fox News Digital that the family's focus remains finding her father.
"[We're] hoping that the guy driving the car says where he got it, so we can find my dad," she said.
MISSING WEST VIRGINIA WOMAN LAST SEEN AT BAR WITH PERSON OF INTEREST, POLICE
Levin has been "unreachable" since Jan. 30, according to Palm Beach Gardens police.
His car was spotted in Gainesville on Feb. 1, a day before Flores' arrest and roughly 400 miles from the North Carolina state line.
DiBetta says her father last used his phone in the Okeechobee area around 4 p.m. on Jan. 30.
"If he's anywhere it's there," she said. "We cannot wait for answers and a court date. If my dad's out there we need to know."
She is asking anyone with information to come forward.
CLICK HERE TO GET THE FOX NEWS APP
Levin is described as a White male, 5 feet, 7 inches tall who weighs 170 pounds.
Anyone with information on his whereabouts is asked to contact Palm Beach Gardens police at 561-799-4445.