Five top dance companies give NY fans a treat at free outdoor festival founded during pandemic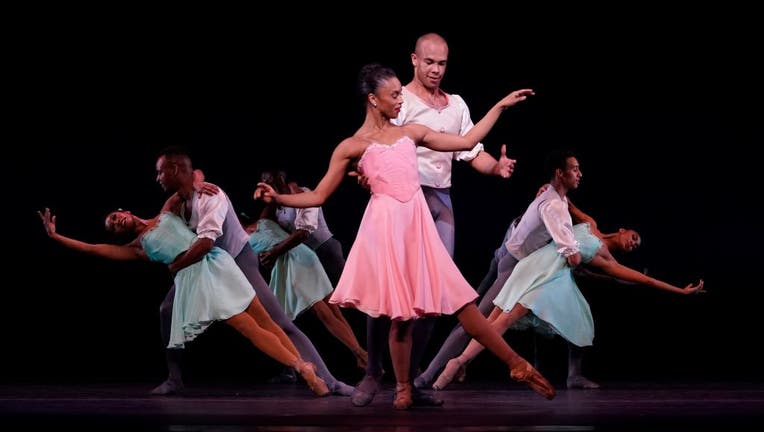 article
NEW YORK - Occasionally, the best things in life really are free — especially if you're a dance fan this week anywhere near New York, where some of the world's best dancers are performing at a free festival under the stars.
It was an idea born during the heart of the pandemic, when artistic directors of the five top New York dance companies started talking about how to navigate the unprecedented shutdown and help their dancers thrive. That connection developed into the BAAND Together festival, which premiered in 2021; this year's festival is the third.
The companies count among the world's very best by any estimation: Alvin Ailey American Dance Theater, American Ballet Theatre, Ballet Hispanico, Dance Theatre of Harlem, and New York City Ballet. Together they represent a welcome reminder of the diversity and breadth of dance in New York, even as arts institutions are facing huge economic challenges as they emerge from the worst of the pandemic.
Attendance has increased every year, said Shanta Thake, chief artistic officer of Lincoln Center, of the five-night festival whose lead sponsor is Chanel.
"It was our best kept secret the first year, and now people are onto the idea — it's amazing that you can see these five dance companies coming together on one night, and really get a taste of the best of the city," she said in an interview.
The opening night program, staged outdoors Tuesday at Lincoln Center for the Performing Arts, drew a capacity crowd of 2,500. The bill featured one piece from each company, plus a newly commissioned dance from choreographer Pedro Ruiz, a romantic duet inspired by New York's energy.
The evening began with Ballet Hispanico's "Linea Recta" (Straight Line), by choreographer Annabelle Lopez Ochoa — a highly physical fusion of the company's strengths in both ballet and flamenco. A standout was Amanda del Valle in a ruby-red costume with a long, flamenco-style ruffled train.
American Ballet Theatre presented "Other Dances," a classic of Jerome Robbins, originally danced by Mikhail Baryshnikov and Natalia Makarova and set to Chopin mazurkas and a waltz. Rising ABT star Aran Bell captured Baryshnikov's dashing intensity, and veteran ballerina Gillian Murphy brought lightness and whimsy.
A huge crowd-pleaser came next, courtesy of Dance Theatre of Harlem, which presented its highly athletic and infectiously joyous "Nyman String Quartet No. 2" by choreographer Robert Garland, a lightning-fast fusion of different styles performed by five male and five female dancers (as with all the offerings, casts change throughout the week.)
Then came Ruiz's new "Pas de O'Farrill," a duet honoring the music of Latin jazz musician Arturo O'Farrill, and giving a Latin spin to the traditional form of classical ballet. "It's about New York — that jazzy energy of everyday life in the city," Ruiz said in an interview. And, he added, love. Tuesday's cast featured Alexa Maxwell of NYCB and Antonio Cangiano of Ballet Hispanico.
The Ailey troupe, a big draw in New York each winter at New York City Center, performed an excerpt of "Dancing Spirit" — a tribute to that company's former star dancer and then leader Judith Jamison (her autobiography carries the same name) by choreographer Ronald K. Brown. Set to music by Duke Ellington, Wynton Marsalis and War, the piece features dancers clad in flowing white, a signature look for Jamison.
The evening closed with "The Times Are Racing" by Justin Peck, a reliably crowd-pleasing "sneaker ballet" (ballet in sneakers, not pointe shoes) that races through Peck's complex patterns of movement with a very contemporary sense of energy, and features streetwear by fashion designer Humberto Leon.
More specifically, it features a few raincoats. But happily, the rains that threatened the proceedings a few hours earlier had dissipated by then, leaving an evening that was cool and starry both on and offstage.
The festival runs through July 29.