Firefighter takes down robber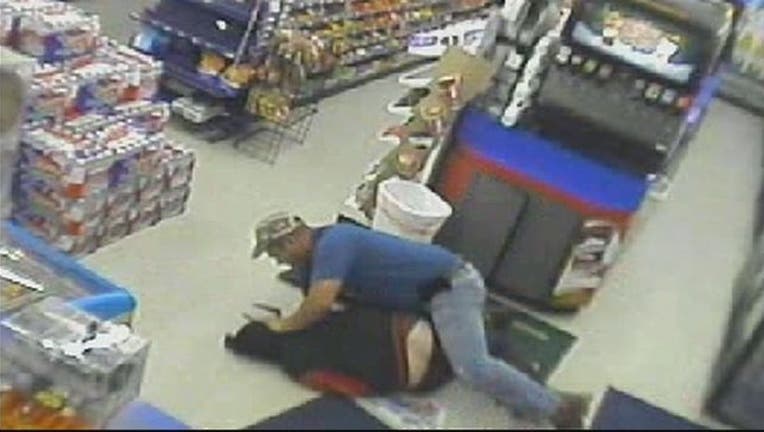 article
DALLAS, TX (KDFW) - An off-duty firefighter physically stopped an armed robber at a convenience store in Midlothian recently.
Firefighter Daniel Gaskey stopped in the Oasis Food Store before heading to work on June 26.
Then a 19-year-old shoved past him and held out a hunting knife about five inches long to the cashier.
"Startles me at first," said Gaskey. "I'm trying to figure out what's going on, and I realized what was going on real quick."
Gaskey says he heard the robber demand money before he decided to do something.
"Did a quick assessment of if he had a weapon, what his weapon was," said Gaskey. "Realized he wasn't giving me a second thought or paying attention…so immediately reacted, jumped on his back, took control of the weapon. Took him off balance, rolled him to the ground."
The time between the first shove and Gaskey's takedown is only seven seconds.
Gaskey told FOX 4 about the careful calculation he had to make in those seconds.
"I'm going to maintain control of the weapon, but if I miss the weapon, I'm going to be so close to his back he won't be able to maneuver his arm around to move me in the process," said Gaskey.
Gaskey then managed to hold the man down for four to seven minutes until police arrived.
He says it felt like a lot longer.
"After I got the knife away and was holding him down, I was able to talk to him very calmly," said Gaskey.
Many are calling Gaskey a hero.
"I'm not," he said. "I like to think anyone else in that situation would assess and do the right thing, too."
But not everyone could. Gaskey is a Marine who served in Iraq from 2005-2006.
"Sometimes doing what's right involves getting a license plate number of someone driving away," he said.
Wednesday happens to be Gaskey's one-year anniversary with the Mansfield Fire Department.
"His battalion chief said, 'Hey, Daniel was running late to work,'" said Fire Chief Barry Bondurant. "He was all worried about it, and then we found out he had intervened in an armed robbery while he was getting some coffee," said Fire Chief Barry Bondurant.       
Police arrested 19-year-old Dylan Bearden and charged him with aggravated robbery, a first degree felony.
"I've been praying for him," said Gaskey.