Fat Bear Week 2023: This absolute unit blew the competition out of the water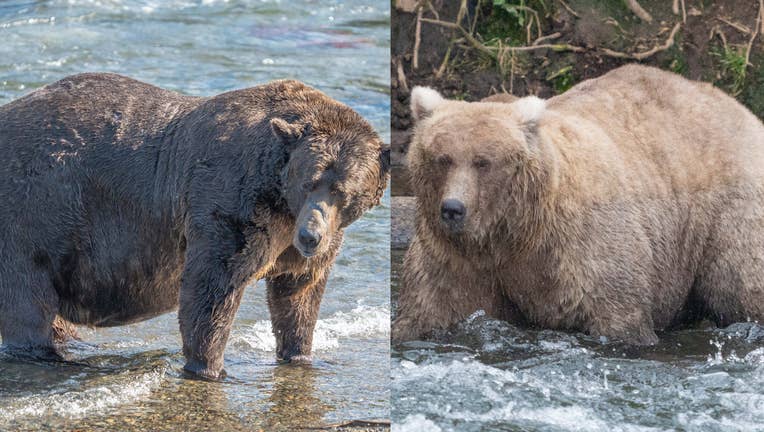 article
The iconic Fat Bear Week has officially come to an end with a declared chunky victor. 
From Oct. 4 - 10, bears in Alaska's beloved Katmai National Park prepared to fatten up for their winter hibernation while online fans voted on which bear they would crown as the Fat Bear Week 2023 Champion.
The winner of the competition was a defensive mama bear named 128 Grazer, blowing her final competitor – 32 Chunk – right out of the water. 
Grazer has been a fixture of the park since she was first identified as a young cub in 2005. She received 108,321 votes according to Explore.org. 
Chunk, the runner-up in the competition, has always been a prominent and formidable opponent to all bears who compete in the hefty tournament. 
The week celebrates Katmai's brown bear population's resilience, adaptability, and strength as the animals prepare to hibernate, according to the National Park Service. 
"Over the course of the week, virtual visitors learn more about the lives and histories of individual bears while also gaining a greater understanding of Katmai's ecosystem through a series of live events hosted on explore.org," the park states on its website.
A potential government shutdown threatened this year's "Fat Bear Week" since national park employees count and release the votes. Congress ultimately reached a 45-day agreement Saturday to fund the federal government. 
The National Park Service estimates that 2,200 brown bears inhabit the park, a number exceeding the people who live on the peninsula. They have six to eight months to eat a year's worth of food and ensure their survival through winter, according to the service.
The Katmai brown bears are famous for standing at Brooks Falls, catching sockeye salmon in their mouths to fatten up for the winter. They're a huge draw for the park on the Alaska Peninsula, the arm of land extending from Alaska's southwest corner toward the Aleutian Islands, about 250 miles southwest of Anchorage.
The spectacle draws so many visitors that three viewing stands have been erected near the falls, along with a bridge and boardwalk over the Brooks River to allow visitors to avoid the bears.
FOX NEWS CONTRIBUTED TO THIS REPORT. IT WAS REPORTED FROM LOS ANGLES.