Prosecutors turn over 'enormous' amount of evidence in Gilgo Beach murders case, attorney says
RIVERHEAD, N.Y. - Accused serial killer Rex Heuermann stood stone-faced in court on Tuesday afternoon. He appeared for the first time since he pleaded not guilty to the murders of at least three sex workers found buried and bound in burlap sacks along a stretch of Ocean Parkway more than 10 years ago.
Suffolk District Attorney Ray Tierney, who is prosecuting the case himself, handed over a massive amount of evidence, including eight terabytes in hard drives, 2,500 pages of documents, photos from the scene and DNA reports.
"We have to show up and comply with discovery and see how it plays out," said Tierney said.
PREVIOUS: Gilgo Beach murders: Suffolk County DA details Rex Heuermann's arrest
Heuermann, who wore a dark blazer over a light blue shirt and had a mop of messy hair, took one big look over his shoulder as he left the courtroom.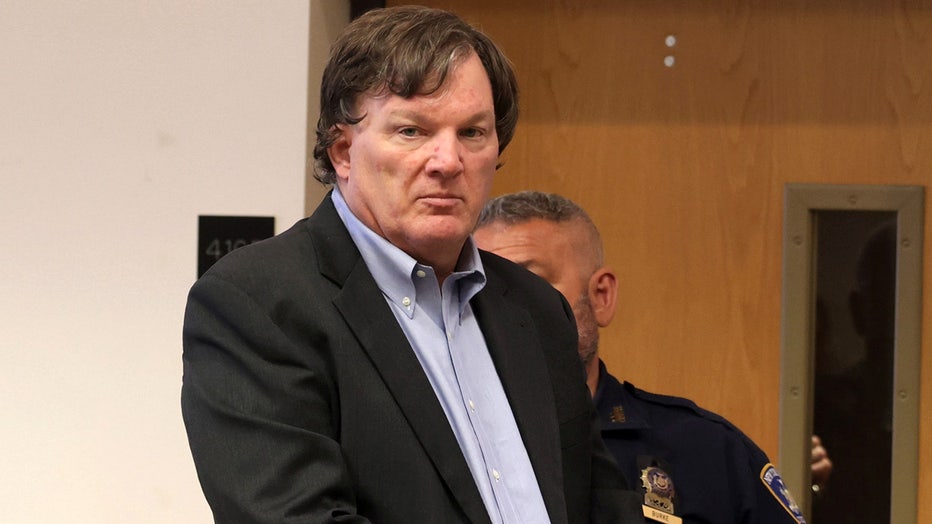 Accused Gilgo Beach killer Rex A. Heuermann appears before Judge Timothy P. Mazzei in Suffolk County Court on Tuesday, August 1, 2023. (Pool photo via Newsday / James Carbone)
His attorney, who has been the only one to visit him in jail, says his client is looking forward to his day in court.
"There's no plea deal," Michael Brown said. "He said from the moment I met him he didn't do this so we're prepared to go to trial."
Family members of the victims showed up in court but didn't speak. There was no sign of Asa Ellerup, Heuermann's estranged wife who told reporters she was "blindsided" by the arrest and she had no idea about the double life Heuermann allegedly led.
Ellerup was forced out of her home while investigators searched for evidence to build the case against Heuermann. She called the condition in which it was left uninhabitable saying police pulled apart their bathtub and left piles of boxes scattered about.
Tierney says the investigation into a fourth victim, Maureen Brainard-Barnes, is continuing.
Heuermann is due back in court on September 27.