EasyJet flight is canceled after someone fouls up the place amid delays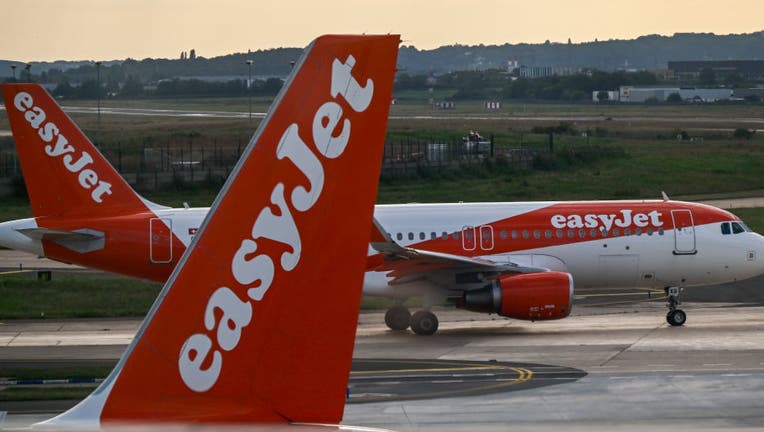 article
Passengers to London apparently experienced a day of travel that went from bad to worse after someone defecated on the bathroom floor — which resulted in the cancellation of the entire flight.
EasyJet travelers found themselves stuck the island of Tenerife after hours of delays.
In a video taken of the event, the pilot can see seen and heard sharing the news with the crew and passengers — news that was met with an abundance of groaning and expletives.
AIRPLANE DRAMA, INCLUDING 'FIERCE ARGUMENT' BETWEEN COUPLE, RESULTS IN DIVERTED FLIGHT, POLICE PRESENCE
The clip started in the middle of the pilot's speech.
He can be heard saying that someone apparently found it "rather exciting to defecate [in] the front toilet so we're now staying the night here, we're now going to get everyone off ... and organize hotels, then we'll fly back tomorrow morning."
Prior to the cancellation, Flight EZY8054 was supposed to depart for London's Gatwick on Sunday evening, The Daily Mail said.
The passengers reportedly experienced a day of delays and were moved from one plane to another, as one passenger anonymously shared with the news outlet.
The second airplane was smaller than the original, which meant the airline was seeking volunteers to leave the flight by offering vouchers worth £500 (or about $608 U.S. dollars) but the passenger described the transition as "absolute chaos," The Daily Mail continued.
REDDIT USER SPARKS HEATED DEBATE ABOUT RUSHING TO LEAVE AIRPLANE UPON LANDING: 'JUST RUDE'
No one wanted to take the voucher, so a total of 10 customers were removed from the flight — and this reportedly led to another two-hour delay.
The flight was at full capacity, including baggage — and the airline started putting the passengers' luggage on other flights to London Gatwick, which added to the hours-long delay, the British news organization said.
EasyJet offered to find hotels for the passengers, but it was apparently unable to find enough hotels in the area to accommodate those on the flight.
The airline shared the statement on the company website's flight tracker section, along with the rest of the flight's tracking information.
OHIO WOMAN'S VIRAL TIKTOK DRAWS CRITICISM AND SUPPORT AS SHE REFUSES TO GIVE UP WINDOW SEAT TO ANOTHER MOTHER
"Due to extremely high demand, unfortunately we're unable to find hotel rooms in the area."
"If you need a hotel room and are able to make your own arrangements, we'll refund the cost of a reasonably priced room, meals and travel costs to and from your hotel," the airline continued. "In this case we ask that you look for accommodation, which is about three stars or equivalent."
Those on the flight were quick to jump to social media and share a sense of frustration over what happened.
"So we've been given the excuse of a toilet being defecated in for the reason for a [CANCELED] flight?! @easyjet this is UNACCEPTABLE!! Your customer care is ATROCIOUS. 100s of passengers left STRANDED in the airport terminal! Do something!" one customer recording the video shared on X, formerly known as Twitter.
TEEN AIRLINE PASSENGER CHANGES SEAT AFTER 'PLUS-SIZED' TRAVELERS CROWD HER, GETS GRIEF FOR 'FATPHOBIA'
"Real good of @easyJet to delay the flight 3.5 hours with 0 communication then decide to cancel it altogether because someone took a s--- on the toilet floor quite literally couldn't make this s--- up #easyjet," another passenger wrote.
"@easyJet Utterly disgusting treatment of your customers. Abandoned in a foreign country, no staff [available] to support at 3am when we were cancelled. No sleep for 30 hours, and now you are not repaying my expenses as a http://booking.com receipt isn't good enough," one customer stated on X.
The flight from Tenerife to London Gatwick was rescheduled and was set to take off on Wednesday, 7:25 p.m., Western European Summer Time, and land at 11:40 p.m. British Standard Time in London.
CLICK HERE TO SIGN UP FOR OUR LIFESTYLE NEWSLETTER
EasyJet shared a statement with The Daily Mail regarding the airline's delay to London Gatwick.
"The flight was subsequently delayed overnight due to the aircraft requiring additional cleaning," a spokesperson from the airline told the news outlet.
"The safety and well-being of our customers and crew is EasyJet's highest priority and while this was outside of our control we would like to apologize to customers for the inconvenience caused."
On its website, the airline notes, "Over the last 25 years, EasyJet has become Europe's leading short-haul airline, revolutionizing European air travel by allowing passengers to book cheap flights across Europe's top flight routes, connecting more than 30 countries and over 100 cities."
As of July 2023, EasyJet serves 183 destinations, according to its website.
Fox News Digital reached out to the airline for further comment.
Read more of this story from FOX News.