Drug-resistant 'superbugs' found in 40% of supermarket meat products, study says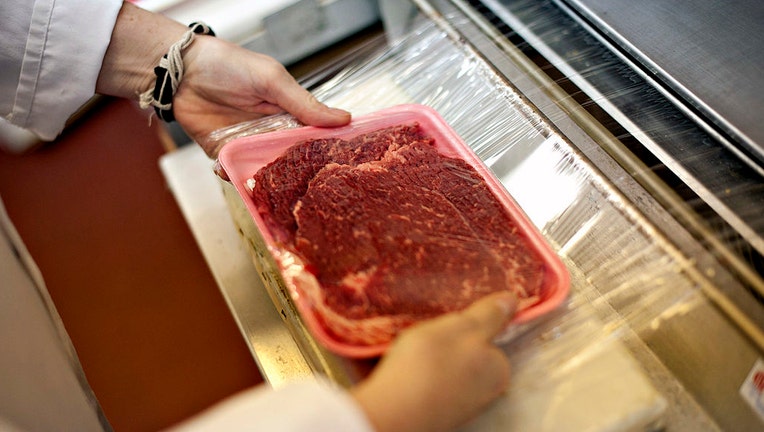 article
COPENHAGEN, Denmark - Drug-resistant "superbugs" were found in 40% of meat products randomly sampled at supermarkets, according to researchers in Spain – who called for better assessment in meat products and warned consumers about proper food handling. 
Scientists say antibiotic resistance is reaching dangerously high levels around the world, with research suggesting that superbugs — or strains of bacteria, viruses, parasites and fungi that are resistant to most medications – have joined the ranks of the world's leading infectious disease killers.
RELATED: CDC flags increase in stomach bug that's becoming 'extensively drug-resistant'
The researchers from the University of Santiago de Compostela-Lugo analyzed 100 meat products – 25 each of chicken, turkey, beef and pork – chosen at random from grocery stores in northwest Spain.
They found that 40 out of 100 contained multidrug-resistant E. coli strains, and E. coli strains capable of causing severe infections in people were also "highly prevalent," according to a statement. 
The results of the study were presented this week at European Congress of Clinical Microbiology & Infectious Diseases 2023 in Copenhagen, Denmark. 
The World Health Organization has been citing a global estimate — several years old — that suggested at least 700,000 people die each year due to these antimicrobial-resistant germs. But health officials have long acknowledged that there's been very little information from many countries and that number could likely be far higher.
Antimicrobial resistance happens when germs like bacteria and fungi gain the power to fight off the drugs that were designed to kill them. The problem is not new, but attention to it has grown amid worries about a lack of new drugs to fight the germs.
Spanish team analyzes 100 meat products – here's what they found
Multidrug-resistant bacteria can spread from animals to humans through the food chain, but due to "commercial sensitivities," data on levels of antibiotic-resistant bugs in food has not been made widely available, according to the researchers. 
As a result, Dr. Azucena Mora Gutiérrez and Dr. Vanesa García Menéndez with the University of Santiago de Compostela-Lugo joined colleagues from other research centers to create a series of experiments that were designed to assess the levels of multidrug-resistant and extraintestinal pathogenic Enterobacteriaceae – which includes Klebsiella pneumoniae, E. coli and other bacteria that can cause sepsis or urinary tract infections (UTIs).
The team analyzed 100 meat products at supermarkets across the town of Oviedo in 2020. The majority (73%) of the meat products contained levels of E. coli that were within food safety limits, according to the findings. 
However, 40 out of 100 meat products contained multidrug-resistant E. coli, and almost half (49%) contained multidrug-resistant and/or potentially pathogenic E. coli.  
E. coli that produced extended-spectrum beta-lactamases (ESBLs), enzymes that provide resistance to many available antibiotics, were found to be most prevalent in turkey (68%) and chicken (56%) products.
The researchers said the higher presence of ESBL-producing E. coli strains in poultry compared to beef (16%) and pork (12%) was likely due to differences in slaughter and production.
Overall, more than a quarter of the meat products (27%) contained potentially pathogenic extraintestinal E. coli (ExPEC). ExPEC has genes that allow them to cause disease outside the gastrointestinal tract and causes the vast majority of UTIs. It's also a leading cause of sepsis and is the second-most common cause of neonatal meningitis in infants, according to the researchers.
One percent of the meat products contained E. coli harboring the mcr-1 gene, which provides resistance to colistin – a last-resort antibiotic used to treat infections caused by bacteria resistant to all other drugs, the team said.
Consumers play 'key role' in food safety
The study authors called for regular assessment of levels of antibiotic-resistant bacteria, including ExPEC E. coli, in meat products around the world.
 "Farm-to-fork interventions must be a priority to protect the consumer," Mora said in a statement. 
Eating raw and undercooked meat and poultry can make people sick, the U.S. Centers for Disease Control and Prevention warns. It noted how thoroughly cooking meat and poultry to a safe internal temperature kills bacteria.
"The consumer plays a key role in food safety through proper food handling," Mora continued. "Advice to consumers includes not breaking the cold chain from the supermarket to home, cooking meat thoroughly, storing it properly in the refrigerator and disinfecting knives, chopping boards and other cooking utensils used to prepare raw meat appropriately to avoid cross-contamination."
Click here for tips on proper food safety from the CDC. 
This story was reported from Cincinnati. The Associated Press contributed.