'Drag Story Hour' draws supporters, opponents in Greenwich Village
NEW YORK - A Drag Story Hour hosted by New York Attorney General Letitia James drew protestors, as well as a large police presence, Sunday at the Lesbian, Gay, Bisexual & Transgender Community Center in Greenwich Village. 
Christine and her finance Drew took her young daughter Halena to the Drag Queen Story Hour Read-A-Thon and said they left satisfied.  
"It's just something different and really fun," Christine said. "She loves dressing up, the makeup, the hair." 
Outside, their smiles were met with screaming from a few dozen protesters against Drag Story Hour and many dozens more who gathered in front of the LGBTQ Center to support it.  
"If this were 18-year-old Drag Queen Story Hour, go right ahead," one protester who disagrees with Drag Story Hour said. "But it's inappropriate for children."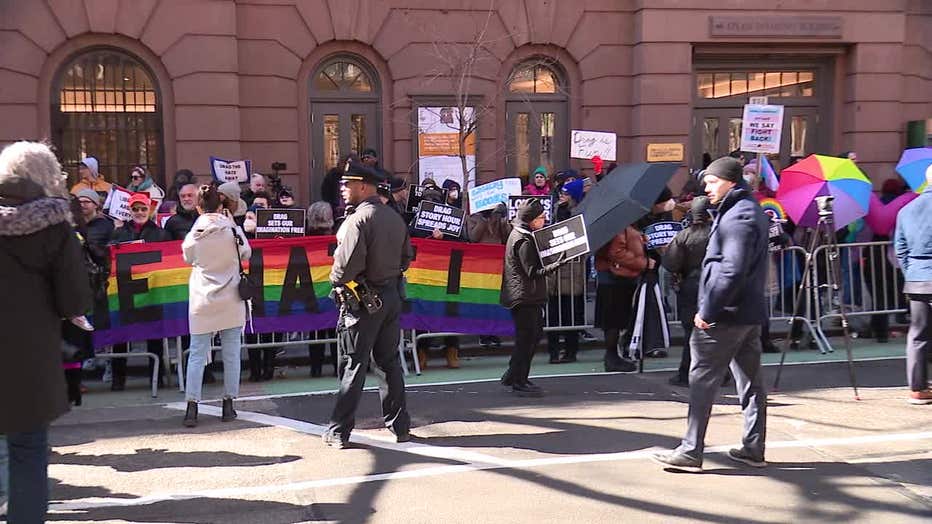 Drag Story Hour draws supporters and opponents in Greenwich Village.
"Drag story hour is fabulous, it spreads joy, the children love it," a counter-protester said.
Absent from the scene outside was James, as well as the many local Democratic office holders who didn't speak to the media or allow our cameras inside. FOX 5 NY asked James for comment, but she declined to answer. 
The media was left outside, trying to understand the emotions the events invoke.  
"We don't care about drag queens," screamed a protester. "Just don't bring kids."  
Drag Story Hour got its start in 2015 in San Francisco, and since then, it's opened chapters across the country, even internationally. 
But there has been some pushback, most recently in Arkansas, where Gov. Sarah Huckabee Sanders signed a new bill into law banning story hour from public places.  
"This has nothing to do with discrimination against gay people," said one protester. "This is the promotion of drag queen. I would be against straight-porno star story hour." 
Police officers kept protesters apart and things peaceful. Halena's parents left a bit shocked by the chaos, but pleased. 
"The first story was really about being anything you want to be, and I think that was an amazing message to teach to anyone, to children, to all of us," Drew said.