How to avoid scams when donating to Israel and Gaza humanitarian charities
The war between Israel and Hamas following the Gaza-based terror group's attacks last weekend that killed over 1,300 Israelis has prompted a surge in donations to charities to help Israelis and Palestinian civilians impacted by the conflict – and scammers are looking to take advantage.
"Times of tragedy tug on people's heartstrings," Mike Scheumack, chief innovation officer at IdentityIQ, told FOX Business. "People want to help the victims but, unfortunately, these times also bring out the scammers who want to help themselves to the money that's supposed to go to those who really need it."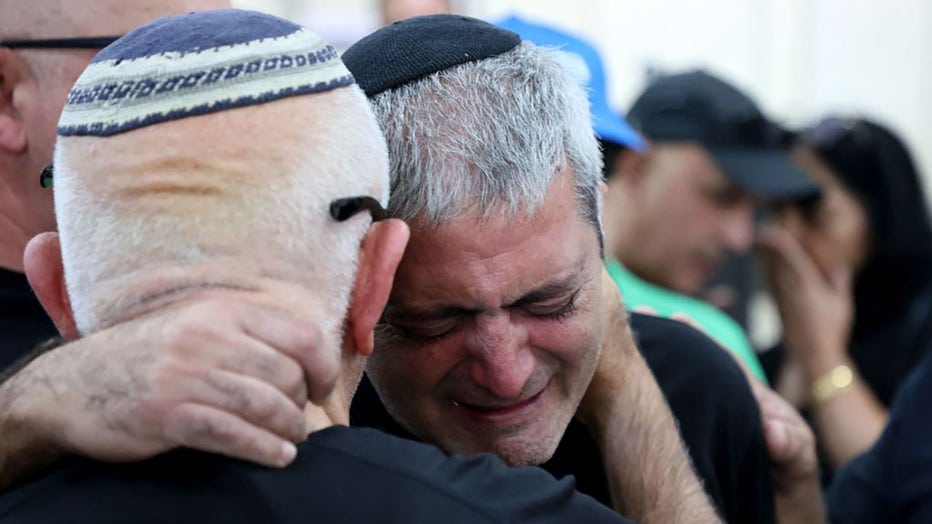 The father of Naor Hassisim is comforted during his sons funeral, a victim of the Kibbutz Kfar Aza attack last week by members of the Palestinian militant group Hamas, at a cemetery, in southern Israeli city of Ashdod on Oct. 16, 2023. (Photo by GIL
Scheumack said IdentityIQ, which provides identity theft protection services, has already seen an increase in scams since Hamas' terror attack on Israel last week.
"With the Israel-Hamas war, at IdentityIQ we are starting to see members call in about phone call scams, email scams and fake websites that are popping up asking for charitable donations," he said.
DEADLINE EXPIRES FOR PALESTINIANS TO FLEE GAZA AS ISRAELI TROOPS AMASS AT BORDER
"Many times, the scammers will use caller ID spoofing, so the call looks like it's coming from a legitimate source. They can do this for email too, making the email seem like it came from a legitimate charity organization," he explained. "For websites, they use words like 'Israel,' 'Hamas' and 'war' in the domain name to make the site seem legitimate."
Scheumack said there are ways for a would-be donor to spot a charity scam.
"These scams tend to have a few things in common – look for a sense of urgency to donate money now. Also, be on the lookout for misspellings in emails or on the website, which can often be signs of a scam," he said.
PRO-HAMAS NARRATIVES ON SOCIAL MEDIA GETTING PUSHED BY FAKE ACCOUNTS FIRM SAYS
Scam charities may also request donations through means of payment that legitimate charities typically don't accept, or make exaggerated claims about not having any operational overhead expenses.
"Scammers may ask you to donate by money order or gift cards, which most reputable charities don't request," Scheumack explained. "And if a caller or website claims that 100% of its donations go to the victims, it's probably fake. All organizations have overhead costs, so giving 100% to victims is most likely an exaggerated claim."
GLOBAL MARKETS BRACE FOR IMPACT AS MIDDLE EAST TENSIONS RISE
Scheumack said donors who feel comfortable giving money to a charity should use a credit card to have "an extra layer of protection" and "never make a donation using wire transfers or gift cards."
He added that would-be donors should be wary of inbound solicitations: "If you're receiving a phone call, text or email to donate, ignore it. Go to the charitable organization's official website to donate."
If someone questions a charity's legitimacy, Scheumack said they should take steps to vet the organization before giving by looking at websites dedicated to evaluating charities.
"You should research any charity you donate to, no matter who it is. There are sites out there, such as Give.org, that help you verify the legitimacy of a charitable organization," he noted. "We highly recommend using some sort of verification method to protect yourself."