Dollar slice era comes to an end at NYC's 2 Bros. Pizza
NEW YORK - It's a sign of the times.
The dollar slice of pizza, once an iconic, unchanging part of the city's culinary landscape, is becoming harder and harder to find, after one of the city's most popular pizzerias is putting an end to the practice.
As of this week, 2 Bros. Pizza in the East Village has increased the cheese pizza slice by 50 cents. The new $1.50 price tag is now at several 2 Bros. locations across the five boroughs.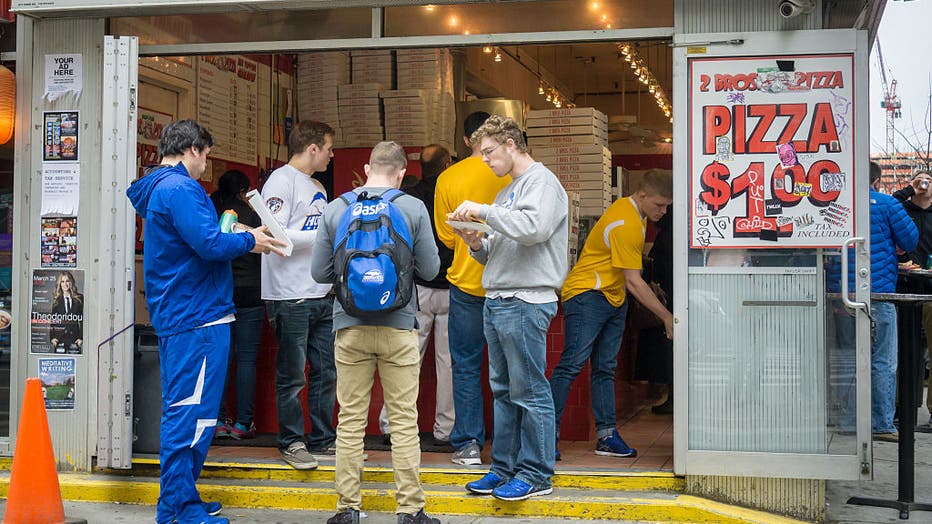 A group of "Bros" eat dollar pizza at 2 Bros. pizza in New York on Sunday, March 20, 2016. (Photo by Richard Levine/Corbis via Getty Images)
The co-owner of 2 Bros. pizza, Eli Halal, told FOX 5 NY that he and his partner did everything over the last year to keep their cheese slice at $1. However, every inflation has raised the price of every ingredient in the slice. That's forced them to raise the price. 
2 Bros. says they do want their customers to know that the quality remains the same and that this is still one of the cheapest options for dinner in the city.
"There just tremendous pressure on them to keep prices the same" said economist Anne-Marie Roerink.