Meet Zoey: Louisiana dog claims record for world's longest tongue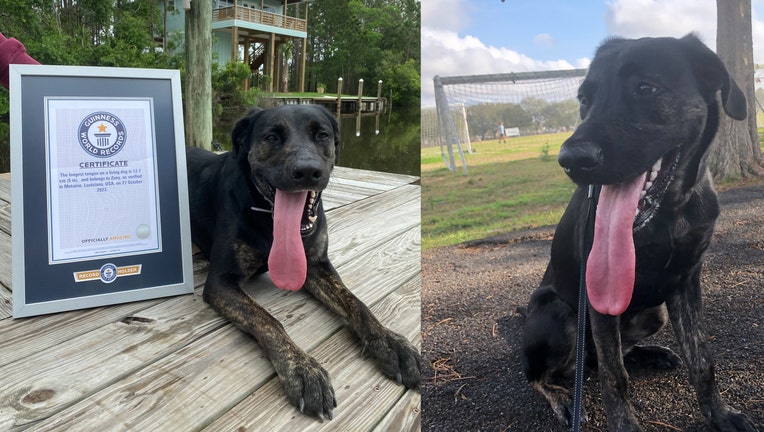 article
METAIRIE, La. - A dog in Louisiana has earned the new distinction of having the world's longest tongue, measuring a whopping 5 inches long. 
Zoey, a labrador/German shepherd mix, from the greater New Orleans area, officially claimed the record for longest tongue on a living dog, according to the Guinness World Records – which noted how the pup's tongue is longer than a soda can. 
Bisbee, an English Setter from Tucson, Arizona, previously held the record at 3.74 inches in length.
RELATED: 'Positively regal' dog rescued after scaling England's tallest mountain
Zoey's owners, Sadie and Drew Williams, thought she would grow into her tongue, but as time went on, people began to comment on how long it was, according to GWR.
"We got Zoey when she was only six weeks old and in the first ever picture we have of her, she has her tongue sticking out," Sadie Williams told the organization. 
Her owners added how the tongue length is most obvious after playing outside and panting. 
"It would be slobbering all over the place," Drew Williams added. 
Last year, the couple took Zoey to the veterinarian it measured, from the tip of her snout to the tip of her tongue.
Zoey's owners said some of the dog's favorite activities include being outside, fetching balls, chasing squirrels, car rides, and swimming in the canal. 
"She will pretty much go fetch anything you throw and swim in any body of water that's available," Drew Williams told GWR. "But she hates getting a bath."
RELATED: $6K Japanese gelato breaks world record for most expensive ice cream: 'Rich in taste and texture'
This story was reported from Cincinnati.