Doctors share expertise on cardiac arrest as Bills' Damar Hamlin's condition remains uncertain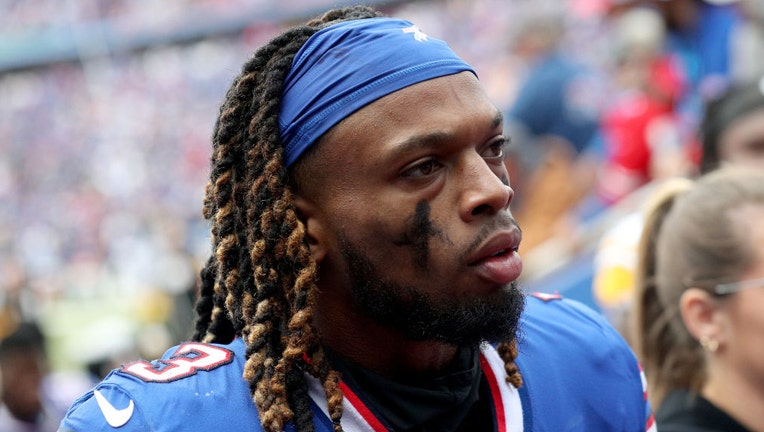 article
Cardiac arrest is gaining attention nationwide after Buffalo Bills player Damar Hamlin collapsed on the field Monday night. The 24-year-old suffered cardiac arrest and is in a hospital in critical condition.
While cardiac arrest is uncommon among most young people, it still affects some in the United States. According to the Centers for Disease Control and Prevention (CDC), roughly 350,000 people have a cardiac arrest each year, and 9 out of 10 individuals die.
RELATED: Bills-Bengals game suspended when Hamlin suffered cardiac arrest won't resume this week, NFL says
Dr. Deepak L. Bhatt, director of Mount Sinai Heart in New York City, and Dr. Matthew Levy, associate professor of emergency medicine at Johns Hopkins Hospital, spoke to FOX Television Stations to explain cardiac arrest and ways to identify symptoms.
What is cardiac arrest?
Cardiac arrest refers to circulation stopping in the heart suddenly leading to a collapse and often death, according to Bhatt. He explains that there can be many causes of cardiac arrest.
"Probably the most frequent one, at least in older people, is a heart attack where an artery is blocked up with cholesterol-rich plaque and blood clots, and a part of the heart muscle is killed. But even though people think that a heart attack and cardiac arrest are the same, they're not. A heart attack is just one of many potential causes of a cardiac arrest." 
RELATED: Buffalo Bills' Damar Hamlin in 'critical condition' after collapse on field
Levy tells FOX Television Stations that it's a life-threatening emergency medical condition in "which the heart is no longer beating normally. This often occurs due to an abnormal electrical rhythm of the heart, which results in the heart not being able to pump to the brain and vital organs." He explains that sudden cardiac arrest is different from a heart attack because a heart attack occurs when one of the heart's blood supply's is blocked. Although a heart attack can cause an abnormal electrical rhythm which may in turn cause cardiac arrest.
Is cardiac arrest genetic?
Several factors can contribute to a person suffering cardiac arrest, but both doctors agree that a genetic component is a factor.
"Different factors can contribute to why people may experience a sudden cardiac arrest, in some cases, there can be something structurally wrong with the heart as a muscle or the electrical conduction system itself which can be genetic," Levy explains.
"There can be a genetic component to cardiac arrest. Even heart attacks sometimes have a bit of a genetic component. In particular, a cardiac arrest in young people often has a genetic component," Bhatt says. "In a high school athlete who collapses on the field, the most common serious cause is an enlarged heart and that can occur due to a genetic abnormality in the heart muscle, so for sure, genetic causes that we are born with can lead to cardiac arrest - very rare but very important." 
RELATED: Dr. Mike explains what may have caused Bills' safety Damar Hamlin's life-threatening injury
"It can be quite traumatic obviously to the high school athlete that collapses or their family or people who witness such a thing - infrequent but it can occur," Bhatt continues. "Other sorts of genetic causes can lead to abnormal heart rhythms where certain people have genetic abnormalities that could predispose them to collapse." 
Who is at risk of cardiac arrest?
Cardiac arrest can affect people at different ages, though it commonly affects older people, where it is associated with coronary heart disease itself.
Levy explains that cardiac arrest in younger people is more often seen with "structural abnormalities" of the heart tissue or its "electrical conduction system."
"It depends on the person's age and the risk for cardiac arrest, very low risk in young people and higher risk as someone gets older especially if they have heart disease," Bhatt offers.
What are the symptoms of cardiac arrest?
One of the first things people should be aware of with cardiac arrest is a loss of consciousness.
Levy explains that unconsciousness could signal that the person has fainted or in some cases appears to briefly have convulsions. "Oftentimes these people have abnormal, gasping respirations but in fact, they are not breathing effectively. If someone is not conscious and not breathing normally, they may be in cardiac arrest"
Another symptom is chest discomfort which Bhatt explains is serious. "Significant chest discomfort is always worrisome, especially in anyone who is middle-aged or older, and that should prompt a call to 911. A heart attack, if that's what the chest pain is due to, can sometimes progress to a full cardiac arrest." 
"Typically, it takes at least 24 to 48 hours after a cardiac arrest to figure out how that person might be doing. In an older person who suffers cardiac arrest, it can take several days and even weeks before you can assess their brain function." 
"But, say, in a younger person who suffers cardiac arrest, perhaps in 24-48 hours there can be some sense of whether there will be recovery or not. During that period of time, a person who suffers cardiac arrest is getting intensive care in an ICU and most often that means being hooked up to a ventilator."
How can you treat cardiac arrest?
Cardiac arrest is a medical emergency that requires immediate attention, and it's important to contact 911 if you or someone you know has symptoms. Levy says using CPR and a defibrillator is the best possible outcome to give people the best chance of survival with cardiac arrest.
Preventive measures to avoid cardiac arrest
According to experts, living a healthy lifestyle is beneficial, not only to maximize your health, but to lower the chances of suffering cardiac arrest, and it starts with routine exercise and improved nutrition.
"It starts with a healthy diet, ideally a plant-based diet, rich in fresh fruits and vegetables and whole grains, and regular daily exercise or physical activity," Bhatt says. "Controlling your weight by diet and exercise greatly reduces the risk for heart attacks and strokes. Not smoking tobacco or marijuana or vaping also helps – basically, a good, clean, healthy lifestyle goes a long way in terms of reducing the risk of cardiovascular disease and cancer."
This story was reported from Washington, D.C.