Woman becomes first flag football player with gear in Pro Football Hall of Fame
Diana Flores, the flag football star who appeared in a popular NFL Super Bowl commercial in February, is now the first flag football player with artifacts in the Pro Football Hall of Fame.
The jersey Flores wore in the commercial, along with the football signed by women's sports icon Billie Jean King and the New York Jets' Sauce Gardner, who were also in the spot, have been added to the museum's collection, the NFL announced Wednesday.
Few knew Flores until February 12 when the NFL commercial "Run with it" aired during the Super Bowl. The Mexican flag footballer is the protagonist who avoids having her flags taken away for two minutes.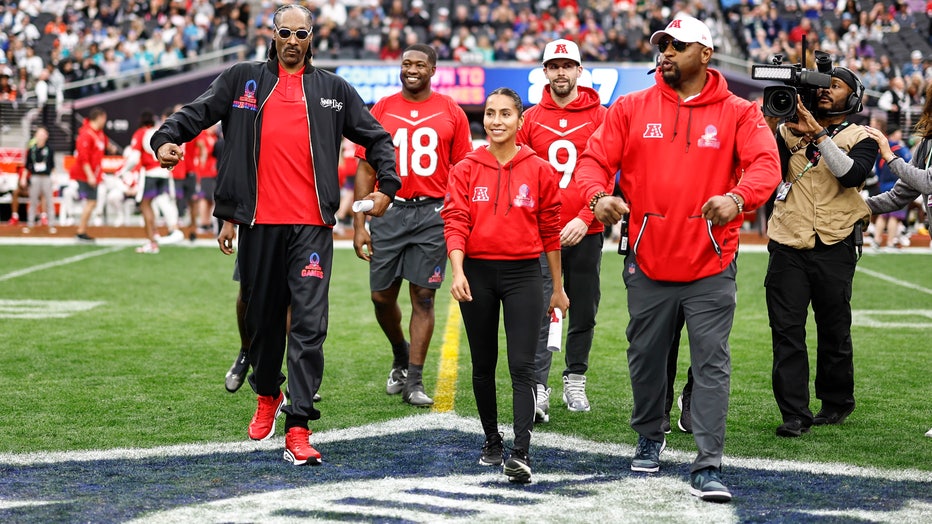 AFC captain Snoop Dogg, AFC middle linebacker Roquan Smith #18 of the Baltimore Ravens, AFC offensive coordinator Diana Flores, AFC placekicker Justin Tucker #9 of the Baltimore Ravens and AFC defensive coordinator Ray Lewis walk to midfield for the
Flores, 25, began playing flag football at the age of 8, when the sport was not as popular as it is now. She had to do it on men's teams, because at that time there were no teams or leagues for women.
It was there that Flores began to forge the idea of ​​equality for which she fights.
READ MORE: NFL approves another rule change to reduce kickoff returns
"For me it was an honor to be able to be on that platform (the commercial), but now I want to use it to promote the power of women, it fills me with pride to be Mexican and to represent the heart of women and that our dreams and goals can be achieved." come true," she told The Associated Press in February.
Flores joined the Mexican flag football team at the age of 16. Since then, she has played in four World Games, winning a bronze, a silver and a gold medal last year by beating the United States in a match with four touchdown passes.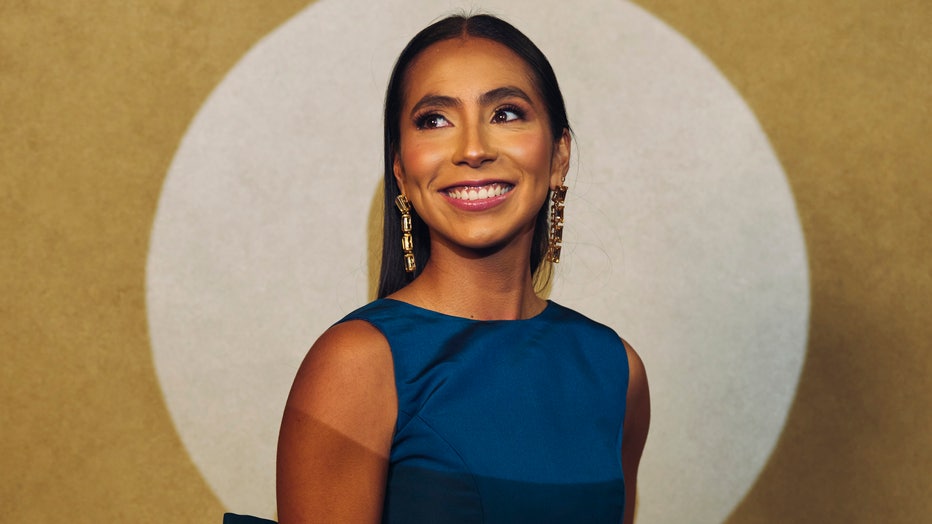 Diana Flores poses for a photo during NFL Honors at the Symphony Hall on February 9, 2023 in Phoenix, Arizona. (Photo by Cooper Neill/Getty Images)
After that came the invitation from the NFL to participate in flag football games at the Pro Bowl, where she was offensive coordinator alongside retired quarterback Peyton Manning. She also got to meet former linebacker Ray Lewis.
Flore graduated last year with a degree in marketing and communication and is studying for a master's degree in innovation and business development at the Instituto Tecnológico de Monterrey, one of the most prestigious universities in the country.
READ MORE: Tom Brady buying part of Las Vegas Raiders
"I'm honored to have my jersey become a part of the Pro Football Hall of Fame collection, alongside NFL Legends and football stars I greatly admire," Flores said in a prepared statement. "This is so meaningful not just for me personally, but also for Flag football overall. It's hugely symbolic in showing football is for everyone, especially women and girls."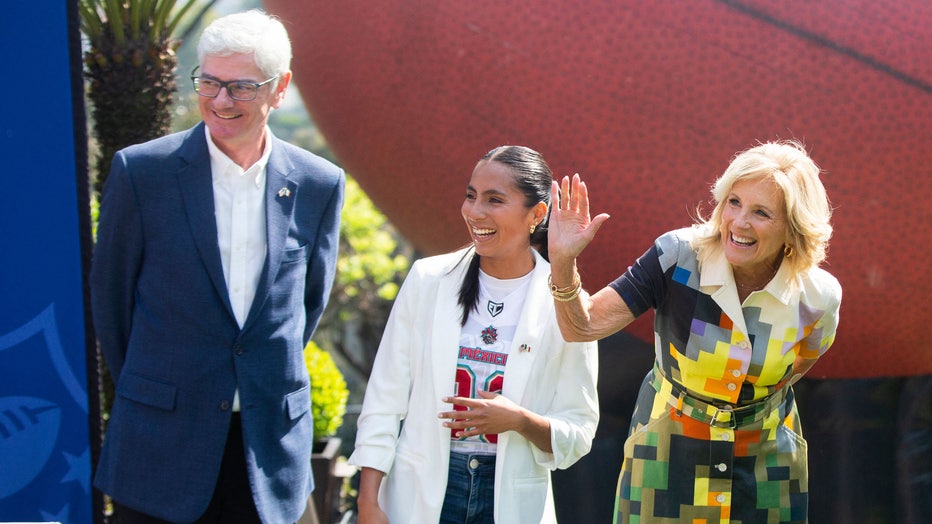 (L-R) Arturo Olive, Managing Director of NFL Mexico, Diana Flores, Quarterback of the Mexico Women National Flag Football Team, and US First Lady Jill Biden attend a Tochito NFL Flag Football event in Mexico City on January 9, 2023. (Photo by RODRIGO
The full list of artifacts featured in the "Run With It" exhibit at the Pro Football Hall of Fame include:
Diana Flores' jersey
Flores' football signed by Billy Jean King, whose appearance was Flores' "favorite scene" in the commercial, and Sauce Gardner
Jalen Ramsey's security officer costume
Aidan Hutchinson's bellhop costume
Davante Adams' parrot costume
The "Run With It" exhibit opens at the Pro Football Hall of Fame in Canton, Ohio, on Wednesday, May 24.
The Associated Press contributed to this report.