Upper West Side plaza 'wrong location' for delivery worker hub, residents say
NEW YORK - New York City has more than 65,000 delivery workers hustling uptown, downtown, crosstown and beyond each day, an effort that sustains the city's service industry and hungry residents alike.
Between pickups and drop-offs, these workers – or "deliveristas" – have limited space to recharge their phones, bikes or bodies, so lawmakers promised to create dedicated street hubs.
Yet as the city moves forward on opening one of its first hubs, residents in the surrounding neighborhood are fighting against it.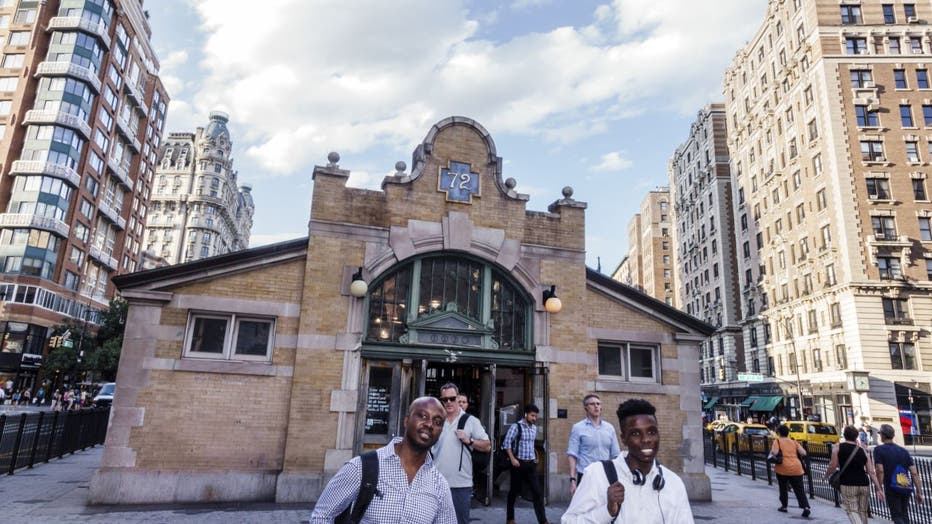 New York City, 72nd Street Subway Station. (Photo by: Jeffrey Greenberg/Universal Images Group via Getty Images)
The quiet public plaza sandwiched between 71st and 72nd St., and between Broadway and Amsterdam Avenue on the Upper West Side, is at the center of this turf war.
The city earmarked the former newsstand at this plaza as one of the pilot locations. But residents insist that this is a bad idea.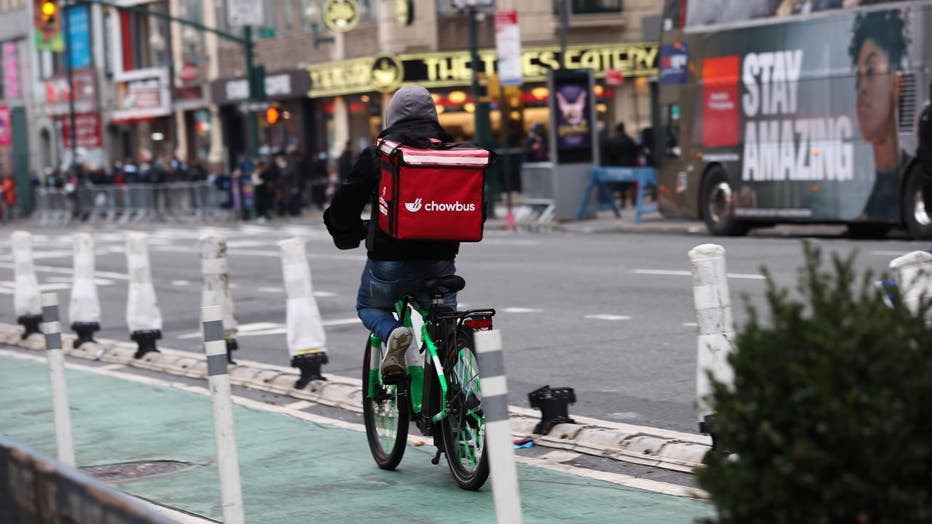 A food delivery guy with bicycle is seen at the Times Square in New York City, United States on December 29, 2021. (Photo by Tayfun Coskun/Anadolu Agency via Getty Images)
Max Vanderliet, district manager of Manhattan Community Board 7, said the space is already packed with vehicle and pedestrian traffic, between the merging avenues and the busy subway station.
"The overwhelming majority of the community supports finding a different location. And that's one of the good things about our community. They support the initiative and the endeavor to create a hub for the delivery systems," Vanderliet said. "However, we're pretty much unanimous that this is the wrong location."
Community Board 7 emphasized its support for a hub but says it should be at a less congested location.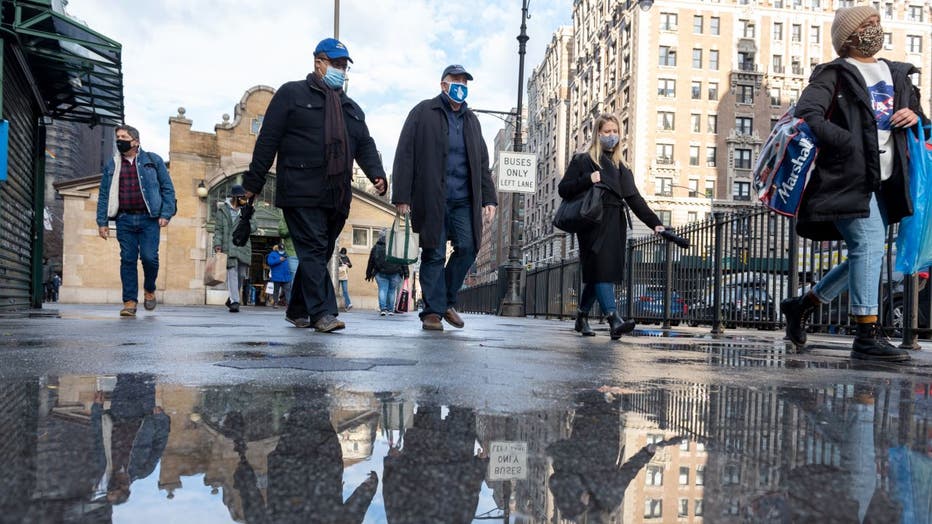 People wearing masks walk near a puddle outside the 72nd Street subway entrance on December 05, 2020 in New York City. (Photo by Alexi Rosenfeld/Getty Images)
Yet according to the city and activists, workers are needed at that location precisely because it's busy. They're designed specifically for high-traffic neighborhoods.
"Where would a better location be?" said Josh Wood, a delivery worker and member of advocacy group Los Deliveristas Unidos. "Unfortunately, the areas [that have] the highest traffic and have the central avenues and have the restaurants are also the areas that are served the most by delivery service."
City Councilmember Gale Brewer represents the area and has been in talks with the city and FDNY about using vending machines that charge e-bike batteries.
"They have basically a vending machine. You pay $50 a month, you can have your vending machine under a bridge by a highway out of the commercial area. You take your e-bike to that vending machine, you literally stick your battery in and you get out a fresh one that is definitely safe," he said.
As for where things stand, the NYC Parks Department tells Fox 5 NY it's in the process of designing the hub and will present it to the community board when it's ready.