Death By Snakes: India's 'Cobra Killer' sentenced to life in wife's murder
NEW YORK - The man who set lose a cobra on his wife who was recovering from another snake bite in India was sentenced to life in prison Wednesday, reported various news outlets.
Sooraj Kumar, 28, dubbed the 'Cobra killer' was convicted of murdering his 25-year-old wife with a cobra and a viper in March 2020. He had denied the allegations.
Prosecutors reportedly called the shocking crimes the "rarest of rare" cases.
Kumar set loose a highly venomous Russell's viper snake on his wife that left her hospitalized for two months. While Uthra Kumar recovered at her parents' house, Sooraj threw a cobra on his sleeping wife, killing her.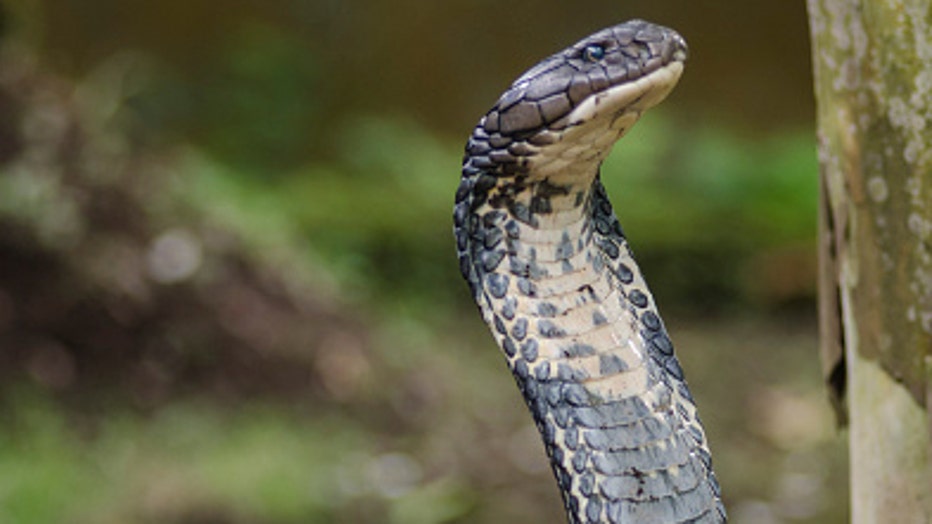 FILE - A King Cobra. (SEPTIANJAR MUHARAM/Barcroft Media via Getty Images)
Phone records showed Sooraj Kumar had been in contact with snake handlers and even watched snake videos on the internet before killing Uthra.
Authorities were alerted by Uthra's mother.
"The mode of execution and the diabolic plan of the accused to murder Uthra, his wife who was bedridden, makes it (the case) fall into the category of rarest of rare," the public prosecutor told news outlets.
Prosecutors had sought the death penalty.
Get breaking news alerts in the free FOX5NY News app!  |  Sign up for FOX 5 email newsletters
It was not clear way the husband had turned on his wife, but speculation in India centers around Uthra's family's wealth. Her parents reportedly became suspicious after Sooraj tried to take control of her property after her death.