Author David McCullough dies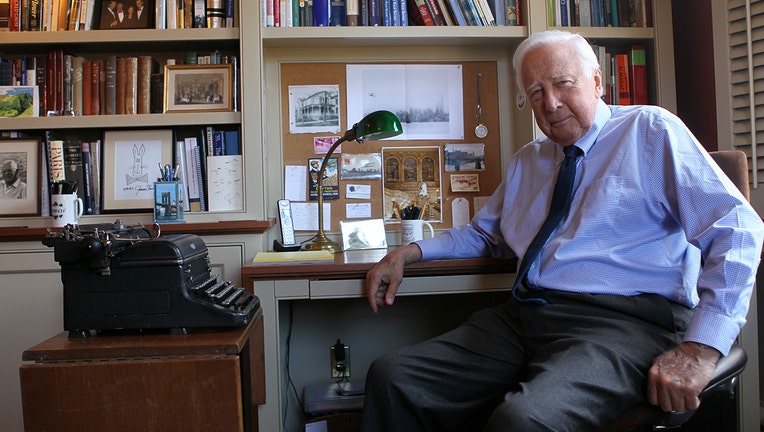 article
NEW YORK - Author David McCullough has died at the age of 89.  The Pulitzer Prize-winning historian wrote books on American History and was known as the voice of PBS's "The American Experience" and Ken Burns' "Civil War" documentary.
McCullough died Sunday in Hingham, Massachusetts, according to his publisher, Simon & Schuster.  He was 89.
"David McCullough was a national treasure. His books brought history to life for millions of readers. Through his biographies, he dramatically illustrated the most ennobling parts of the American character," Simon & Schuster CEO Jonathan Karp said in a statement.
McCullough received the National Book Award for "The Path Between the Seas," about the building of the Panama Canal; and for "Mornings on Horseback," a biography of Theodore Roosevelt; and Pulitzers for "Truman," in 1992, and for "John Adams" in 2002. "The Great Bridge," a lengthy exploration of the Brooklyn Bridge's construction, was ranked No. 48 on the Modern Library's list of the best 100 nonfiction works of the 20th century and is still widely regarded as the definitive text of the great 19th-century project. Upon his 80th birthday, his native Pittsburgh renamed the 16th Street Bridge the "David McCullough Bridge."
McCullough was active in the preservation of historical regions. He opposed the building of a residential tower near the Brooklyn Bridge and was among the historians and authors in the 1990s who criticized the Walt Disney Company's planned Civil War theme park in a region of northern Virginia of particular historical significance.
"We have so little left that's authentic and real," McCullough said at the time. "To replace what we have with plastic, contrived history, mechanical history is almost sacrilege."
With the Associated Press.