The Mario M. Cuomo Bridge could become the Tappan Zee once again. Here's why
NEW YORK - Many have objected to the name of the Mario M. Cuomo bridge since its construction.
A New York State Democrat wants to push the Cuomo name off the 3.1 mile long bridge that connects Rockland and Westchester counties over the Hudson River. 
Democratic Sen. James Skoufis is the main sponsor of the GOP-led bill that aims to rename the bridge by June this year.  
His argument is that the change ignored centuries of history, too many concessions and that no one really calls it the Mario M. Cuomo bridge anyway.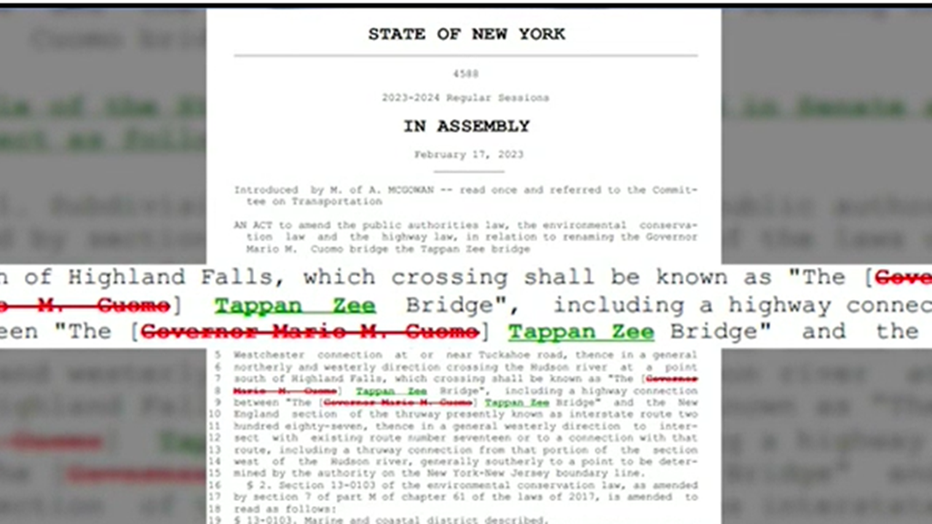 In the text of the bill the name Mario M. Cuomo is crossed out.
How soon could this take effect?
Upon passing the state Senate and assembly, and a signature from Gov. Kathy Hochul, the bridge would have its original name reinstated effective immediately. 
The bridge, originally named after the Native Americans who once lived in the area, the Tappan, was built in 1955.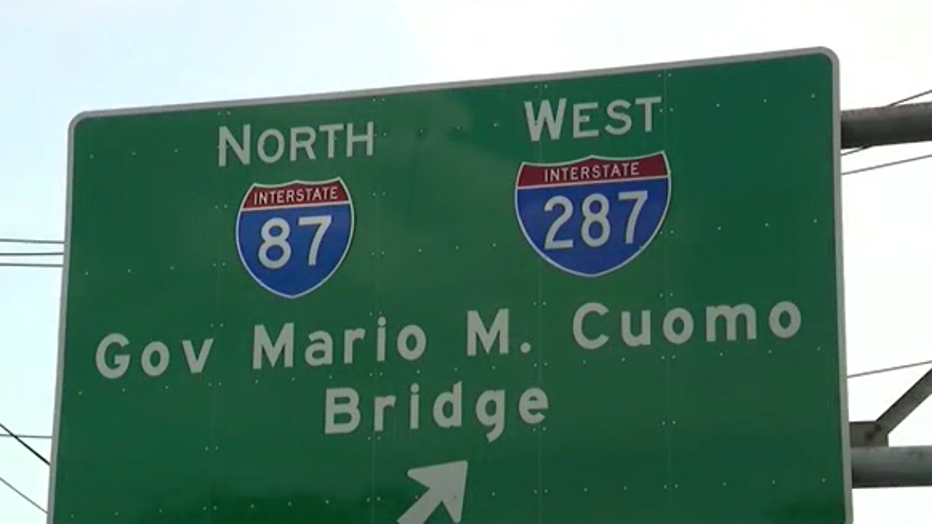 The 3.1 mile long bridge connects Rockland and Westchester counties over the Hudson River. 
Did the name ever really change?
Many residents in the area still call the bridge the Tappan Zee bridge, claiming to not have ever acknowledge the name despite it changing nearly 5 years ago today. 
Republicans have tried and failed to change the name of the Mario M. Cuomo bridge, but now with the key support of Democrats, they might actually be able to.
The history of the original 'Tappan Zee' bridge
The original Tapan Zee bridge was built in 1955 and stood until 2017, when former Gov. Andrew Cuomo changed the name to honor his late father, former Gov. Mario M. Cuomo.
The $4 billion design, one of the largest bridge projects in New York, required lots of concessions in order to get Republicans fully on board with the idea.
In exchange for the tribute, Republicans got more retirement benefits for uniformed first responders, a tax break for Lower Manhattan, a loosening of land restrictions in part of Adirondack Park, among other things.
Skoufis says the former governor should have something bearing his name, just not the bridge.
So far, the petition on change.org has over 230,000 signatures and counting.