Cool sight: First 'frost flowers' of fall spotted in southwestern Missouri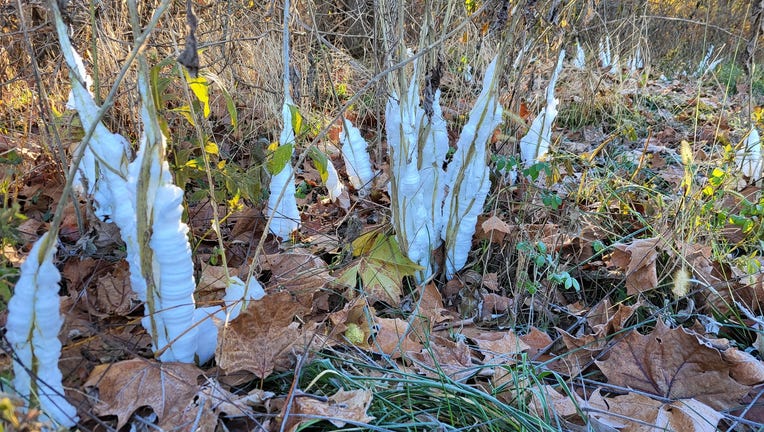 article
MOUNT VERNON, Mo. - Stroll through any Missouri countryside on a chilly morning in late fall, and you might stumble upon a field of "frost flowers."
The cool sights aren't actually flowers but delicate and beautiful ribbons of ice crystals growing on the lower stems of plants. This phenomenon is also known as "needle ice" or "hair ice."
Frost flowers don't last very long, so seeing them is quite a treat. Grab a camera and document them, like Missouri Department of Conservation's Allison Leisenring, who spotted some of the first frost flowers of the season Tuesday morning at Chesapeake Fish Hatchery near Mount Vernon, Missouri.
WHAT'S THE DIFFERENCE BETWEEN FROST, A FREEZE AND A HARD FREEZE?
According to wildlife officials, frost flowers happen in late fall after a few hard freezes and while the ground is still warm. They don't stick around for long, disappearing on the day they show up, melting away like frost in the warm air or sunlight.
How do frost flowers form?
After the first hard freeze, the plants' stems break, but their roots still try to send up plant sap from the warmer ground, the Missouri Department of Conservation (MDC) stated.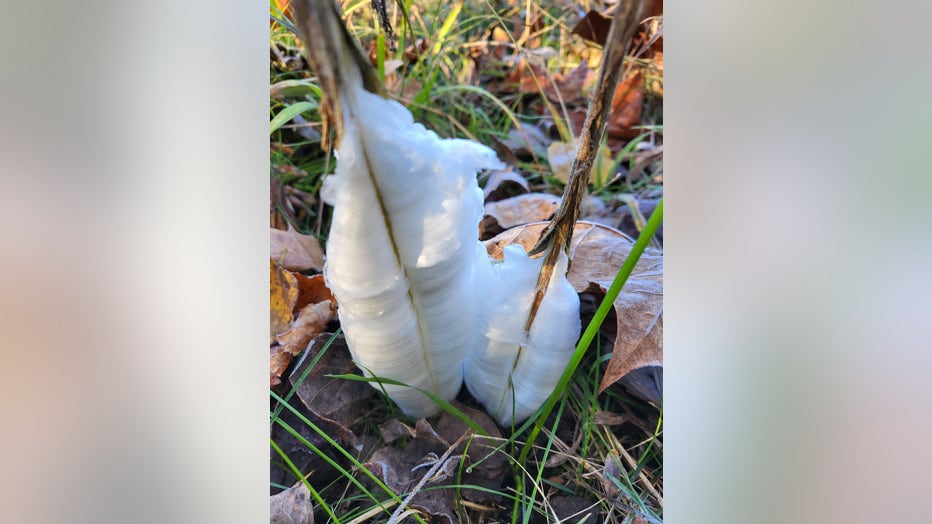 Frost flowers don't last very long, so seeing them is quite a treat.
The sap freezes as soon as it hits the freezing air, creating a stream of white ice crystals. As more sap comes up, it pushes the stream of ice crystals together into cool shapes that look like fancy ribbons, cotton candy or even snarls of white thread.
BIZARRE 'RAIN' FALLS AMID CRYSTAL CLEAR SKIES NEAR SEATTLE
What Missouri plants produce frost flowers?
In Missouri, plants that can produce frost flowers include dittany, stinkweed (which is not widespread in Missouri) and white crownbeard, according to the MDC.
"Scientists don't know what it is about these species that allow them to produce frost flowers," wildlife officials with the MDC said. "Perhaps their root systems are more active later in the year than other species, or their stems rupture in just the right way to force the ribbons of sap. Whatever the reason, frost flowers only appear on the stems of a few species."
HOAR FROST ON ILLINOIS LAKE SHOWCASES WINTER'S BEAUTY
A rare sight … even for seasoned nature explorers
Frost flowers only appear in certain locations and at specific times of the year, according to the MDC. 
If you want to witness them, it's important to familiarize yourself with the frost-flower plants of Missouri and identify their natural habitats. 
"Then keep your eye on the calendar and the weather," the MDC added. "When it starts to frost in the fall, plan to get out early and visit the places where you've seen frost-flower plants growing."