CIA destroys $10,000 watches agents receive as gifts from foreign officials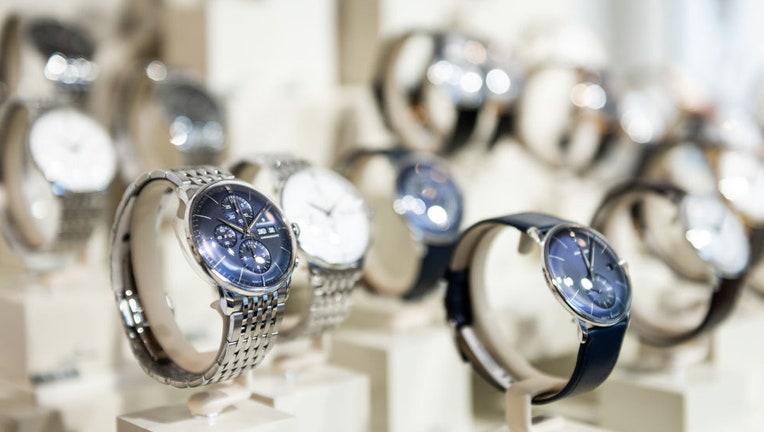 article
The CIA put four bottles of "vintage wine" and a basket containing wine and cognac given by undisclosed foreign parties to "official use," while destroying other items like wristwatches given as gifts to agency employees.
Because the CIA is a clandestine intelligence service, many of the details about gifts given to CIA employees from foreign dignitaries and sources are kept secret. But a foreign gift disclosure document released by the State Department Thursday shows gifts many CIA employees received were destroyed, including watches ranging in value from $500 to $10,000.
Gift-giving is a major part of foreign relations, a sign of respect and friendship between nations. The White House, State Department, embassies and various other government offices display gifts from foreign heads of state, and there are vast government storerooms housing other items. 
But the U.S. government has strict rules about what officials can do with the gifts to avoid apparent or actual bribery from foreign governments. Federal employees are not allowed to accept gifts over a certain value unless "refusal of the gift would cause offense or embarrassment or would otherwise adversely affect the foreign relations of the United States," according to U.S. law. Such a gift, assuming it is "tangible," may be accepted and must be handed over to become property of the U.S. government.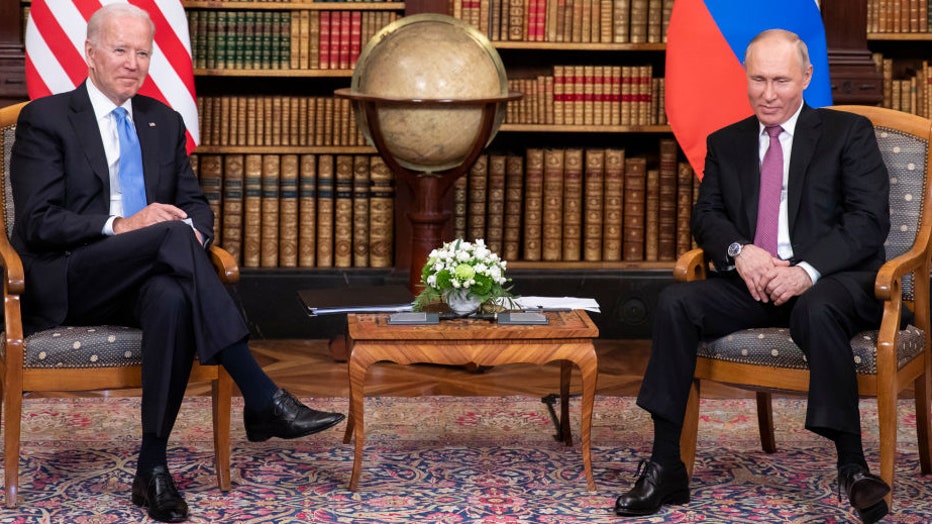 FILE-President Joe Biden (L) and Russian President Vladimir Putin meet during the U.S.-Russia summit at Villa La Grange on June 16, 2021 in Geneva, Switzerland. (Peter Klaunzer - Pool/Keystone via Getty Images)
VLADIMIR PUTIN GIFTED BIDEN A $12,000 PEN MONTHS BEFORE INVADING UKRAINE
Those accepted gifts must be disclosed, and the State Department released a list of gifts from foreign officials earlier this week.
President Biden received a lacquered pen and desk set from Russian President Vladimir Putin valued at $12,000 in 2021, months before Russia invaded Ukraine. It was transferred to the National Archives and Records Administration for storage. The defense minister of Qatar gave U.S. Defense Secretary Lloyd Austin an $8,000 curved-blade saber, which is on display in his office. 
Even gifts of wine and alcohol are not uncommon. Pope Francis gave Secretary of State Antony Blinken a bottle of Salento Primitivo wine, along with a dove sculpture, a book and seven Apostolic Exhortations. Vice President Kamala Harris received two bottles of rum, among other gifts, from Guatemalan President Alejandro Giammattei in 2021.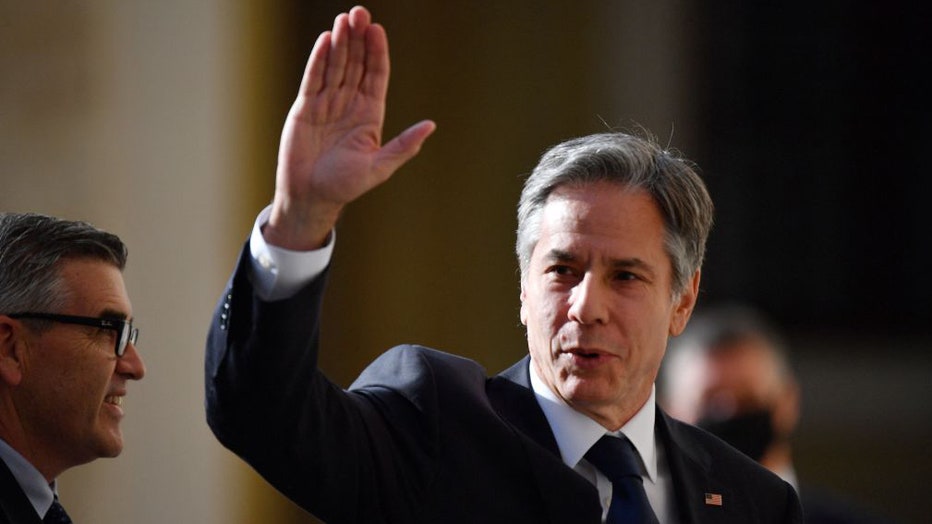 FILE-US Secretary of State Antony Blinken waves as he arrives to the Vatican for a meeting with Archbishop Paul Gallagher and Pope Francis as part of his three-nation tour of Europe, on June 28, 2021. (Vatican Media via Vatican Pool/Getty Images)
When it comes to the CIA, certain gifts are marked as placed on display, like a $1,110 silk rug and an $800 set of Virginia Woolf pens given to CIA employees by unnamed persons. Others were not handed over but simply marked as destroyed. 
Jewelry, watches, sculptures and other items gifted to CIA employees were marked as being destroyed. One of the watches received by a CIA employee and then destroyed was valued at $10,000. Other destroyed items include iPad minis, jewelry, a frosted glass eagle sculpture given to CIA Director William Burns and a $680 box set of fragrances. 
Not destroyed, however, were several consumable gifts of high value. One CIA employee in the past few years received a set of four bottles of "vintage wine" valued at over $1,100 from an unnamed foreign entity. The gift report notes it was put to "official use."
THE CIA IS HIRING: HERE ARE THE JOBS AND PAY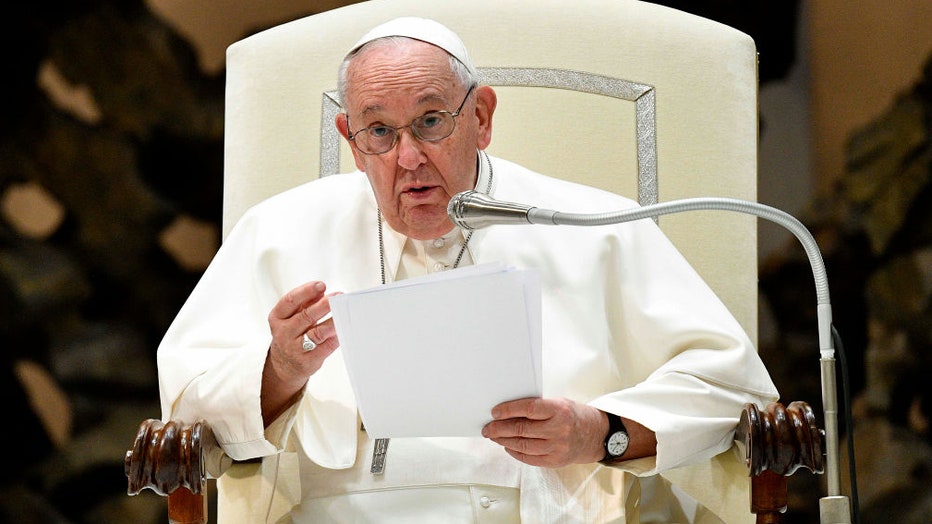 Pope Francis attends his weekly general audience at the Paul VI Hall on February 22, 2023 in Vatican City, Vatican. (Vatican Media via Vatican Pool/Getty Images)
A box of "High-end Davidoff Royal Release Cigars" valued at $800 was similarly consumed after it was given to a CIA employee, as was a gift basket containing wine and cognac valued at $590. 
The CIA did not disclose details of the official use of the alcoholic gifts but told FOX Business the agency "handles gifts lawfully and responsibly."
There could be several reasons gifts like cigars and wine are put to "official use," while non-consumable gifts are destroyed. Since the gifts are often from foreign officials, they may have been gifted to CIA employees stationed overseas, where there may not be a particularly easy or inexpensive way to hand over the items to other government agencies for storage, which is the fate of the expensive gifts handed to the president, ambassadors or the secretary of state.
"When an agency receives foreign government gifts, there are several options for disposing of the gift permissibly," a CIA spokesperson said. "When an employee receives a foreign government gift exceeding minimal value, the agency may make official use of the gift or may display it. Examples of official use could include using a gift for artistic display, re-gifting to authorized recipients or otherwise using a gift in an official function. The agency may sell the gift to the employee. Or an agency may dispose of the item as excess property."
As an intelligence agency, the CIA withholds the name of the recipient and the gift giver if such information "could adversely affect United States intelligence sources or methods," according to U.S. law.