Dangerous air quality smothers major cities as Canada wildfires push smoke into US
Smoke from Canada's wildfires continues to engulf the Northeast and mid-Atlantic regions of the U.S. on Thursday, raising health concerns for over 100 million people under persistent poor air quality.
The wildfire smoke pushing across the region has prompted air quality alerts to be issued from the Midwest to the Northeast and down to the mid-Atlantic and Carolinas.
OVER 100 MILLION IN EASTERN U.S. WARNED OF 'UNHEALTHY' AIR AS CANADIAN WILDFIRE SMOKE SPREADS SOUTH, WEST
New York City, Philadelphia, Baltimore and Washington all woke up Thursday with a significant amount of smoke and haze in the air. 
When the air quality index (AQI) reaches a value greater than 100, the air quality is considered unhealthy. Several communities reached levels in the "hazardous" 300 to 400 range. Washington reached the hazardous level on the AQI scale by 9 a.m. Thursday.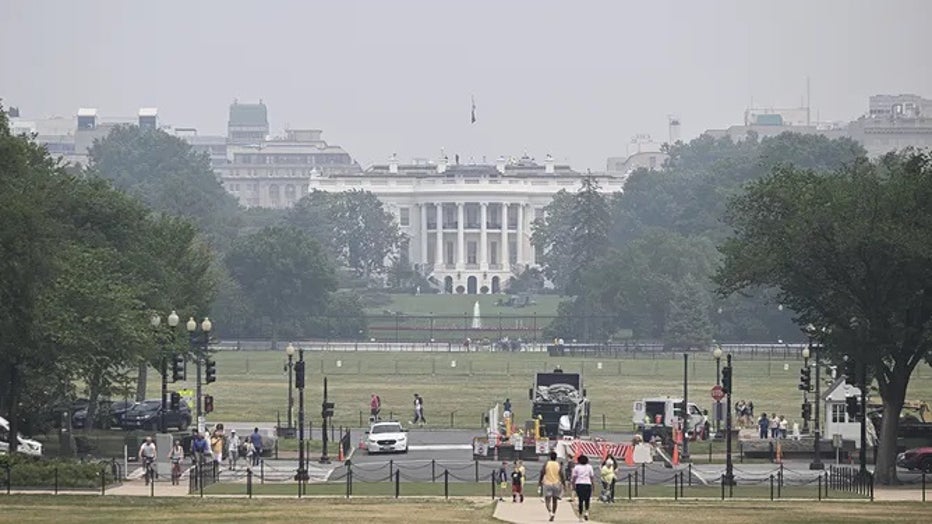 A view of smoky sky as air quality fell to dangerous levels due to Canada's wildfires, according to reports from the National Weather Service, in Washington DC, United States on June 07, 2023. (Celal Gunes/Anadolu Agency / Getty Images)
The FOX Forecast Center said as winds start to shift during the afternoon, New York and Philly should begin to see a gradual improvement, but unhealthy air quality will remain focused over the Baltimore-Washington corridor while also spreading west toward Pittsburgh and the Ohio Valley.
WHAT'S THE STATUS OF CANADIAN WILDFIRES SENDING SMOKE INTO THE U.S., AND WHEN WILL IT END?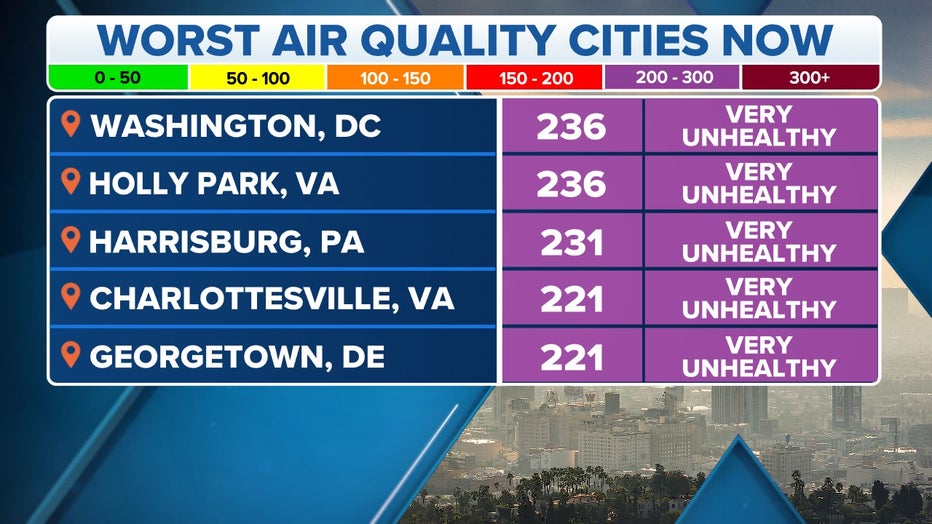 Here's a look at the worst air quality cities right now.(FOX Weather)
The Federal Aviation Administration (FAA) said reduced visibility from wildfire smoke would continue to impact air travel Thursday. Aviation officials said they would likely need to take steps to manage the flow of traffic safely into New York City, Washington, Philadelphia and Charlotte, North Carolina.
Flight disruptions could be seen Thursday morning after the FAA paused flights from the Northeast, Ohio Valley and mid-Atlantic that were bound for New York's LaGuardia Airport. Philadelphia International Airport also saw a ground stop because of the smoke and haze.
SEE EERIE ORANGE SKIES OVER NEW YORK CITY AS CANADIAN WILDFIRE SMOKE BLANKETS NORTHEAST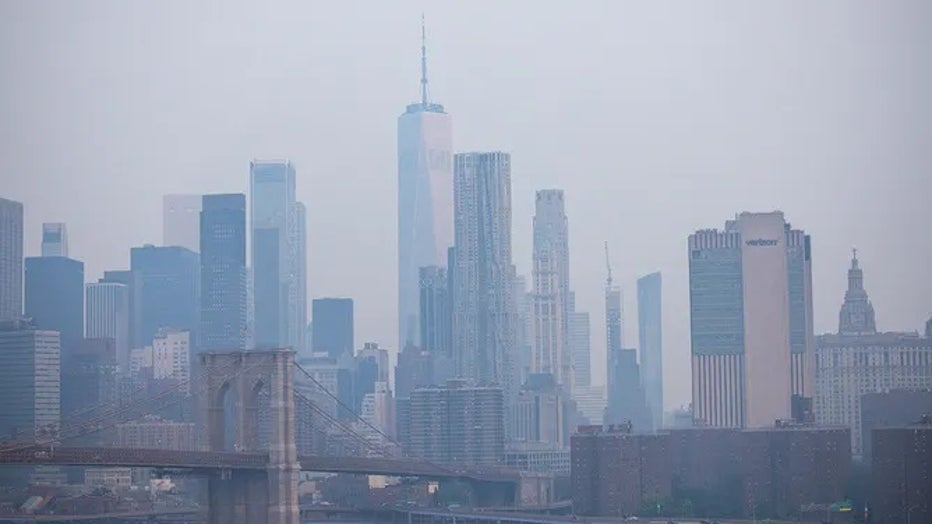 The Manhattan skyline is seen during sunrise amid hazy conditions due to smoke from the Canadian wildfires on June 08, 2023 in New York City. (Michael M. Santiago / Getty Images)
New York City set a record Wednesday for the worst air quality the city had ever reported in records dating to 1981, reaching the highest level of hazardous on the air quality index, as the skies plunged into an orange-tinged darkness.
"Unfortunately, this morning, it's going to be tough," FOX Weather meteorologist Britta Merwin said. "We are not expecting the air quality to improve before getting into the afternoon, and those improvements will not be huge in the afternoon.
Major League Baseball officials postponed Thursday's game between the Arizona Diamondbacks and the Washington Nationals because of concerns over hazardous air quality issues caused by smoke blanketing the skies across the Northeast.
The hazardous air quality in New York City made it impossible for a number of Hamilton artists to perform Wednesday on Broadway. Producers said the shows would resume as scheduled Thursday even as heavy smoke continues to create unhealthy conditions. 
Jim Byk, co-president of the Press Room NYC, said Wednesday's matinée of Prima Facie was halted approximately 10 minutes into the performance after Jodie Comer had difficulty breathing due to the poor air quality in New York City.
"The performance started again from the top with understudy Dani Arlington going on for Ms. Comer in the role of Tessa," he said.
New York City Public Schools were already set to be closed Thursday and will remain closed, New York Mayor Eric Adams said. Given the air-quality conditions expected, district administration announced it would be a remote-work day for staff. 
Friday will also be a remote-instruction day for students scheduled to be at school, the district said. Additionally, it will be another remote-work day for staff—including school-based, district, and central staff.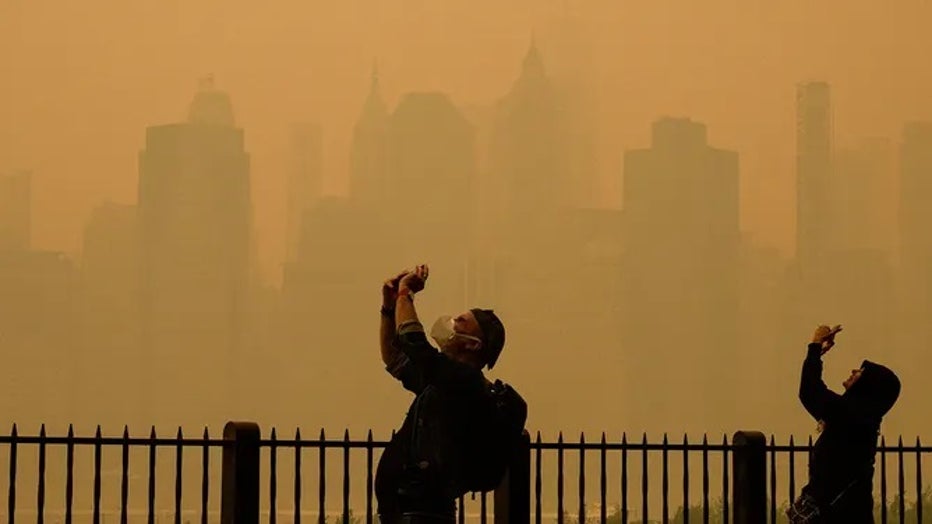 People take photos of the sun as smoke from the wildfires in Canada cause hazy conditions in New York City on June 7, 2023.(ANGELA WEISS/AFP / Getty Images)
New York Governor Kathy Hochul said Buffalo and western New York could experience worse conditions and bad air quality Thursday. The state will be giving out 1 million free N-95 masks available at state facilities across New York. 
"We believe that the N-95 mask is an important way that people can protect, stop the air particles from getting into their lungs," she said.
New York state is expected to receive an additional 600,000 N-95 masks from the Department of Homeland Security. Officials highlight this is not mandatory but voluntary, and decisions should be based on your health.
WHAT TO DO WHEN WILDFIRE SMOKE SMOTHERS YOUR AREA, AND HOW TO KEEP YOUR HOME'S AIR CLEAN
Animals have also been affected by the wildfire smoke. The New York Racing Association, Inc. (NYRA) canceled live racing Thursday at Belmont Park due to poor air quality conditions. Morning training was also canceled at both Saratoga Race Course and Belmont Park. 
The conditions that necessitated the cancellation of training are likely to persist Thursday afternoon and into the evening. As a result, Thursday's twilight racing program, which featured a 3:05 p.m. EDT first post to kick off the 2023 Belmont Stakes Racing Festival, has been canceled.
"Safety is paramount as we navigate this unprecedented situation," NYRA president and CEO David O'Rourke said. "NYRA will actively monitor all available data and weather information as we work toward the resumption of training and racing both here at Belmont Park and at Saratoga Race Course. Based on current forecast models and consultation with our external weather services, we remain optimistic that we will see an improvement in air quality on Friday."
The Belmont Stakes Racing Festival, and the 155th running $1.5 million Belmont Stakes, is expected to be still held Saturday. First post is 11:20 a.m. EDT.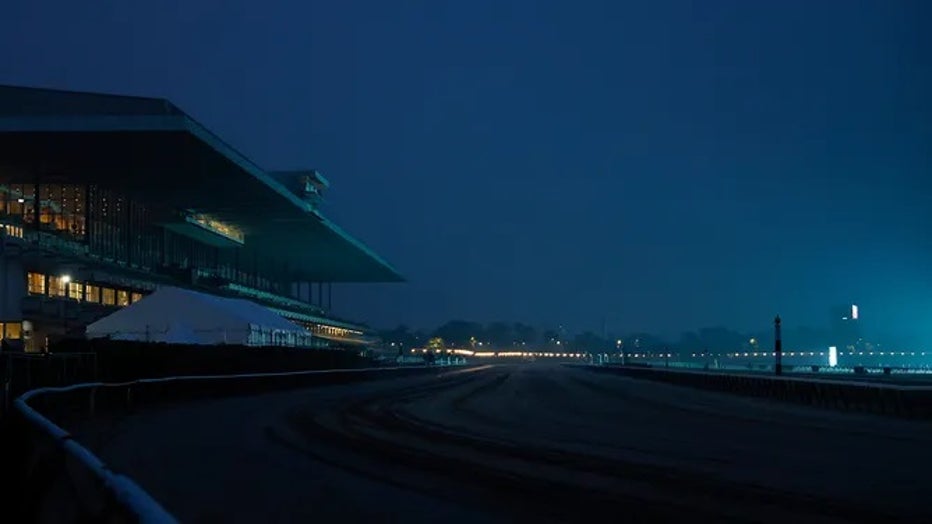 General view of the track before sunrise at Belmont Park on June 08, 2023 in Elmont, New York. (Sarah Stier / Getty Images)
Due to the ongoing air quality concerns in the greater Syracuse area in central New York, country music headliner Chris Stapleton has postponed Thursday night's show at St. Joseph's Health Amphitheater at Lakeview. The rescheduled date has not yet been announced.
When will this smoke finally clear out most of the Northeast?
The latest computer forecast models are suggesting a weather pattern change this weekend and into early next week, which will shift the wind patterns as a storm system moves in from the Great Lakes. 
The FOX Forecast Center said this should be an efficient rainmaker, along with the potential for some thunderstorms, but the good news is this will also shift the winds to a southerly direction. Those southerly winds should finally clear the air of most of the smoke.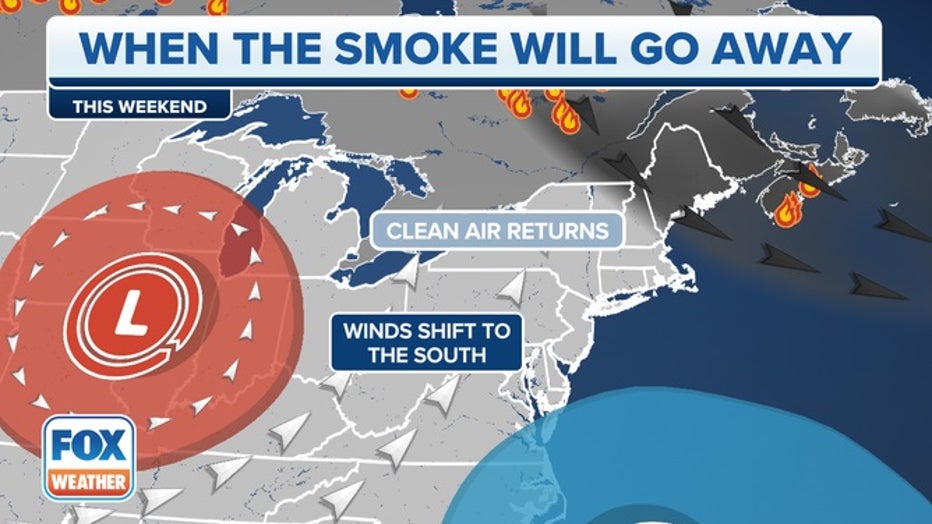 The latest computer forecast models are suggesting a weather pattern change this weekend and into early next week, which will shift the wind patterns as a storm system moves in from the Great Lakes. (FOX Weather)