'Burn after reading': Gabby Petito's parents say letter from Brian Laundrie's mom offered to help bury body
TAMPA, Fla. - Brian Laundrie's mother wrote a letter that said she, "would bring a shovel to help bury a body," according to a request filed Tuesday by the lawyers for Gabby Petito's family; the letter's envelope said, "Burn after reading." 
The existence of the letter was first revealed in documents filed with Sarasota County courts in December. Motions filed Tuesday say Brian's father, Christopher, and mother, Roberta, have 30 days to produce the letter. 
Gabby Petito's parents, Joseph Petito and Nichole Schmidt, are suing the Laundries, and their lawyer, in civil court for damages related to pain and suffering caused by the Laundries' alleged knowledge of Gabby Petito's death.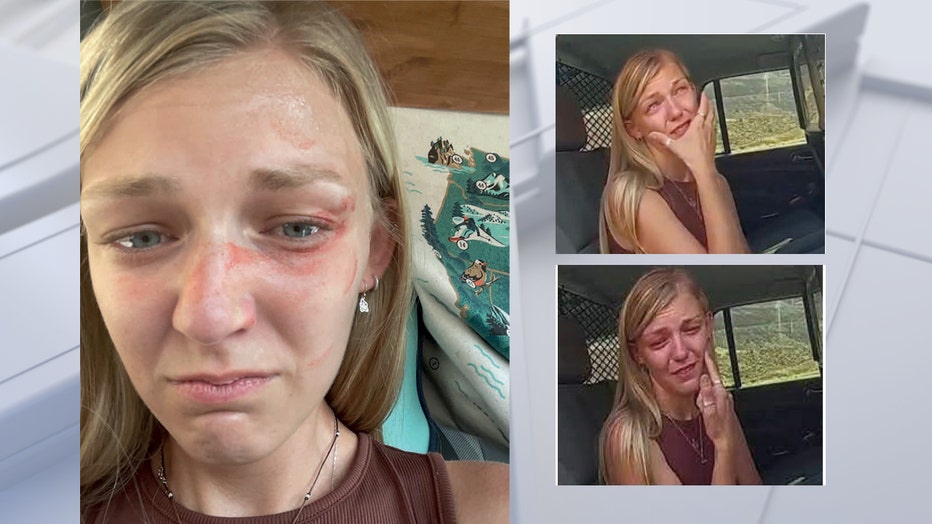 Left: Photo from Gabby Petito's cell phone taken Aug. 12, 2021 (Parker & McConkie) Right: Still images from Moab, Utah police body cameras on Aug. 12, 2021
MORE: Gabby Petito took photo of her injuries on same day Moab officers responded to domestic violence call: lawyers
Petito and Schmidt say that Christopher and Roberta Laundrie, and their lawyer Steven Bertolino, knew Gabby died while on a road trip with their son, Brian, but did not reveal what they knew to law enforcement. 
During that time, officers across the country were searching for Gabby in hopes she would be found alive.
PREVIOUS: Parents of Gabby Petito say Laundrie family lawyer knew Gabby was dead during search, new records show
Petito and Schmidt have revealed, through court filings, what they say is evidence that the Laundries kept their knowledge of Gabby's death a secret. They say the letter from Roberta Laundrie was in the custody of the FBI and was given to Bertolino on June 24, 2022. 
June 24 was also the day when Bertolino and the Petito family's lawyer, Pat Reilly, met with the FBI in Tampa.
A portion of the notebook that Brian Laundrie left.  (Michael Ruiz/ Fox News Digital)
MORE: Brian Laundrie's notebook confession revealed, 'I ended her life'
The Petito family's lawsuit says the FBI also gave Bertolino Brian's handwritten confession which was found near his remains at the Myakkahatchee Creek Environmental Park near his parents' North Port home.
Last month, a Sarasota judge agreed to add Bertolino as a co-defendant in the lawsuit against Brian's parents. They said Bertolino also knew Gabby was dead but withheld information and misled the public with statements to the media.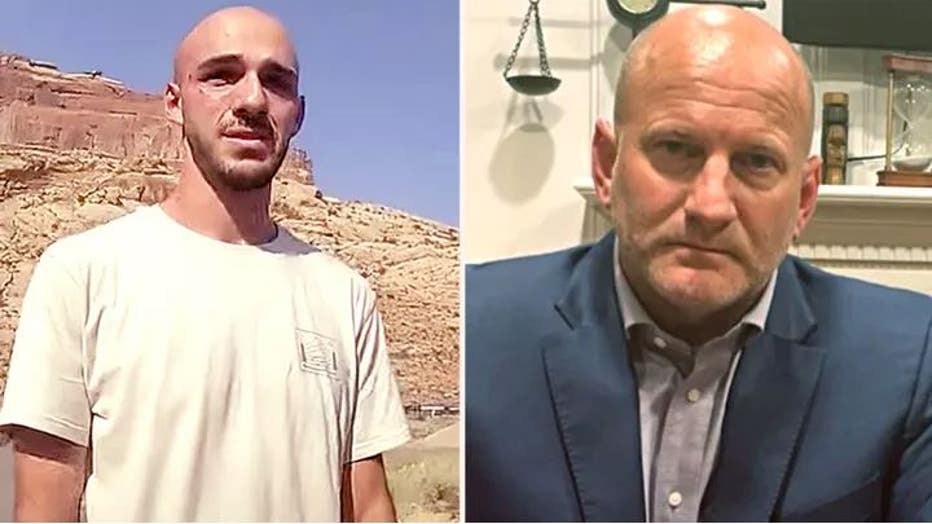 Left, Brian Laundrie on police bodycam video in Moab, Utah; right, attorney Steve Bertolino sits for an interview with Fox News Digital. (North Port Police/Stephanie Pagones/Fox News Digital)
READ: Gabby Petito: Timeline of disappearance, death and Brian Laundrie search
The Laundries are set to go before a jury in Sarasota County court in August 2023.