Meet the man who lives in this airplane in the woods
On a recent Sunday afternoon, no less than a dozen visitors roamed the woods of Hillsboro, Oregon, carefully removing their shoes on the slippery wing of an airplane before stepping through what was once the emergency exit.
Inside, 74-year-old Bruce Campbell was clearly in his element, greeting each guest and giving tours of the old Boeing 727 he's called home for more than 20 years.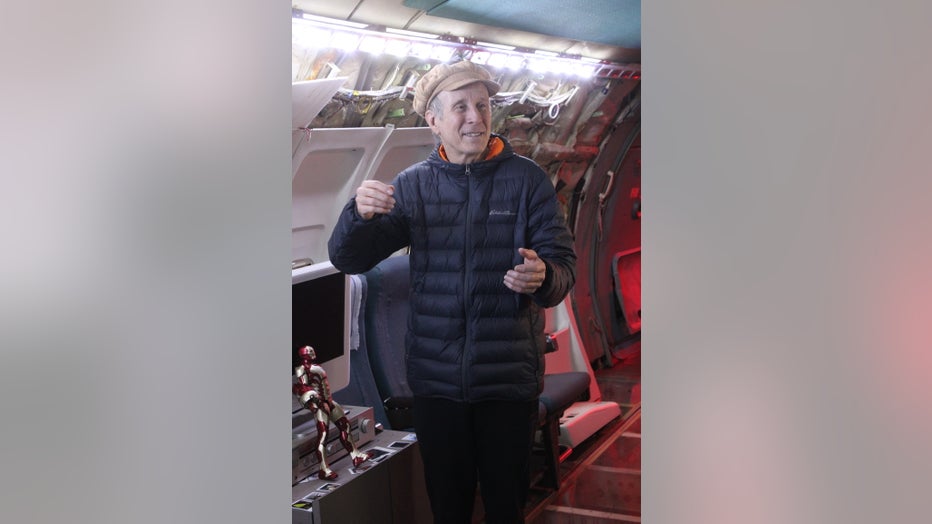 Bruce Campbell (Photo by Christine Smith)
The Airplane Home attracts curious explorers from across the globe, and Campbell, a retired electrical engineer and plane enthusiast, is happy to open up his 1,066-square-foot passenger jet to anyone who wants a look inside. Campbell's ultimate goal is to inspire others to create their own jetliner dreamhomes. 
How did he do it?  
Campbell has told his story so many times, he won't typically tell it in full to his guests unless there's a big enough group of visitors. But there's a trove of information on his website about his journey and what he wants to do next.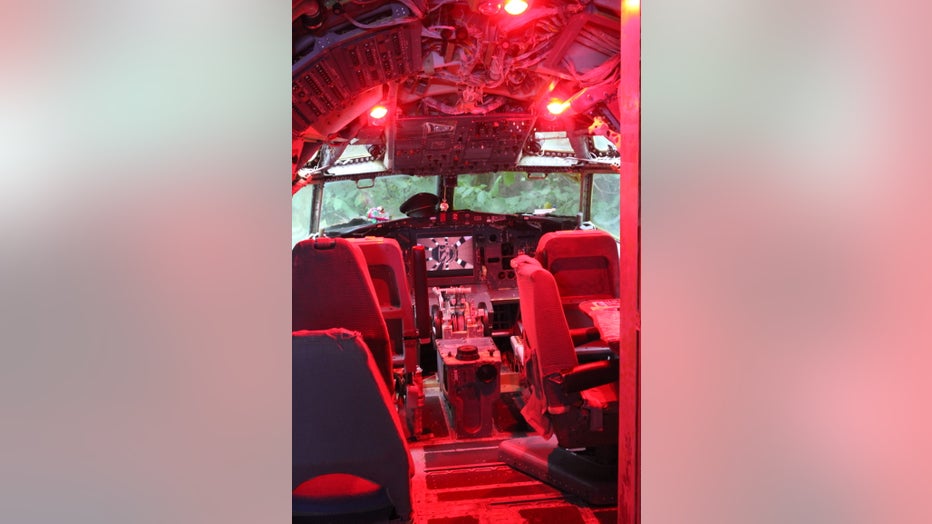 The cockpit in Bruce Campbell's Airplane Home (Photo by Christine Smith)
In 1999, Campbell paid $100,000 for what's now known as the Airplane Home. The aircraft had to be flown from Greece, where it had retired, to the Hillsboro Airport, about 40 minutes outside of Portland. From there, the wings and tail were temporarily removed so the plane could travel through the streets of Hillsboro to Campbell's wooded land. Campbell bought his 10 acres in the mid-'70s for about $26,000.
Campbell added a shower, a temporary sink, a futon, a portable washing machine and a refrigerator to the plane. He uses a food service cart from another plane as his pantry.
In all, it cost him about $220,000, but Campbell believes it can be done much cheaper. He spends less than $400 a month on property taxes and electricity.
"You can do it, too, if you avoid the mistakes I made!" he exclaimed to a guest during our visit.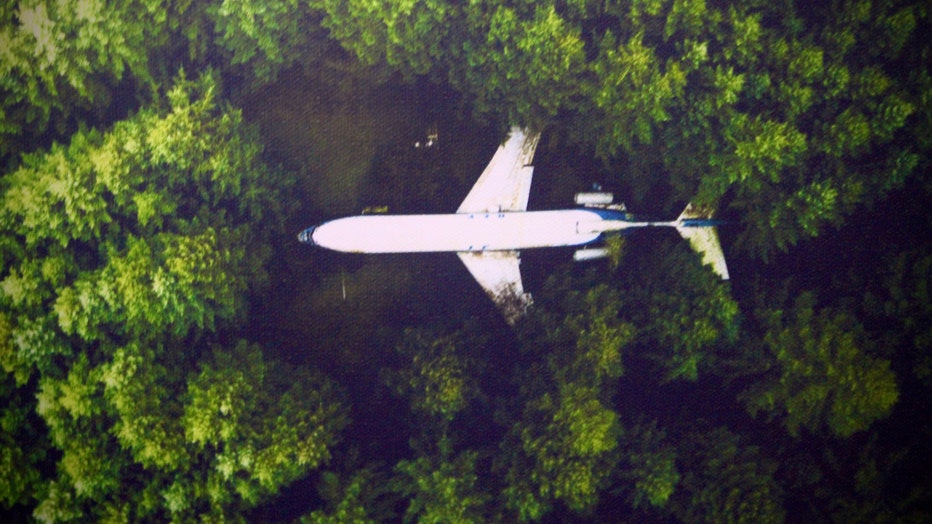 Aerial photo on a canvas of Bruce Campbells Airplane Home in Hillsboro, Oregon.
In the summer, Campbell hosts concerts and other events, and he welcomes campers for free. He has piles of message boards filled with notes and kind words from past visitors.
READ MORE: This state dominates the '2024 Best Places to Retire' list, and it's not Florida
When Armani Ortiz, 17, climbed onto the plane's roof during our visit, Campbell tossed him a broom and asked him to sweep some fallen leaves. Ortiz happily obliged.
Campbell suggests sending him an email before you visit, but he's generally available most afternoons if he's home.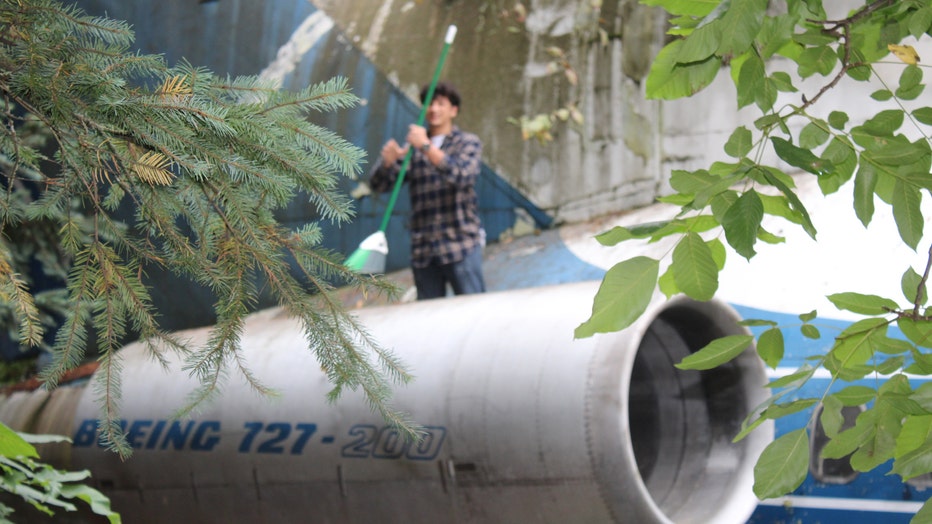 Armani Ortiz, a visitor at the Airplane Home, sweeps leaves off the plane's roof (Photo by Christine Smith)
It's about as cold or hot inside the jet as it is outside, so Campbell suggests dressing appropriately, but the self-described nudist warns visitors that he might not be: "Please accept that incidental personal nudity occasionally occurs."
"My home's sleeping and shower areas are fully open (not walled) within my cabin, I don't shade my cabin windows, I wear no clothing when indoors unless required for task related protection or warmth," he says on his website. 
A piece of history
The Airplane Home isn't just a residence and local attraction, it's a piece of history.
The plane was owned by Aristotle Onassis, the Greek business magnate and second husband of former First Lady Jackie Kennedy Onassis. In 1975, it was used to transport Aristotle's body and coffin to his funeral for what Campbell called "his last flight."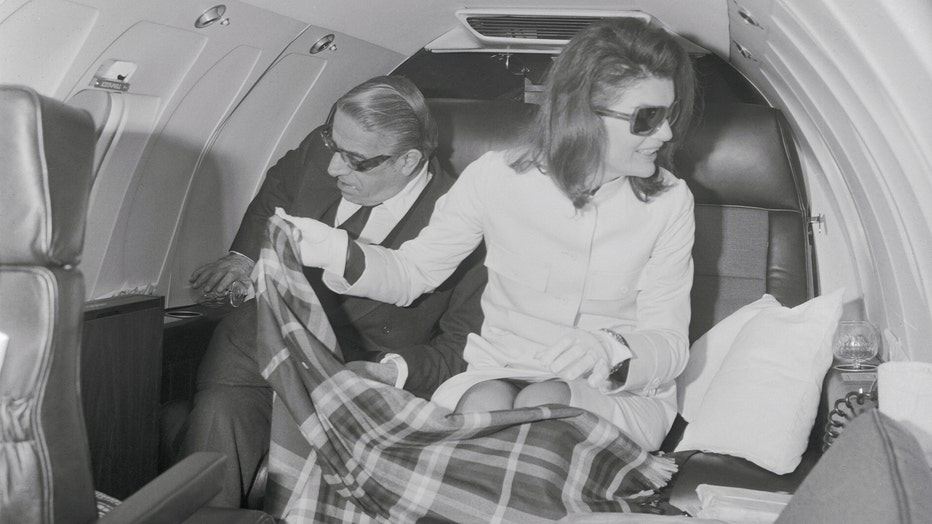 (Original Caption) Jacqueline Onassis protects her husband, Aristotle Onassis and herself from the cold with a lap rug, as they sit in their private jet here march 7th. (Getty Images)
Campbell said some of the original plane seats remain in his home. 
You, too, can live in an airplane home
Campbell wasn't the first to call the inside of an airplane home. He was inspired, in part, by Jo Ann Ussery, who bought a Boeing 727 in 1994 and turned it into a lakeside home in Benoit, Mississippi. Ussery spent six months renovating the plane's interior and ended up with more than 1,500 square feet of space – including three bedrooms, two bathrooms and a hot tub. In all, she spent about $30,000.  
Reports say Ussery lived in the plane for four years until she decided to move it so it could be on public display, but the plane fell off the truck that was carrying it to its new destination. It was damaged beyond repair.
Jo Ann Ussery steers a boat on a pond outside her converted Boeing 727. (Photo by © Ralf-Finn Hestoft/CORBIS/Corbis via Getty Images)
"Jetliners are masterful works of aerospace science, and their superlative engineering grace is unmatched by any other structures people can live within," Campbell says on his website. "They're incredibly strong, durable, and long lived. And they easily withstand any earthquake or storm."
READ MORE: Major US airlines find unapproved jet engine parts in some aircraft
Campbell says an estimated two or three commercial planes are retired every day, leaving ample supply. But there is one problem: they're hard to move over land.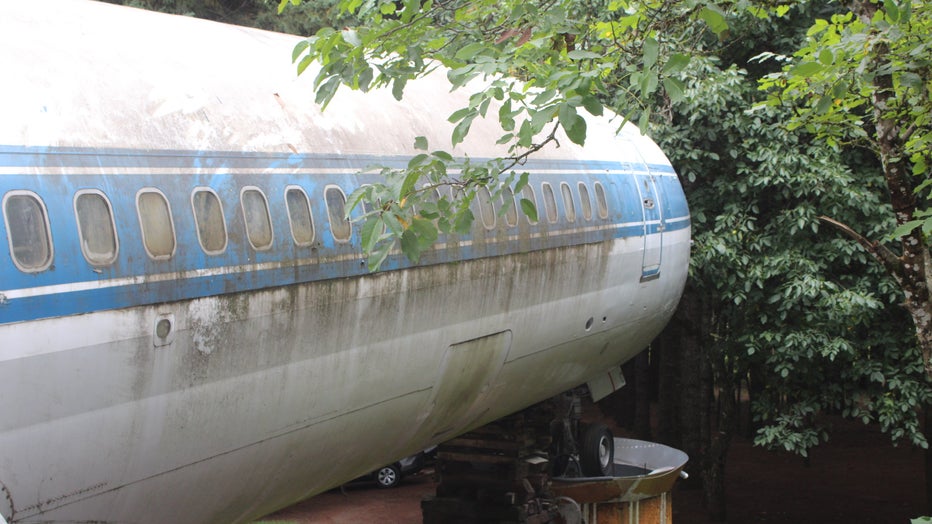 Airplane Home exteriors (Photo by Christine Smith)
Campbell suggests buying the whole airplane — minus the engine — and don't hire a salvage company to help like he did.  
What's next for Bruce
Campbell spends about half of his time in Japan, where he hopes to build another airplane home near Miyazaki City. Although he has reason to be optimistic about his new project, he admits "the hurdles are enormous."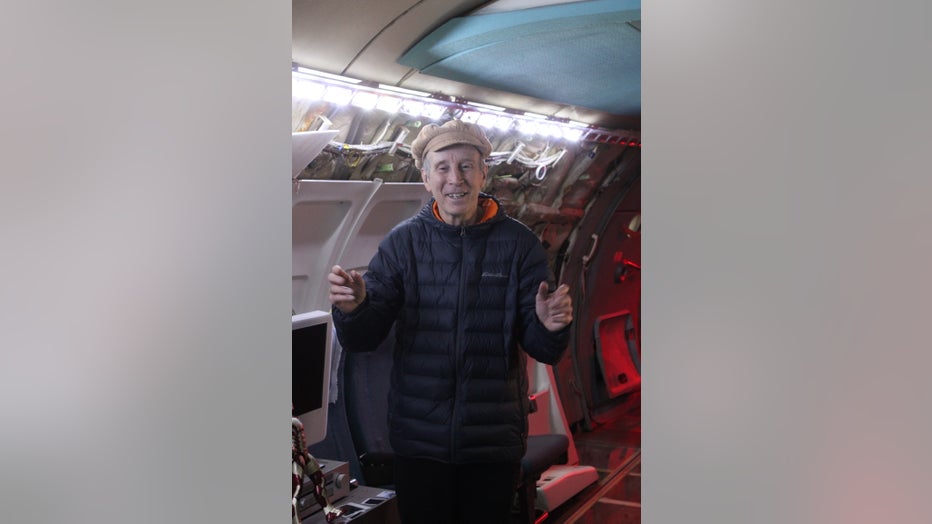 Bruce Campbell (photo by Christine Smith)
"Either way, I hope I can find success, he says. "Because these great ships, gleaming pinnacle class symbols of mankind's achievements, richly deserve a very long and noble second life."