Dozens arrested following anti-Israel protest in Brooklyn
BROOKLYN - Over a dozen people were arrested this weekend during a massive anti-Israel protest in Brooklyn, the NYPD said.
Thousands took to the streets Saturday on 72nd St. and 5th Ave. in Bay Ridge.
According to the NYPD, at least 16 people were arrested after police said the rally became rowdy. Three others were taken into custody.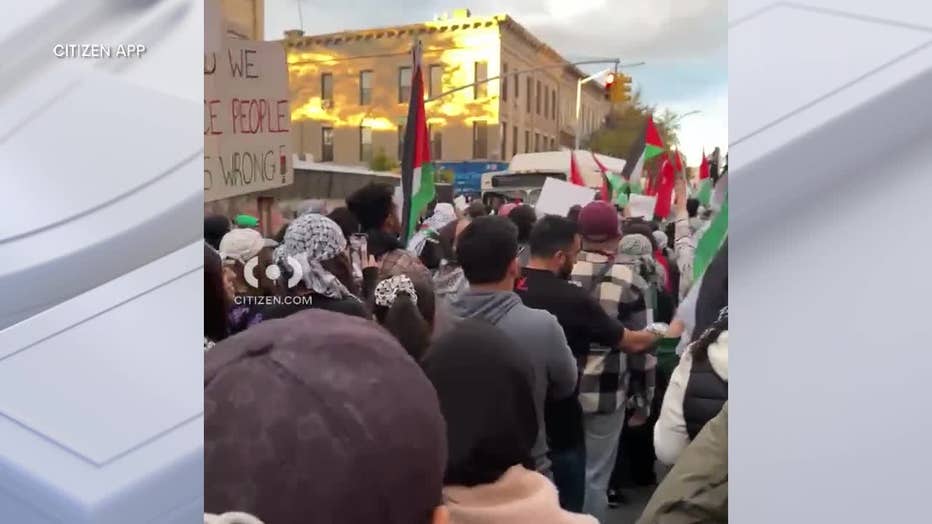 Citizen app video taken Saturday shows the scene.
Police said demonstrators became combative and aggressive. 
Officers were reportedly pushed, shoved and struck with flying debris, which included eggs, fireworks and bottles.
Free the Hostages rally
Just last week, a Free the Hostages rally was held by the United Nations, with families of hostages kidnapped by Hamas pleading their loved ones not be forgotten. 
An estimated 200 people were taken hostage during Hamas' terror attacks a week and a half ago, including a number of children and Americans.
Shortly after the Free the Hostages rally, other rallies were held in different parts of the city. 
Hundreds gathered outside the CUNY location on 5th Avenue and 34th Street in support of Palestinians. Many expressed worry for the safety of innocent civilians and children in Gaza.
Times Square rally
Earlier this month, thousands gathered in Times Square to express their support for the people of Palestine and condemn Israel's ongoing military campaign in Gaza.
Protesters marched through the streets from Times Square to the Israeli Consulate, then to the United Nations, where at least two people were taken into custody by the NYPD.
The protest was organized by a Palestinian-led community organization called "Within Our Lifetime," to show support for Gaza.
Protesters were surrounded by police, but despite the emotional and divisive nature of the conflict, the overwhelming majority of protesters were peaceful.