Book your Thanksgiving, Christmas flights by this date to save money: economist
Travelers looking to get away during the upcoming holiday season need to book trips no later than Oct. 14 in order to nab a relatively affordable flight, according to Hopper lead economist Hayley Berg.
However, Berg warned travelers that while airfare will be relatively lower, it will still remain volatile before surging in the weeks leading up to Thanksgiving and Christmas.
"Prices won't remain low for long, high demand for holiday travel and rising fuel prices will push prices up as the holidays approach," Berg said.
HOLIDAY TRAVEL: IS NOW THE TIME TO BOOK AIRLINE TICKETS?
Consumer spending has been slowing as financial pressures, including inflation, persist whilst pandemic-era savings continue to diminish.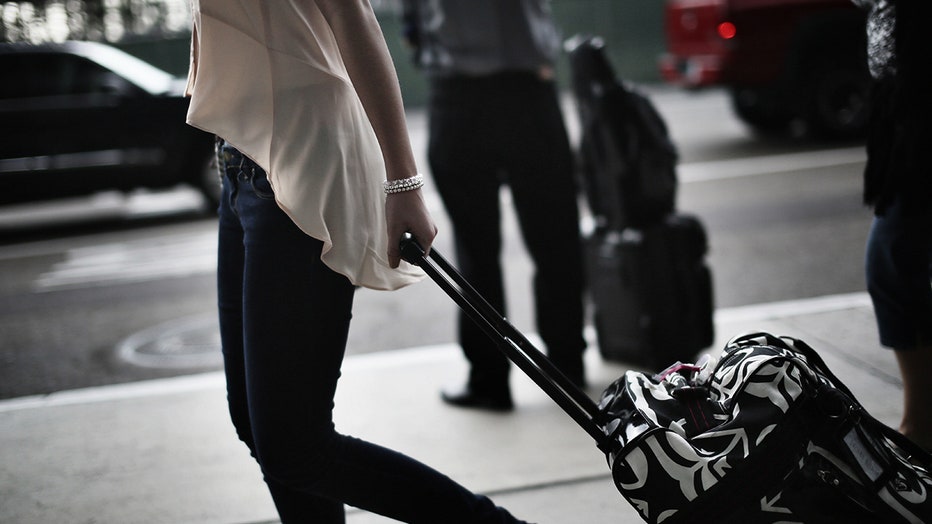 Travelers cart their luggage after arriving at San Diego's Lindbergh International Airport on Wednesday, November 21, 2012 in San Diego, CA. (Credit: Sandy Huffaker/Corbis via Getty Images)
According to a recent Hopper survey, nearly half of users who plan to travel, about 41%, are concerned that they won't be able to afford their pre-planned trips.
For now, domestic flights for Thanksgiving are averaging $268 per ticket, which is down 14% from this time last year and down 7% from pre-pandemic times.
SUMMER AIR TRAVEL ISSUES LIKELY TO CONTINUE, EXPERTS WARN
Those eyeing international trips are looking at roughly $1,202 per round-trip, which is a slight dip, about 2%, from last year, according to Hopper data.
Round trips to Europe in particular are averaging around $591 per round-trip, which is down 7% from last year and down significantly from the peak of summer. In June, prices were surging to nearly $1,200, which is the highest it has been in six years, Hopper previously reported.
RELATED: Americans traveling to Europe will need 'visas' starting in 2024
For Christmas, domestic flights are averaging $400 per round trip. Although that's down 12% from this time last year, it is still significantly higher, about 29%, than pre-pandemic times.
Internationally, trips to Europe are averaging $960 round-trip, while prices are averaging $1,965 per round-trip to Asia; both of those figures are up 5% compared to a year ago.