Sen. Bob Menendez and wife face bribery charges
NEW JERSEY - Sen. Bob Menendez was charged with secretly aiding the authoritarian government of Egypt and trying to thwart the criminal prosecution of a friend in exchange for gold bars and cash, as prosecutors unsealed a corruption indictment Friday that accuses him of using his foreign affairs influence for personal gain.
He relinquished his chairmanship of the Senate Foreign Relations Committee but said he would not resign from Congress, though New Jersey's governor, a fellow Democrat, said he should.
The indictment, the second in eight years against the powerful 69-year-old New Jersey Democrat, alleges an illegal commingling of Menendez's professional obligations as chairman of the Senate Foreign Relations Committee to advance U.S. priorities and his private interest in cultivating relationships with wealthy businessmen. It also includes charges against his wife and three New Jersey businessmen who authorities say showered the couple with money, gold and a luxury car in exchange for official favors.
A previous indictment of Menendez stemming from different allegations ended in 2017 with a deadlocked jury.
PREVIOUSLY: New Jersey's Bob Menendez wins 3rd Senate term
Hours after the latest case was unsealed, New Jersey Gov. Phil Murphy, a fellow Democrat, demanded Menendez's immediate resignation, saying the allegations are "so serious that they compromise" the senator's ability to serve. Senate Majority Leader Chuck Schumer said Menendez would step down as chairman of the Foreign Relations Committee "until the matter has been resolved," as per the rules of the Senate Democratic caucus, but stopped short of calling for him to to resign.
Beyond advancing Egypt's interests, Menendez is separately accused of trying to derail the criminal case against one of the businessmen by pushing to install Philip R. Sellinger as U.S. attorney for New Jersey because Menendez believed he could influence Sellinger. Prosecutors say he also tried to use his position of power to try to meddle in a separate criminal investigation by the New Jersey Attorney General's office.
Authorities found more than $100,00 worth of gold bars in Menendez's home, and more than $480,000 in cash — much of it hidden in closets, clothing and a safe, prosecutors say. Photos included in the indictment show cash that was stuffed in envelopes found in jackets bearing Menendez's name. Investigators discovered a Google search by Menendez for the value of a "kilo of gold," and DNA of one men prosecutors say bribed him on an envelope filled with thousands of dollars in Menendez's home, they said.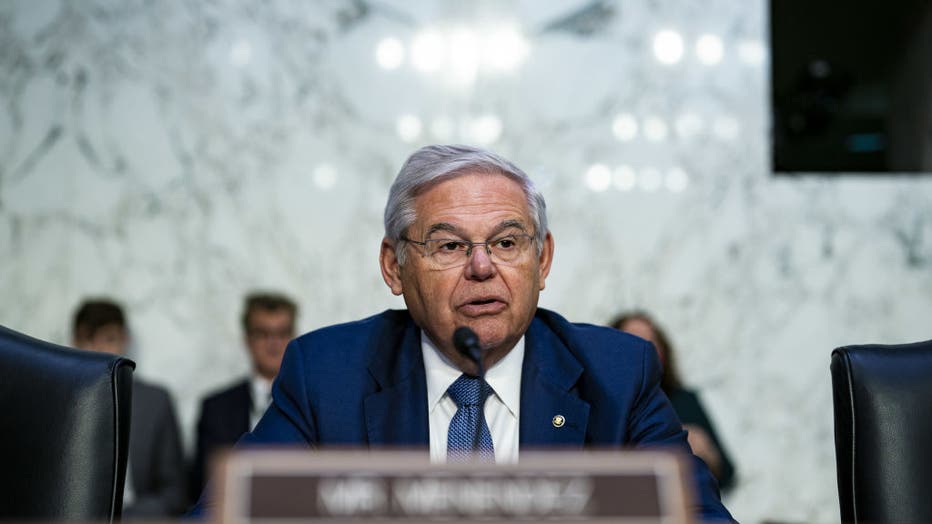 Senator Bob Menendez, a Democrat from New Jersey, speaks during a Senate Banking, Housing, and Urban Affairs Committee hearing in Washington, DC, US, on Tuesday, March 7, 2023. The Federal Reserve chair is expected to echo fellow central bankers in s
Prosecutors allege Menendez took repeated actions to benefit Egypt despite US. government misgivings over the country's human rights record that in recent years has prompted Congress to attach restrictions on aid. His steps include ghost-writing a letter to fellow senators encouraging them to lift a hold on $300 million in aid to Egypt as well as transmitting non-public information to Egyptian officials about military issues, the indictment says.
Menendez in an emailed statement accused prosecutors of misrepresenting "the normal work of a congressional office" and said he will not allow his work in the Senate to be distracted by "baseless allegations."
"For years, forces behind the scenes have repeatedly attempted to silence my voice and dig my political grave," Menendez said. "Since this investigation was leaked nearly a year ago, there has been an active smear campaign of anonymous sources and innuendos to create an air of impropriety where none exists."
David Schertler, a lawyer for Menendez's wife, Nadine, said she "denies any criminal conduct and will vigorously contest these charges in court."
Menendez appears to be the first sitting senator in U.S. history to have been indicted on two unrelated criminal matters, according to the Senate Historical Office. He faces reelection next year in a bid to extend his three-decade career in Washington as Democrats hold a narrow majority in the Senate.
"Bob Menendez has been a dedicated public servant and is always fighting hard for the people of New Jersey. He has a right to due process and a fair trial," Democratic leader Schumer said in an emailed statement.
Egypt has long been a top recipient of U.S. government aid -- more than $1 billion a year -- thanks to overriding American national security interests in the region, but the relationship has been tested by concerns over human rights abuses in the country.
PREVIOUSLY: Sen. Bob Menendez faces another federal probe
As chairman of the Foreign Relations Committee, Menendez has influence on executive branch decisions on military spending and aid to foreign countries including Egypt as well as the ability to recommend "holds" on financing that the State Department historically respects.
Prosecutors allege Menendez and his wife accepted hundreds of thousands of dollars in bribes from three business associates, Wael Hana, Jose Uribe and Fred Daibes. He used his influence to push to nominate Sellinger as U.S. attorney because he believed he could influence Sellinger to protect Daibes, a longtime friend and prominent New Jersey developer who faced criminal prosecution, they said. Sellinger is not accused of any wrongdoing.
Daibes pleaded guilty in April 2022 to bank fraud charges and is scheduled to be sentenced in October. His plea deal calls for him to serve only probation in that case.
The White House declined to comment on the indictment, including on Biden's nomination of Sellinger, and referred all questions to the Justice Department.
Requests for comment from lawyers for Daibes and Uribe were not immediately returned. A spokesperson for Hana, Steven Goldberg, said they are still reviewing the charges, but based on an initial review believe they have "absolutely no merit."
In April 2020, shortly after meeting with an Egyptian official, authorities allege, Menendez lobbied then-Secretary of State Mike Pompeo to increase American engagement in stalled negotiations involving Egypt, Ethiopia and Sudan to build a dam over the Nile River, a key foreign policy issue for Egypt.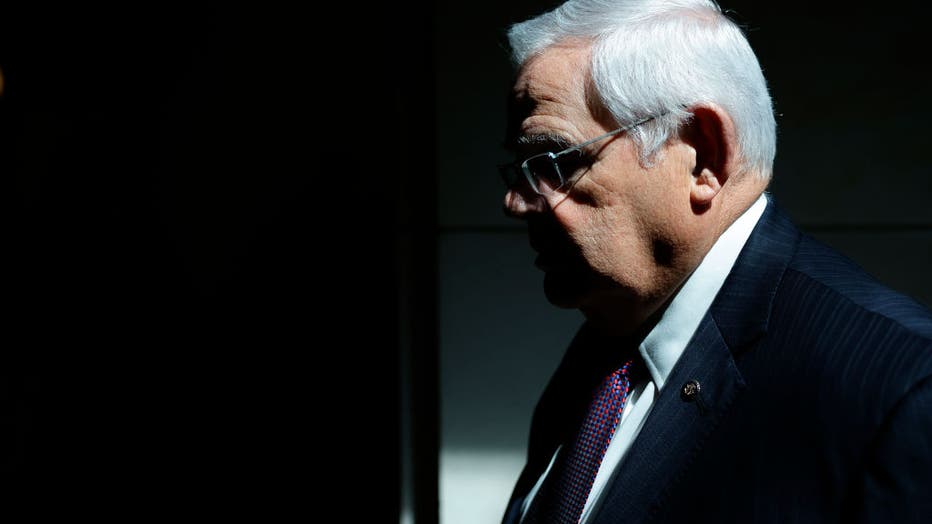 WASHINGTON, DC - APRIL 19: Senate Foreign Relations Committee Chairman Robert Menendez (D-NJ) arrives for a closed-door briefing by intelligence officials about the Discord leaks at the U.S. Capitol Visitors Center on April 19, 2023 in Washington, DC
Separately, after Menendez called a government official about an investigation of a Uribe associate, Uribe and Hana worked to provide the senator's wife with a Mercedes-Benz convertible. The indictment says that after the transaction was complete, Nadine Menendez texted her husband to say: "Congratulations mon amour de la vie, we are the proud owners of a 2019 Mercedes," with a heart emoji.
The first time Menendez was indicted, he had been accused of using his political influence to help a Florida eye doctor who had lavished him with gifts and campaign contributions. Menendez was accused of pressuring government officials to resolve a Medicare billing dispute in favor of a friend — Dr. Salomon Melgen — securing visas for the doctor's girlfriends and helping protect a contract the doctor had to provide port-screening equipment to the Dominican Republic.
PREVIOUSLY: Feds won't retry Menendez on corruption charges
Menendez has always maintained his innocence, and prosecutors dropped the case after a jury deadlocked in November 2017 on charges including bribery, fraud and conspiracy, and a judge dismissed some counts.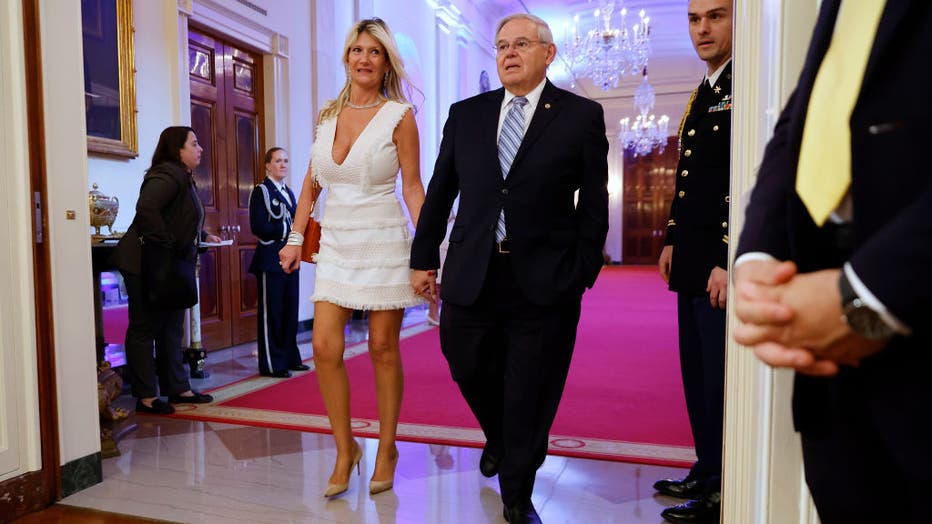 WASHINGTON, DC - MAY 16: U.S. Senate Foreign Relations Committee Chairman Bob Menendez (D-NJ) and his wife Nadine Arslanian arrive for a reception honoring of Greek Prime Minister Kyriakos Mitsotakis and his wife Mareva Mitsotakis in the East Room of
The son of Cuban immigrants, Menendez has held public office continuously since 1986, when he was elected mayor of Union City, New Jersey. He was a state legislator and spent 14 years in the U.S. House of Representatives. In 2006, Gov. Jon Corzine appointed Menendez to the Senate seat he vacated when he became governor.
The new charges follow a yearslong investigation that examined, among other things, how Hana's company — IS EG Halal — was able to secure sole authorization from the Egyptian government to certify that meat imported into that country meets Islamic dietary requirements.
The designation surprised U.S. agriculture officials. Previously, several other companies had been doing that certification, but they were dismissed by Egyptian agriculture officials in favor of IS EG Halal, which had no previous experience in the field.
PREVIOUSLY: MISTRIAL: Sen. Bob Menendez trial ends in hung jury
The day after an Egyptian official told Hana that his company was likely to become the sole halal certifier, Nadine Menendez, an acquaintance of Hana, texted the senator: "Seems like halal went through. It might be a fantastic 2019 all the way around."
Prosecutors say Menendez then pressured a U.S. Department of Agriculture official to stop opposing Hana's company as the sole halal certifier. Hana's company was used to send bribes payments to a business set up by Menendez's wife called Strategic International Business Consultants, LLC, prosecutors allege.
Senate disclosure form amended by Menendez in March of 2022 show Nadine Menendez's assets included gold bars valued between $100,000 to $250,000. Between April and June of 2022, the couple cashed out at least part of their precious metal holdings, forms show, selling between $200,000 and $400,000 worth of gold bars, while keeping at least $250,000 worth of them.
____
Richer reported from Boston and Tucker reported from Washington. Associated Press reporters Farnoush Amiri, Mary Clare Jalonick and Seung Min Kim in Washington contributed.