'Blessed to be alive': Watch as couple escapes RV, runs into ditch to shelter from massive tornado
ORANGE, Texas - Dramatic video shows a couple racing to outrun a tornado in Texas, jumping into a ditch for shelter.
Zachary Peck-Chapman and his partner feel blessed to be alive after they were forced to run from their RV to seek shelter during the tornadic storms in Orange, located about 30 minutes from Beaumont along the Texas-Louisiana border.
The National Weather Service issued a Tornado Warning in the area about 4:30 p.m. local time Tuesday as a line of severe storms swept through the town. The agency warned residents of the life-threatening situation and to seek shelter immediately.
Amidst the chaos, Peck-Chapman managed to document him and his partner running from their RV with their dogs as they dove into ditchwater at the Country Livin' RV Park.
"Scariest moment of our life," Peck-Chapman said in a tweet posted with the video.
SEVERE STORM THREAT SHIFTS TO SOUTHEAST AFTER TORNADOES BATTERED HOUSTON SUBURBS
He said he knew there was a warning in the surrounding area but didn't feel it was safe to drive out in the weather.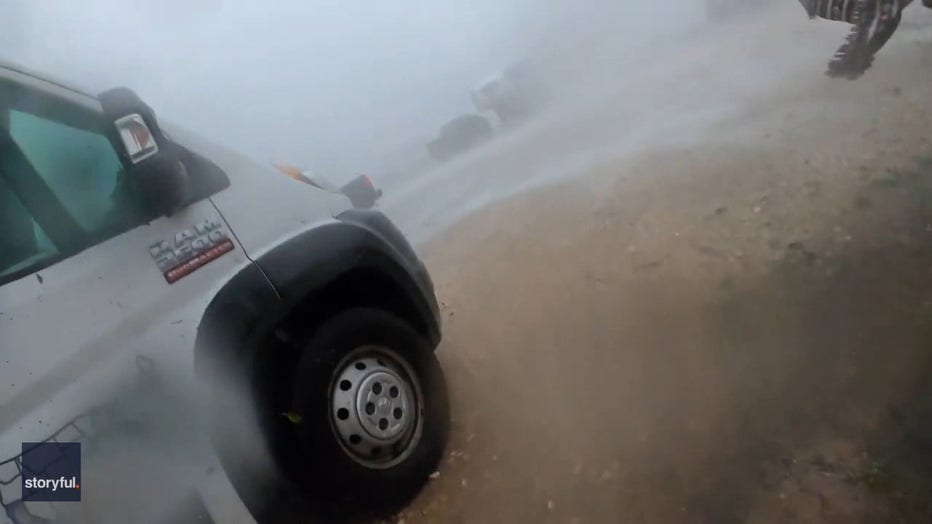 Zachary Peck-Chapman and his partner were forced to run from their RV to seek shelter during the tornadic storms in Orange, Texas. 
While it may be tempting to try and outrun a tornado, this is not a wise choice. A tornado's path can change in an instant, sometimes switching directions at random. You could be driving away from a tornado when it suddenly charges down your path. 
THIS IS WHAT YOU SHOULD DO IF YOU ARE DRIVING AND THERE IS A TORNADO ON THE GROUND
The best course of action if you spot a tornado while driving is to pull over and seek shelter. If there are sturdy buildings around, enter one and go to its lowest level without windows. If no such shelter is available, find the lowest point on the ground, such as a ditch or culvert, and lie down, covering your head with your hands.
"We feel blessed to be alive and to have our tiny home on wheels intact," he said.
Only minor damage was reported at the RV park, Peck-Chapman said, and the owners were out immediately to help move campers back on their blocks.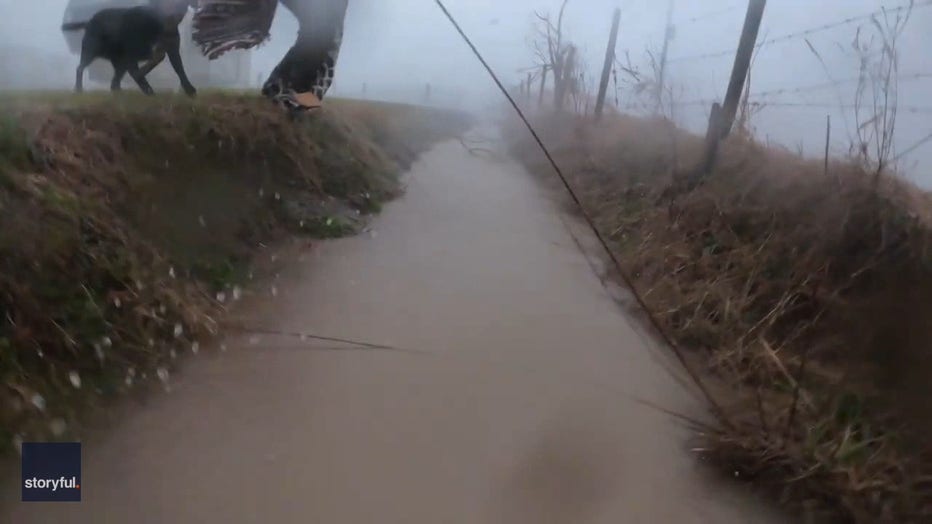 A couple in Orange, Texas, say they "feel blessed to be alive" after they were forced to run from their RV and dive into a ditch to shelter as a tornado touched down nearby on Jan. 24, 2023. Credit: Zachary Peck-Chapman via Storyful
The line of severe weather spawned at least 14 reports of tornadoes across southeastern Texas and southwestern Louisiana on Tuesday afternoon, causing damage and injuries. Luckily, no deaths have been reported. 
The same line of powerful severe storms that battered the Houston area in southeastern Texas is now pushing its way across the Southeast and is expected to impact areas from northern Florida to eastern North Carolina.