FBI: Colombo family mobsters shook down union; boss arrested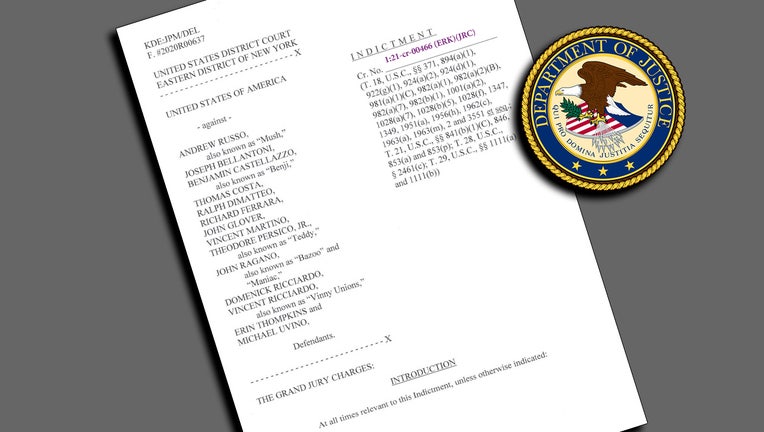 NEW YORK - Federal agents arrested more than a dozen top members and associates of the Colombo crime family — including the family's boss and underboss — Tuesday morning, according to a law enforcement source. 
A 19-count indictment unsealed in Brooklyn federal court charged 14 people with various offenses, including labor racketeering, extortion, money laundering conspiracy, and more, according to a news release from federal prosecutors.
Law enforcement authorities said that Andrew "Mush" Russo, the alleged boss of the Colombo crime family; Benjamin "Benji" Castellazzo, the alleged underboss; and Ralph DiMatteo, the alleged consigliere face racketeering and other charges.
The indictment also charged several alleged captains, associates, and a soldier of the Colombo crime family, the feds said, plus John Ragano, an alleged Bonanno family soldier.
"Today's charges describe a long-standing, ruthless pattern by the administration of the, its captains, members and associates, of conspiring to exert control over the management of a labor union by threatening to inflict bodily harm on one of its senior officials and devising a scheme to divert and launder vendor contract funds from its health care benefit program," Acting U.S. Attorney Jacquelyn Kasulis said in a statement. "In addition, for their own enrichment, the defendants conspired to engage in extortionate loansharking, money laundering and fraud, as well as drug trafficking."
The case involves the Colombo family's long-running effort to infiltrate and take control of a labor union in Queens and its affiliated health care benefit program, according to prosecutors. 
Crime family members pressured the union to steer health plan business to pals, sought at least $10,000 per month in kickbacks, and threatened to kill a union official if he didn't comply, prosecutors said.
The operation began back in 2001 when Vincent Ricciardo, who is known as "Vinny Unions," started squeezing a union official to fork over a portion of his salary as a "pension" he falsely claimed was owed, according to prosecutors.
In a recorded telephone call with an associate this past June, Ricciardo fantasized about killing the union official, no matter the cost, prosecutors said.
"I'll put him in the ground right in front of his wife and kids," Ricciardo said on the call, according to the feds. "You laugh all you want pal, I'm not afraid to go to jail."
Online court records did not list a lawyer who could speak on Ricciardo's behalf.
Get breaking news alerts in the free FOX5NY News app!  |  Sign up for FOX 5 email newsletters
The indictment also accuses Ragano, a reputed soldier for the Bonanno crime family who is known by the nickname "Maniac," of running a scheme to issue fake OSHA and other workplace safety training certifications to some construction industry workers in the New York area. 
"Every time construction certifications are faked, every time bogus records are created and used to manipulate the facts, building in this city is undermined and New Yorkers' safety is compromised," New York City Department of Investigation Commissioner Margaret Garnett said. "This investigation is evidence of how corruption can erode the integrity of construction in New York City."
The feds arrested 13 people in New York City, Long Island, and New Jersey on Tuesday. DiMatteo is at large, officials said. 
With The Associated Press.
The Defendants
ANDREW RUSSO (also known as "Mush"), 87, Glen Head, New York

JOSEPH BELLANTONI, 39, Massapequa, New York

BENJAMIN CASTELLAZZO (also known as "Benji"), 83, Manahawkin, New Jersey

THOMAS COSTA, 52, West Islip, New York

RALPH DIMATTEO, 66, Merrick, New York

RICHARD FERRARA, 59, Brooklyn, New York

JOHN GLOVER, 62, Queens, New York

VINCENT MARTINO, 43, Medford, New York

THEODORE PERSICO JR. (also known as "Teddy"), 58, Brooklyn, New York

JOHN RAGANO (also known as "Bazoo" and "Maniac"), 59, Franklin Square, New York

DOMENICK RICCIARDO, 56, Franklin Square, New York

VINCENT RICCIARDO (also known as "Vinny Unions"), 75, Franklin Square, New York

ERIN THOMPKINS, 53, Franklin Square, New York

MICHAEL UVINO, 56, Garden City, New York