Adult kids are moving in with parents to save for homes
With fall buying season in full swing, and mortgage rates nearing 8%, prospective homebuyers are facing affordability challenges forcing some adults to move back in with their parents while they save for a home.
"While homebuyers have long received financial assistance from family members to help them afford a home purchase – especially first-time homebuyers who may not have already built up equity – we're seeing more and more prospective buyers take this a step further," according to Clare Trapasso, Realtor.com's executive news editor.
Research reveals that of those surveyed who are planning to buy a home within the next 12 months, half (51%) are potentially looking to their parents to help them prepare for buying a home. Nearly one-third (29%) say they've already moved in with their parents to help save money in preparation for buying a home and another quarter (22%) say they would consider doing so, according to a recent survey from Realtor.com and Censuswide.
THE REALITY OF 8% MORTGAGE RATES
What's causing this trend?
Realtor.com economic research analyst Hannah Jones tells FOX Business that climbing rents and inflation have limited the savings potential of prospective homebuyers over the last few years.
"As a result, hopeful buyers have had to seek out creative solutions to achieve homeownership," she says. "It is not surprising that these potential buyers have turned to other family members, many of whom may have extra space, lower expenses and the desire to help."
How much are these adults who are staying with their parents able to save?
Potential savings vary greatly based on location and specific arrangements.
PERSONAL FINANCE: HOW TO SAVE $100 THIS WEEK
"Assuming that these prospective buyers are not required to pay rent to their family members, one year of living with family could save buyers more than $20,000 in rent, assuming the August national median rent," reports Jones. "While this amount alone is not enough for a down payment on a median-priced U.S. home, it can help boost existing savings over the line."
What's the average amount of time adult kids are staying with their parents?
Jones says Realtor.com does not have data on the specific amount of time survey respondents plan to live with their parents. However, she says that respondents reported their plans to buy within the next year, so 12 months or less can be assumed for the survey pool.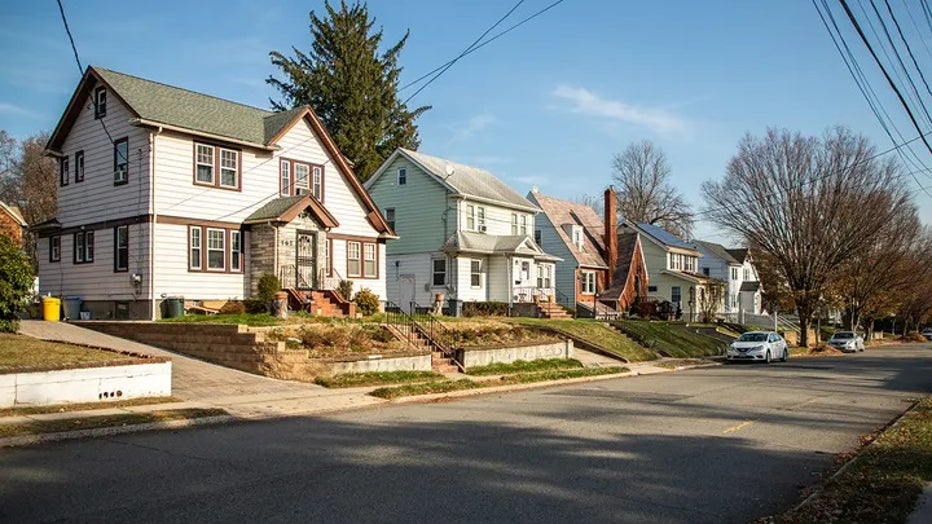 A neighborhood in Teaneck, New Jersey, on Nov. 24, 2022. (Photographer: Yuvraj Khanna/Bloomberg via Getty Images / Getty Images)
Is the issue that it's hard to pay high rent costs, and save for a home?
According to Jones, though rent prices have lost steam in the last few months, they remain close to 25% higher than pre-pandemic times, according to August rent data.
"High rent prices and elevated inflation make it challenging to save for a home purchase, especially with home prices more than 35% higher than pre-pandemic," she continues.
10 THINGS YOU CAN DO RIGHT NOW TO FINANCIALLY PLAN FOR YOUR FUTURE
Compared to a few years ago, many hopeful buyers are paying higher rent and facing a higher cost of living while trying to save for a down payment on a higher-priced home, she says.
Are mortgage interest rates affecting this dynamic as well?
Mortgage rates reached a multi-decade high in October, and coupled with still-high home prices, the monthly cost of financing a home purchase is more than double what it was just four years ago, according to Jones.
"Moving in with family or friends can be an effective strategy for saving for a down payment, but the monthly cost of homeownership will also be a barrier to entry for many potential buyers," she says.
Also, she says, homebuyers can minimize the size of their loan and soften the impact of today's mortgage rates by either saving up for a larger down payment or purchasing a lower-priced home.
LINK: Get updates and more on this story at foxbusiness.com.