83-year-old wreckage of likely British WWII submarine discovered off Norway's coast
After more than 80 years underwater, the wreckage of a British submarine that sank during World War II has likely been discovered off the coast of southwestern Norway.
A research cruise by the Mareano program discovered the probable wreckage of HMS Thistle while mapping the biology and geology of the seabed. Although the discovery was made in the spring, it was only recently identified during a subsequent cruise.
"In advance, we knew what characteristics we should look for; thus, we were able to identify the wreck as 'Thistle,' but with a small caveat that it is the Royal Navy who is responsible for the final identification," Mareano cruise leader Kyrre Heldal Kartveit said.
HOW A 128-YEAR-OLD GREAT LAKES SHIPWRECK WAS FOUND THANKS TO AN INVASIVE ANIMAL
Details on the submarine. (MAREANO / Institute of Marine Research)
The wreckage currently rests at a depth of about 525 feet near Rogaland. In addition to the submarine, six other wrecks were observed during the cruise this spring. Only one of these was previously known, according to researchers.
In addition to the wreckage, the voyage also encountered a couple of lost shipping containers along with another curiosity.
"What we thought were parts of an old winch, turns out to be most likely an aircraft engine, also from the days of the war," senior engineer Kjell Bakkeplass said.
WRECKAGE OF US NAVY SUBMARINE FROM WORLD WAR II FOUND OFF JAPAN'S COAST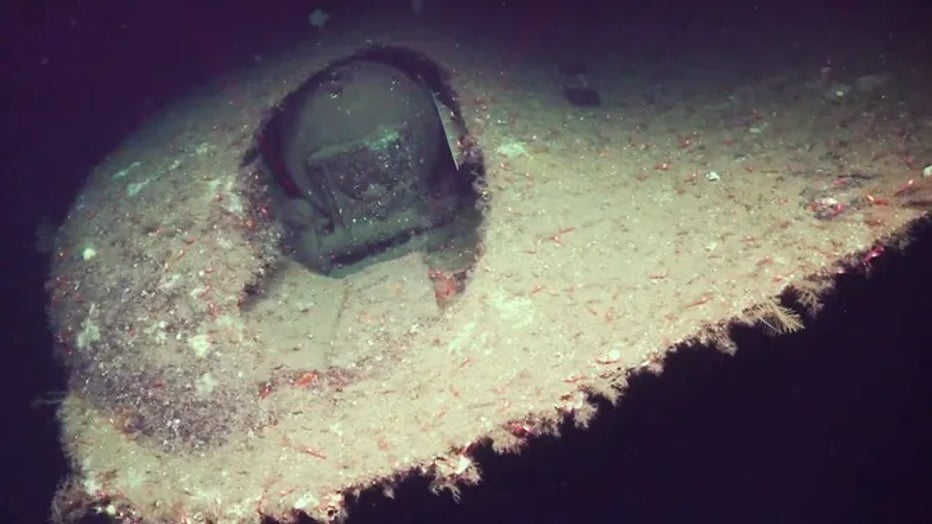 Probably a torpedo tube. (MAREANO / Institute of Marine Research)
War grave
HMS Thistle's final voyage ended on April 10, 1940, when it was sunk by a German submarine, resulting in the loss of all 53 crew members.
"At that time, navigators used bearings and squares and not GPS as they do today," Bakkeplass said. "This means that the position for the sinking is inaccurate."
SHIPWRECK OF FAMOUS SS SAVANNAH POSSIBLY FOUND OFF NEW YORK AFTER HURRICANE IAN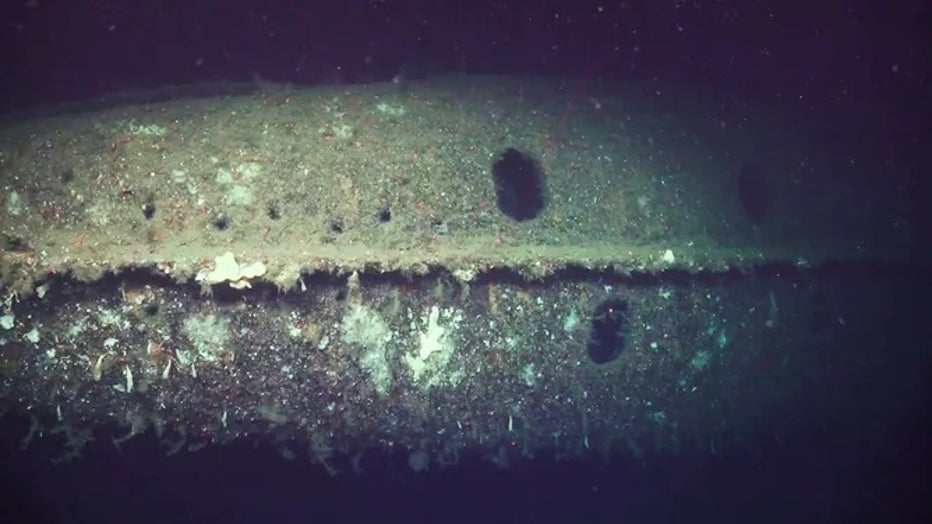 Details on the submarine. (MAREANO / Institute of Marine Research / FOX Weather)
In addition to the uncertainty about the submarine's last surface position, Bakkeplass added that it is impossible to determine how far it drifted from the time it sank until it came to rest on the sea floor.
Since the submarine sank during a war, it is considered a war grave. The British Royal Navy retains ownership rights under maritime law.