82-year-old Walmart employee retires after viral TikTok leads to $100,000 GoFundMe
CUMBERLAND, Md. - Wednesday was the first day of the rest of Butch Marion's life.
"I feel like a new man," Marion told FOX 5 Wednesday.
He has reason to feel good. He just got a check for $108,000 for being kind, in the right place, at the right time.
"This is just unreal," Marion said.
Three weeks ago, Rory McCarty needed some batteries.
McCarty went to the Walmart in Cumberland, Maryland where he met Butch Marion – the cashier who checked him out.
READ MORE: Maryland TikToker raises money to help Navy veteran retire
McCarty, an avid TikTok user, had just seen a video on the platform where a woman started a GoFundMe for another Walmart employee to help her retire early.
In the moment McCarty bought his batteries, he felt like Marion, 82, could be a great beneficiary.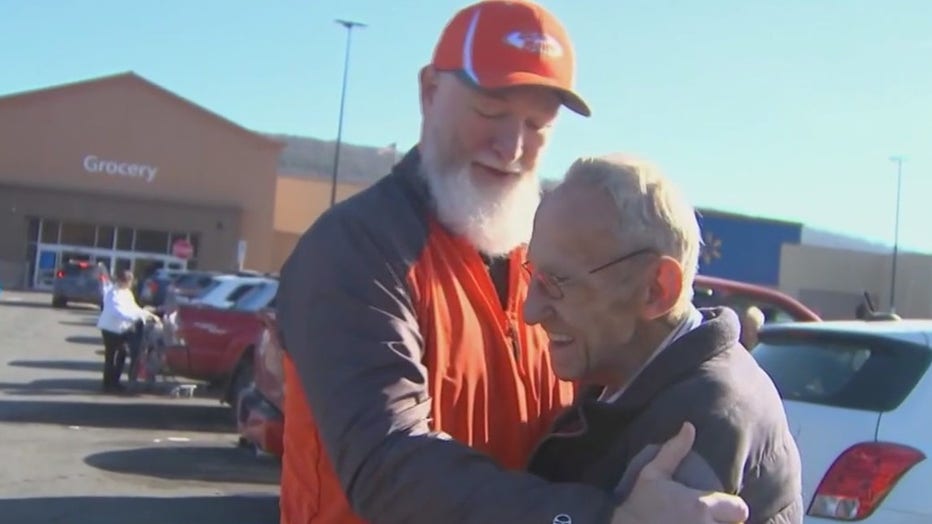 "I just wanted to put something in motion and the lord did the rest," McCarty told FOX 5 two weeks ago.
McCarty made a TikTok when he bought those batteries from Marion, and it got millions of views. He set up the GoFundMe, and it took just days to meet the goal.
On Wednesday, Butch Marion walked out of Walmart for the last time, and Rory McCarty was waiting to present the check for $108,000.
"I love you, man," McCarty told Marion.
"I love you too," Marion said.
Marion worked about 30 hours a week.  He retired years ago, to help take care of his ex-wife's husband before he passed.  He later returned back to work at Walmart.
Marion says the money will pay off bills, allow him to relax more, and give him the money and flexibility for a three-week trip to Florida to see daughters and grandchildren he hasn't hugged in years.
"Bird out of a cage," Marion said.
Marion and McCarty have developed a friendship, spending time riding ATVs and getting meals together. It's a friendship McCarty says will continue.
"Just never dreamed this would happen," McCarty said, "I'm just so excited for him."