65% of Americans say 'Thanksgiving' this way. Are you one of them?
Did you know that there are at least three ways that Americans pronounce the word "Thanksgiving?" According to a Harvard study, this is the case.
The Harvard Dialect Survey, which ended in 2003, surveyed more than 30,000 people in the United States.
Though the word remains the same, the data found that 26% of Americans emphasize the "thanks" whilst a sizeable 65% of respondents place their emphasis on the "giv" of Thanksgiving.
In addition, 8% of people switch them up situationally and 0.49% of respondents say the word a different way entirely (most of them live in Delaware or Alaska).
Here's a breakdown of how each state pronounces the holiday.
States where the majority say "THANKSgiving":
Alabama
Arkansas
Georgia
Mississippi
North Carolina
South Carolina
Tennessee
Texas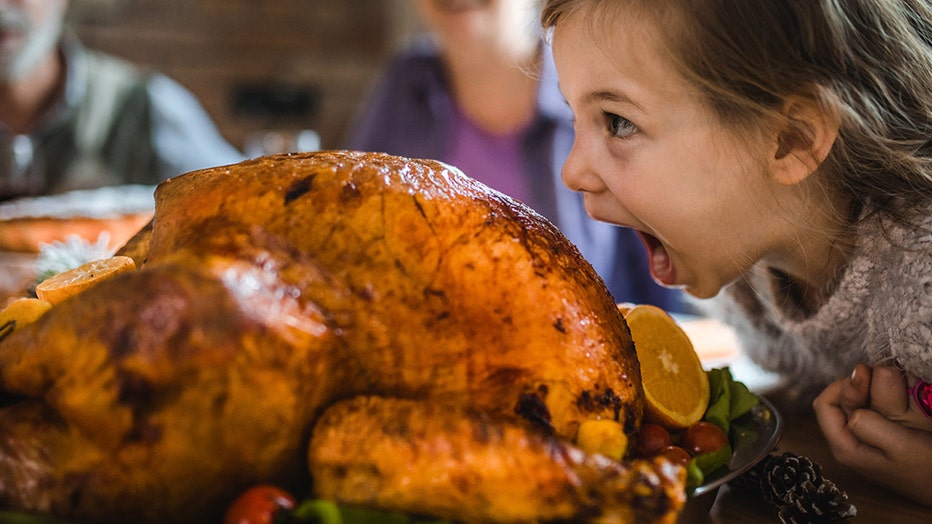 File: Girl celebrates Thanksgiving dinner (Credit: skynesher / E+ / Getty Images)
States where the majority say "ThanksGIVing": 
Alaska
Arizona
California
Colorado
Connecticut
District of Columbia
Delaware
Florida
Hawaii
Iowa
Idaho
Illinois
Indiana
Kansas
Kentucky
Louisiana
Massachusetts
Maryland
Maine
Michigan
Minnesota
Missouri
Montana
North Dakota
Nebraska
New Hampshire
New Jersey
New Mexico
Nevada
New York
Ohio
Oklahoma
Oregon
Pennsylvania
Rhode Island
South Dakota
Utah
Virginia
Vermont
Washington
Wisconsin
West Virginia
Wyoming
"In general, Americans have first-syllable stress for Thanksgiving and common knowledge is that the southerners say THANKSgiving while northerners say thanksGIVing," Sylvia Johnson, the head of methodologies at language specialist company  Preply said. "This is consistent with an overall tendency, also manifest in cases like UMbrella vs. umBRELla."
RELATED: Dolly Parton to perform halftime show for Dallas Cowboys Thanksgiving game
This story was reported from Los Angeles.