43 WWII veterans honored with free trip to Normandy for D-Day anniversary
Dozens of World War II veterans are spending time in Normandy this year in honor of commemorating the 79th anniversary of D-Day. 
Forty-three American veterans were once again flown on a special Delta charter flight ahead of the historic day thanks to Best Defense Foundation, a nonprofit whose mission is to help veterans and their families. 
The once-in-a-lifetime trip is free for the group of 43 veterans, who live all around the country, and includes well-trained, personal caretakers for the week-long program.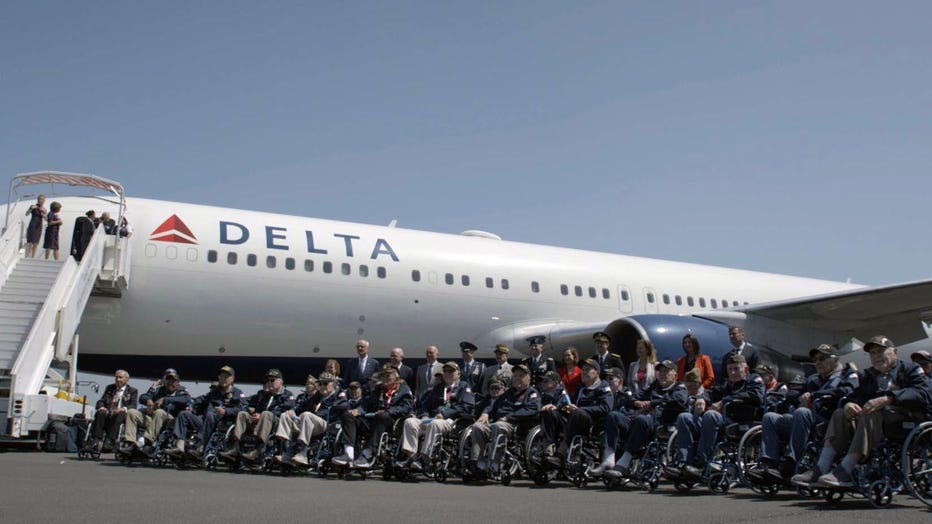 The trip kicked off last week on May 30 with a special tribute dinner before everyone met at the Atlanta airport the next day.
The airport sendoff 
Scenes from the Delta Normandy sendoff at Hartsfield Jackson International Airport on Wednesday, May 31, 2023. (Matthew Grimes/RANK STUDIOS for Delta Airlines)
Delta employees decked out in red, white, and blue met the veterans before security – and what waited on the other side was something that called for the attention of the whole terminal. 
Music began to fill the halls, the patriotic sounds coming from a local marching band from Dutchtown High School.
The veterans were then joined with an honor guard, the marching band, drum line, and foundation volunteers for a parade line down to their gate. 
"As the veterans rolled closer to their gate, French citizens ran up in tears, thanking them for their service," Best Defense Foundation said. 
And before boarding, many of the veterans spent time at a gate event to say hello to fellow Americans and grateful travelers.
RELATED: WWII veterans return to Utah beach to honor D-Day on 79th anniversary
Spending time in Normandy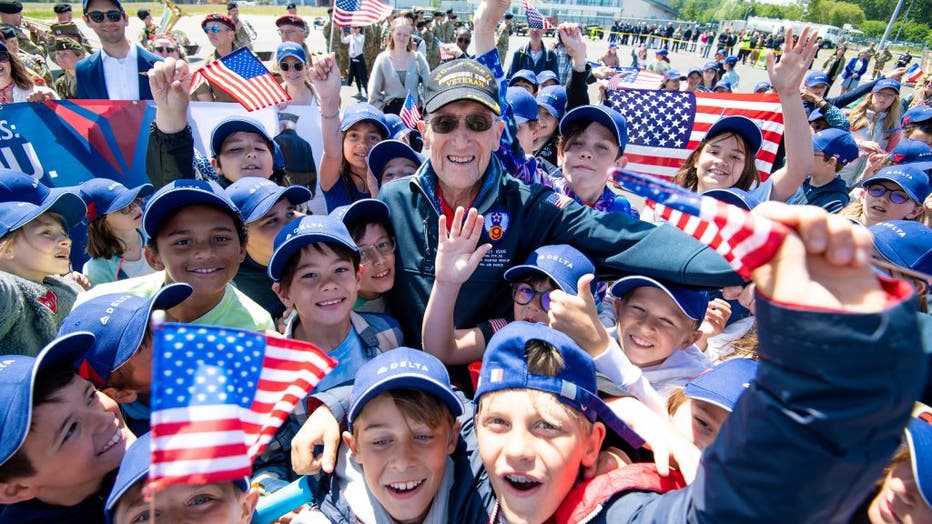 Upon arrival at Normandie-Deauville Airport (DOL), the veterans were greeted by Normandy residents, members of the U.S. Armed Forces, French dignitaries and children. (Rank Studios for Delta Airlines)
Among the WWII American veterans taking part in the program, six are D-Day veterans who participated in the invasion and subsequent battle of Normandy. 
Other attendees include soldiers, sailors and airmen, as well as nurses and women who fulfilled varied support missions during WWII. 
"As time passes quickly for our WWII generation, it is our duty and honor to provide this opportunity of closure and camaraderie for those who gave so much," said Donnie Edwards, the founder of Best Defense Foundation. 
The veterans are visiting several cities throughout Normandy for commemorations and events, and will also spend time at museums, interacting with local French students, and connecting with WWII British veterans. 
RELATED: Happy birthday: France's spectacular abbey Mont-Saint-Michel turns 1,000
Commemorating D-Day
One stop on the agenda in particular has been to the town of Carentan, which was a vital strategic location.
Dozens of people lined the streets to see and cheer for the American heroes.
Several events and ceremonies were planned leading up to the anniversary of D-Day, June 6, including a visit to the Normandy American Cemetery. 
On D-Day, Allied troops landed on the beaches code-named Omaha, Utah, Juno, Sword and Gold, carried by 7,000 boats. On that single day, 4,414 Allied soldiers lost their lives, 2,501 of them Americans. More than 5,000 were wounded.
On the German side, several thousand were killed or wounded.
Normandy has more than 20 military cemeteries holding mostly Americans, Germans, French, British, Canadians and Polish troops who took part in the historic battle.
This story was reported from Detroit. The Associated Press contributed.