National Dominican Day Parade fills the streets of Midtown with culture from the island
MIDTOWN - "Our History, Our People" was the theme is the 41st Annual National Dominican Day Parade Sunday in Midtown.
There's merengue, salsa, dembow, and bachata — Dominicans dance to them all.
"Being a Dominican is the best!," said one parade go her.
The streets of midtown echoed to beats of the DR, as thousands wrapped themselves in the colors of their culture and celebrated their homeland.
"Little island, but big people, big hearts," a participant said.
While the big draw to the 41st Annual National Dominican Day Parade, was a chance to see the President of the DR Luis Abinader in the flesh, the crowd went wild for their boys on blue, the NYPD Hispanic Society.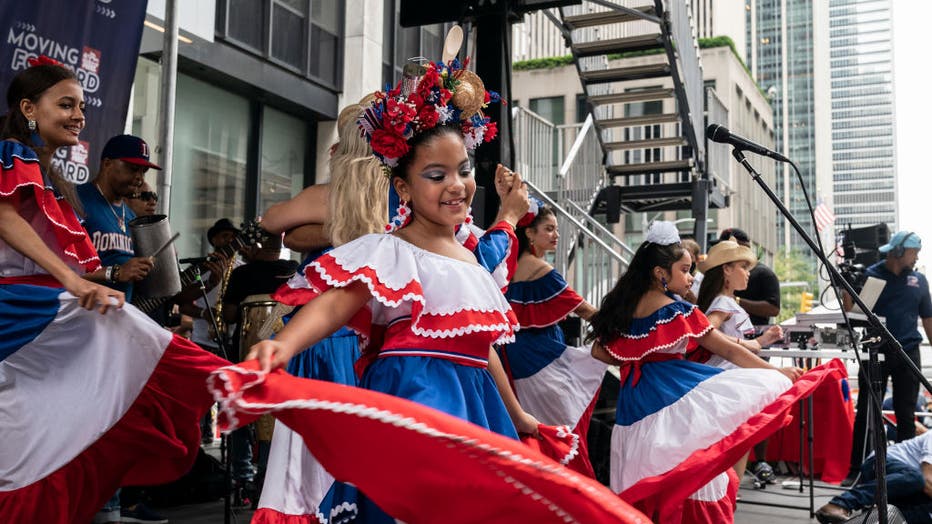 (Photo by Lev Radin/Pacific Press/LightRocket via Getty Images)
RELATED: Pollos Mario in Queens, celebrates Colombia's historic run to the quarterfinals
"They're always bringing the energy," said one parade goer.
People basked in unity, feeling the camaraderie of their community. Many parade goers are new the country and thankful to be here.
"Everyone likes America" an attendee, said. "It's just fun to be in American."
Others marched in the parade to bring awareness to the issues inside the Dominican Republic that forced so many to find refuge in New York City.
"I think things need to get better," said another. "I think there's a lot of people leaving the country I think there's an exodus because there's not a lot of opportunity.
They may be a bit homesick, which is why the parade makes them so happy.
"We are one family," a woman added. "It feels great to see so many Dominicans come together."