$10,000 bill from 1934 sells for $480K at Texas auction: 'Absolute prize'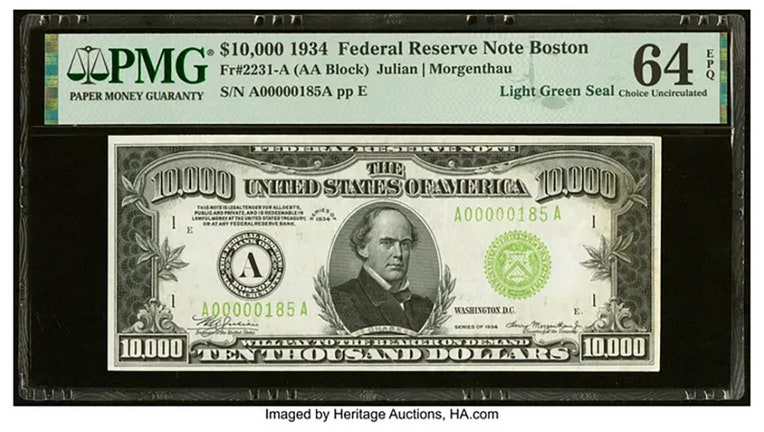 article
A $10,000 bill from 1934 has sold for 48 times its printed value in Texas.
Heritage Auctions, the auction house that helped arrange the sale, announced that the rare five-figure bill was presented at the Long Beach Expo US Coins Signature Auction earlier this month.
The 89-year-old Federal Reserve Note was rated by Paper Money Guaranty (PMG), a third party paper money grading service in Fort Worth, Texas, and earned an Uncirculated 64 Exceptional Paper Quality (EPQ) grade from the niche ranking company.
$2 BILLS FROM 1890 COULD BE WORTH OVER $4,500: REPORT 
Typically, PMG assigns EPQ ratings to bills that are "graded 65 and higher," according to PMG's website.
Yet the five-figure bill was determined to be exceptional.
A grade of 64 falls into the following categories, according to PMG: "The centering is off on one or two sides. Some handling may be evident but there must be no folds in the design."
The $10,000 bill, also known as Fr. 2231-A, was sold on Sept. 15 for "a record $480,000" and led the Long Beach Expo US Currency Signature Auction, according to Heritage Auctions' news release about the auction.
"Large-denomination notes always have drawn the interest of collectors of all levels," Dustin Johnston, vice president of currency at Heritage Auctions, said in a statement. 
"The $10,000 trails only the $100,000 gold certificate issued in 1934, and of the 18 examples graded by PMG, this example is tied for the highest-graded," he continued. 
"Among all small-size $10,000 FRNs, PMG has graded only four equal and five higher, so this is an absolute prize that will command a share of the spotlight in its new collection home."
Heritage Auctions last set a record for a $10,000 bill three years ago, when the Dallas auction house sold the denomination for $384,000, which it claimed was a "world record" at the time.
2004 WISCONSIN STATE QUARTERS COULD BE WORTH UP TO $6K: HERE'S WHY
The $10,000 bill from 1934 features a portrait of Salmon P. Chase, a Civil War-era politician who served as the nation's Treasury secretary for President Abraham Lincoln.
Chase was later nominated and confirmed as chief justice. 
He served in the role for eight years, according to the Supreme Court Historical Society.
The $10,000 (Fr. 2231-A) bill Heritage Auctions sold is from the Federal Reserve's 1934A series, which features a front-facing Green Seal and the words, "The United States of America," on its back vignette.
There were also $10,000 Green Seal bills distributed in 1928 and a total of three series in 1934, according to the Bureau of Engraving and Printing.
GET FOX BUSINESS ON THE GO BY CLICKING HERE
An earlier $10,000 Blue Seal note exists from 1918, which features a back vignette of The Embarkation of the Pilgrims, the bureau acknowledged on its Historical Currency webpage.
"On July 14, 1969, the Department of the Treasury and the Federal Reserve System announced that currency notes in denominations of $500, $1,000, $5,000, and $10,000 would be discontinued immediately due to lack of use," the Bureau of Engraving and Printing wrote.
The Board of Governors of the Federal Reserve System's "Currency in Circulation: Volume" table estimates there were approximately 400,000 banknotes that featured denominations between $500 and $10,000 in 2022. 
It's not immediately clear how many of those banknotes were $10,000 bills.
LINK: Get updates and more on this story at foxbusiness.com.