Over 100 gun violence incidents on school grounds reported so far in 2023, Everytown says
NEW YORK - Hours after a shooting left five people wounded at a university homecoming celebration in Maryland, a new analysis released Wednesday by a leading gun control advocacy group showed that over 100 incidents of gun violence on school grounds have been reported this year. 
Everytown for Gun Safety, which first began tracking such incidents in 2013, said there have been 103 instances of gun violence on school grounds since January. Of these reported gun incidents, 72 people were wounded, while 30 others were killed.
Everytown, co-founded by former New York Mayor Michael Bloomberg, tracks every time a firearm discharges a live round inside or into a school building, or onto a school campus or grounds – as documented by news reports.
Incidents in which guns were brought into schools but not discharged are not included in its analysis, the group said.
Most recently, gunfire rang out Tuesday night at Morgan State University in Baltimore during homecoming events, leaving five people shot. Four of the victims were students, officials said. All five were expected to survive.
Baltimore Police Commissioner Richard Worley said preliminary evidence indicated that the shooters were targeting one person, who wasn't among the victims. Worley added that a third person also pulled a gun during the dispute, though it wasn't clear whether they pulled the trigger.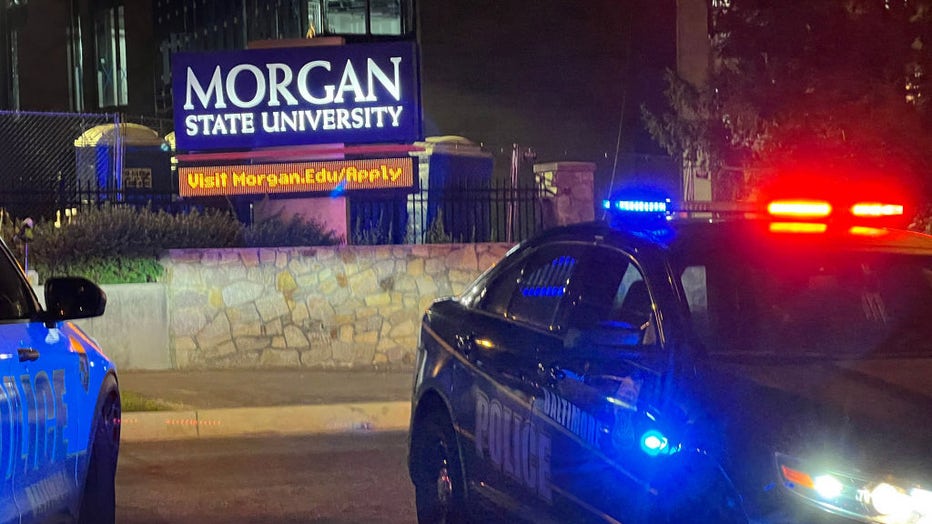 Police vehicles are pictured at Morgan State University on Oct. 3, 2023, in Baltimore, Maryland. (Jerry Jackson/Baltimore Sun/Tribune News Service via Getty Images)
Everytown for Gun Safety said its data of gunfire on school grounds "mirrors the problem of gun violence in the US.," noting how these incidents occur most often at schools with a high proportion of students of color and disproportionately affect Black students. 
Everytown's research found that after students returned to in-person learning for the 2021-2022 school year, the number of shootings at schools spiked to "unprecedented levels" with more incidents than any other school year in history, according to the group. 
The 2022-2023 school year had the second-highest number of gun incidents since tracking began in 2013, the group added.
In 2020, firearms surpassed motor vehicle crashes to become the leading cause of death for children and teens in the United States, according to data shared by the U.S. Centers for Disease Control and Prevention.
Firearm deaths among children and adolescents jumped nearly 30% between 2019 and 2020 — more than double the 13.5% increase seen in the general population, according to an analysis of the CDC data by University of Michigan researchers.
These increases were largely driven by a 33.4% overall rise in firearm homicides, which disproportionately affect young people, the researchers said.
The statistics come in the wake of the Supreme Court expanding gun rights last year, while Congress and U.S. states continue to debate gun legislation.
Connecticut now has some of the strictest gun laws in the country, recently enacting a new law that bans the open carrying of firearms and prohibits the sale of more than three handguns within 30 days to any one person – with some exceptions. 
Other politically liberal-leaning states including California, Washington, Colorado and Maryland also have passed gun laws this year that face legal challenges. 
This story was reported from Cincinnati. The Associated Press contributed.