K-pop group Oneus kicks off world tour at The Apollo
NEW YORK - Named by Billboard as the "K-pop group to watch," Oneus burst onto the scene in 2019 and they've taken the world by storm.
The five members, Seoho, Leedo, Keonhee, Hwanwoong, and Xion, have a fresh, vibrant sound and attitude that sets them apart from all other pop music acts.
This is the second time, Good Day New York's Christal Young caught up with the supergroup who's performing at the legendary Apollo Theater in Harlem.
Last year, they visited during their "Blood Moon" tour. Now they're in New York kicking off their "Reach for Us" world tour which will eventually head to 14 cities.
Washington D.C. Is the next stop.
The name Oneus reflects a special connection and unity with their fans, which they call "To-moons." 
The name represents the fans as the Moon who orbit Oneus; the Earth.
Always up to something new, Oneus wants to collaborate with American artists to take their sound to a new level. Their 2021 smash song "No Diggity" set the world charts on fire and continues to be a favorite in live performances.
Their much-anticipated mini-album "Malus", released on September 5th, debuted at #1 on the Korean charts and sold over 225,562 copies in its first week, making it one of the band's most successful albums to date.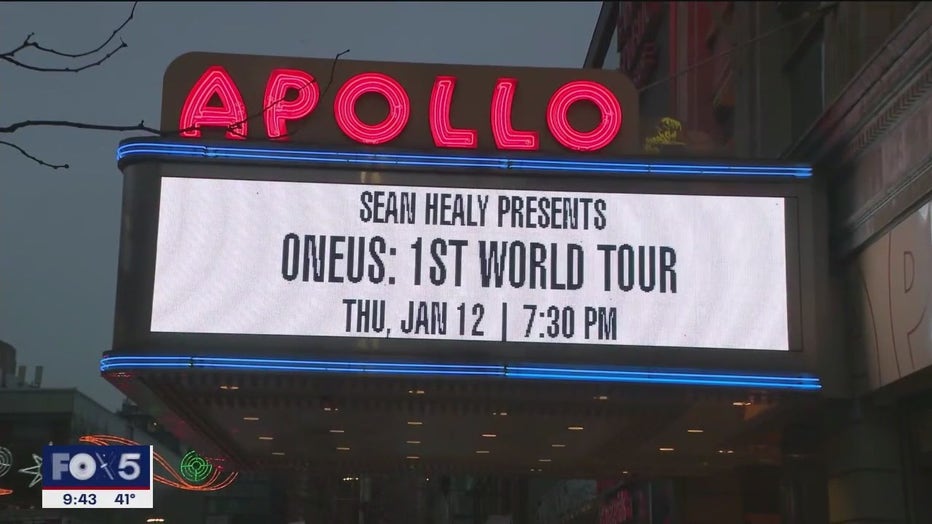 TOUR DATES:
January 12th - New York City // Apollo Theater 
January 14th - Washington D.C. // The Theater at MGM National Harbor
January 16th - Atlanta, GA // Coca-Cola Roxy
January 18th - Orlando, FL // House of Blues
January 21st - Madison, WI // The Orpheum Theater
January 24th - St. Louis, MO // The Factory at the District of St. Louis
January 27th - Fort Worth, TX // Will Rogers Auditorium 
January 29th - Houston, TX // 713 Music Hall
February 2nd - Phoenix, AZ // Marquee Theatre
February 4th - Los Angeles, CA // Pasadena Civic Auditorium
February 7th - Puerto Rico // Coca-Cola Music Hall
February 10th - Mexico City // Pepsi Center WTC
February 12th - Santiago de Chile // Teatro Coliseo
February 15th - Sao Paulo // Audio Club
Follow ONEUS 
- IG: @official_oneus
- FB: @officialONEUS
- Youtube: ONEUS