Elevated High Line park in NYC is expanding
NEW YORK - The High Line started out, not so high. In the mid-1800s, freight trains on street-level tracks delivered food to Lower Manhattan.
But in one year alone 1910, 540 people were struck and killed by those trains. 10th Ave. was dubbed, "Death Ave" so in the early 20s the "West Side Cowboys emerged."
They were hired men on horses who waved red flags to warn of oncoming trains. By 1933 the ground-level tracks were removed and the High Line was literally, up and running.
Trains transported millions of tons of meat, dairy and produce. But in the 60s, a rise in trucking slowed the use of trains and by the mid-80s the High Line was shut down.
The structure said dormant for years and calls for its demolition began. But a group called "Friends of the High Line" stepped in and in 2009, the first section of what we know as the High Line opened.
Now the 1 1/2 mile-long green space helps stitch together the fabric of Manhattan's west side. And that fabric is expanding.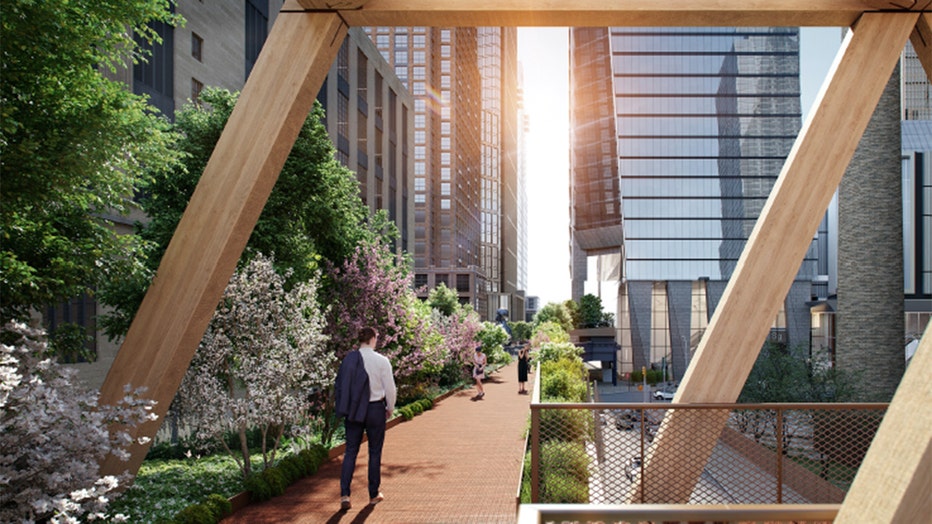 A rendering shows a new section of the High Line under construction in NYC.
Crews are hard at work building a new section of the high line. It's a fully accessible route from Moynihan Train Hall through Manhattan West, across the connector being built, to the high line and either to Hudson Yards or south to 14th Street.
Now you can connect from Moynihan to 14th St. by only crossing one street, 9th Avenue.
The pandemic didn't stop planning for this new section.
60 people on a zoom call twice a week, helped pull it all together.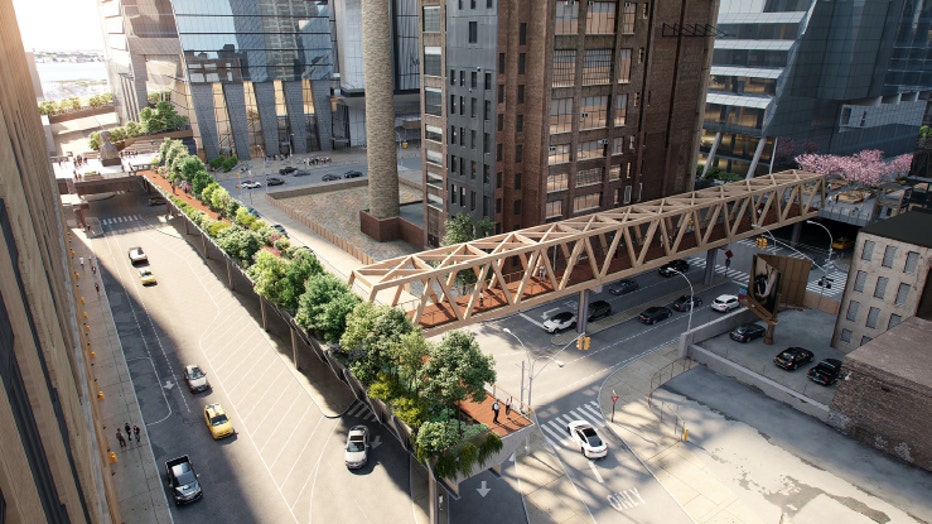 A rendering shows a new section of the High Line under construction in NYC.
From conception to groundbreaking took only one year.
Signs down below give a hint as to what's happening up above. There's even a peephole so you can check out the progress.
Eventually, there will be a woodland bridge. A new walkway will also be a giant planter.
Carefully chosen trees like birch and Juniper Pine and a variety of plants will help it become an ecological corridor in the middle of the city. The project is expected to be open to the public, late spring.