Winter 2023-24 outlook: Strong El Nino boosts odds of warmer temps in North, wet weather in South, NOAA says
Winter is just around the corner, and we all want to know what kind of weather we can expect. 
This year, El Niño is in place heading into winter for the first time in four years, driving the outlook for warmer-than-average temperatures in the northern tier of the continental U.S., according to NOAA's U.S. winter outlook released Thursday.
The agency's winter outlook covers the three-month period known as "meteorological winter," which runs from December to February.
Here's a closer look at NOAA's predictions.
'HISTORICALLY STRONG' EL NINO WINTER POSSIBLE WITH GOOD CHANCE OF IT LASTING THROUGH SPRING, NOAA SAYS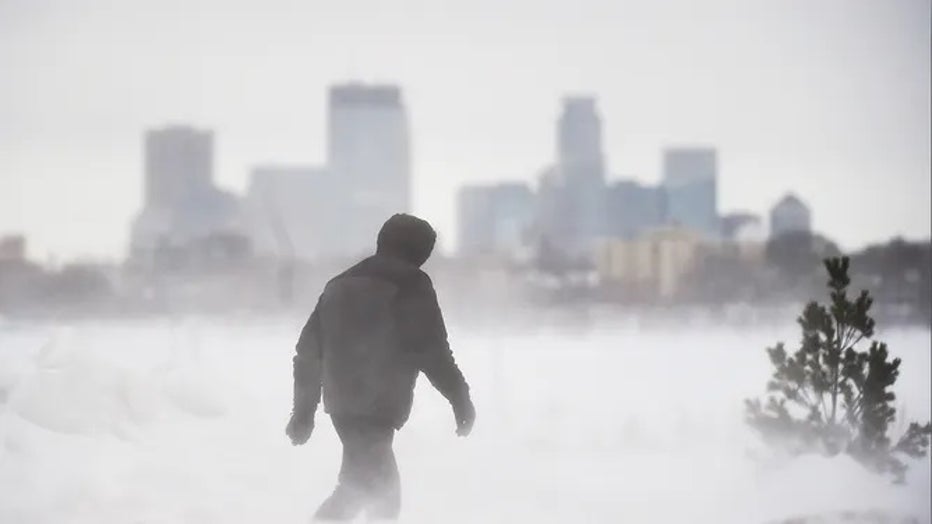 A man goes for a walk in front of the Minneapolis skyline at Bde Maka Ska Park during a snowstorm in Minneapolis, on Feb. 22, 2023. (CRAIG LASSIG / AFP / Getty Images)
Temperature outlook
NOAA expects the highest chance of warmer-than-average temperatures to be focused across parts of the Pacific Northwest and northern New England. 
The outlook also favors above-average temperatures for much of the West Coast and along the northern tier from the northern Rockies and northern Plains through the Midwest, mid-Atlantic and Northeast.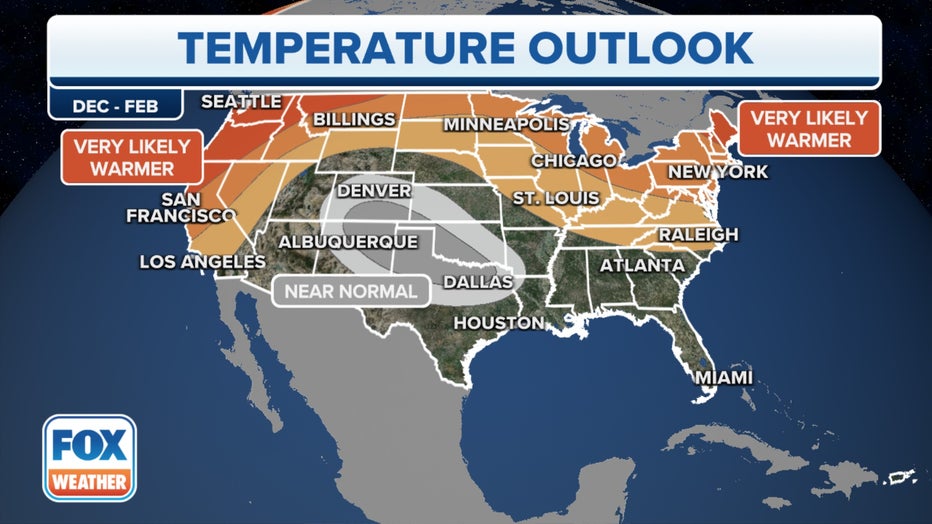 Here's a look at NOAA's U.S. winter outlook 2023-24 map for temperature. (FOX Weather)
Near-average temperatures are forecast from portions of the central and southern Rockies into Oklahoma and North Texas. The Desert Southwest, most of the central and southern Plains and the Southeast have equal chances for below-, near- or above-average temperatures.
No areas of the U.S. are forecast to have colder-than-average temperatures between December and February, according to NOAA.
Precipitation outlook
Areas with the highest chances for above-average precipitation are overwhelmingly located along the Gulf Coast and in the Southeast.
A wetter-than-average winter is also likely in parts of California and Nevada, the central Rockies, the central and southern Plains, the lower Mississippi Valley and the southern mid-Atlantic, NOAA said.
"That's an indication, and it's pretty telling that the meteorologists over at the Climate Prediction Center think that chances of us having a wetter-than-average winter running higher," said FOX Weather meteorologist Stephen Morgan. "This is a higher-confidence seasonal prediction than what we saw last year as their confidence topped out at about 60%."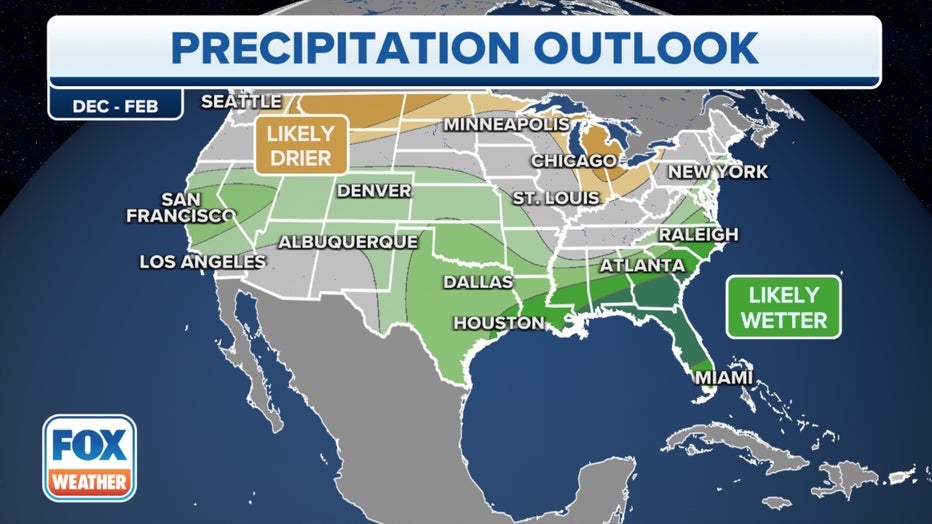 Here's a look at NOAA's U.S. winter outlook 2023-24 map for precipitation. (FOX Weather)
Drier-than-average conditions are most likely for areas in the northern Rockies, northern High Plains and parts of Michigan. 
The remainder of the U.S., NOAA said, will have equal chances for below-, near- or above-average precipitation between December and February.
"Perhaps this El Niño could provide some needed relief," Morgan said.
Drought outlook
Drought conditions are present across 40% of the country, up from 27% three months ago.
Widespread extreme to exceptional drought continues to persist across much of the South and portions of the central U.S., according to NOAA.
"During late October, heavy precipitation is likely to result in drought improvement for the central U.S.," said Brad Pugh, operational drought lead with NOAA's Climate Prediction Center. "El Niño with its enhanced precipitation is expected to provide drought relief to the southern U.S. during the next few months."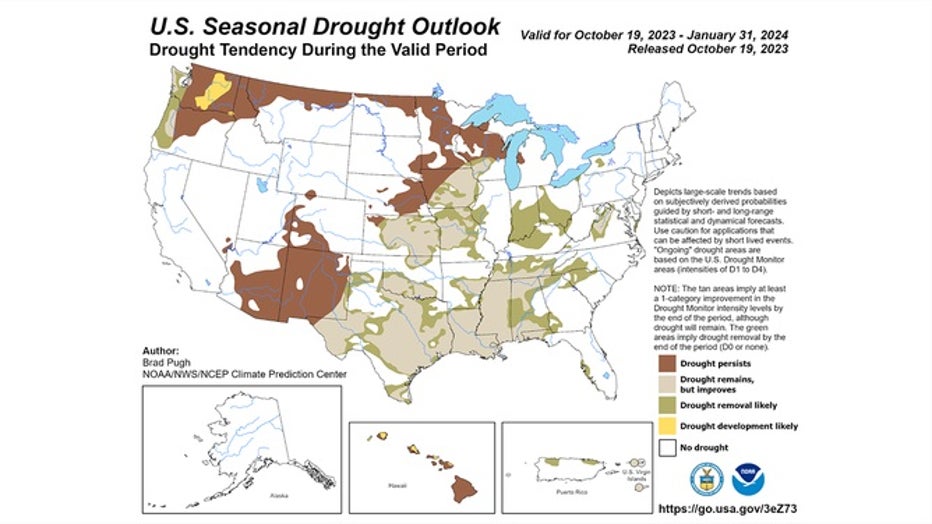 The U.S. drought outlook map for November 2023 through January 2024 predicts drought improvement in the South, lower Mississippi Valley, Texas and parts of the Midwest. (NOAA)
Due to the expected wetter-than-average forecast, drought conditions are expected to improve across the Southeast, the Gulf Coast (including the lower Mississippi Valley) and Texas.
Drought conditions are expected to persist for the northern Rockies, northern Plains and portions of the Desert Southwest this winter.
Drought development could occur in the interior Pacific Northwest, given the prediction for drier-than-average conditions.
Drought is likely to persist or develop across Hawaii.
What is El Niño?
El Niño is a warming of the ocean that leads to above-average sea-surface temperatures in the Pacific Ocean's central and eastern tropical regions. It differentiates itself from La Niña, which is a cooling effect.
Warmer waters in the Pacific Ocean cause the jet stream to move southward from its neutral position, according to NOAA. As a result of this shift, the northern regions of the U.S. and Canada experience drier and warmer periods than usual. However, the U.S. Gulf Coast and Southeast regions are wetter than usual, leading to an increase in flooding.
STRONG EL NINO WINTER: WHAT KIND OF WEATHER YOU CAN EXPECT
Seasonal outlooks: Hit or miss?
NOAA produces seasonal outlooks to help the nation prepare for likely weather and climate patterns during the next few months to help minimize negative impacts on lives and livelihoods. But just how on-target are these seasonal outlooks?
WINTER PREDICTION SCOREBOARD: HOW ON-TARGET ARE SEASONAL OUTLOOKS?
Since 1995, many of the seasonal temperature outlooks have ranged between zero and 40 on the Heidke Skill Score (HSS) – a score of 100 means the outlook was perfect. Only three times has the HSS come in at 80 or above, depicting nearly pinpoint accuracy.
During the winter of 2020-21, the outlooks for temperature and precipitation both came in below zero, indicating more inaccuracies than precisions in the predictions. Over the last two winters, the outlooks improved but were still nowhere near perfect, with the temperature predictions turning out to be more accurate than those for precipitation.