Vikings DT Harrison Phillips steps up to help those helping Damar Hamlin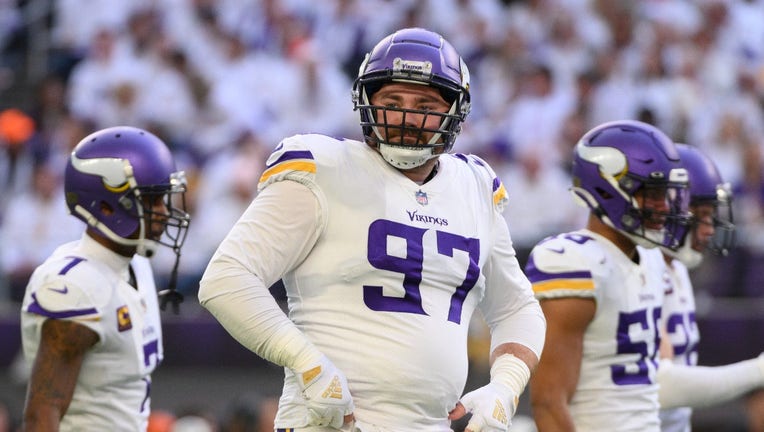 article
MINNEAPOLIS - Minnesota Vikings defensive tackle Harrison Phillips was at the Timberwolves game with a new teammate Monday night when his fiancé made him aware of a serious situation involving former teammate Damar Hamlin.
Hamlin collapsed on the field during the first quarter of the Buffalo Bills game against the Cincinnati Bengals on Monday Night Football. He went into cardiac arrest, and needed about nine minutes to be resuscitated on the field before being taken by ambulance to the University of Cincinnati Medical Center.
Two days later, Hamlin remains in critical condition but is improving.
Phillips and his group immediately left Target Center, and he started sending text messages to former teammates to check on Hamlin. Phillips spent his first four NFL seasons in Buffalo, and was a defensive teammate of Hamlin last season before he came to the Vikings in free agency. The two had lockers near each other.
"The scene was very hard to see. I got on my knees praying and tried to figure out what can you do? There's really nothing to do other than trying to reach out to everyone you can and make sure they know they're loved and bring as much support as you can," Phillips said Wednesday.
What he could do was try to help those closest to Hamlin. Phillips spent his free time on Tuesday between watching film and rehab on the phone, trying to connect with Bills' staffers and Cincinnati medical staff to ask how he could help. Through a Bills' trainer, Phillips reached a nurse at the hospital who offered up nearby restaurants with delivery options. Phillips found a sandwich shop, and made sure Hamlin's family, Bills' staffers who stayed behind and every doctor and nurse tending to Hamlin were fed dinner Tuesday night.
He's doing the same Wednesday night with a Chipotle buffet.
"I just wanted to donate food for them so they don't have to worry about any of that," Phillips said.
Phillips is also seeking donations through his charity, Harrison's Playmakers, to pay-it-forward for future events in Hamlin's name.
"Just wanted to try to do something. The children I work with have bigger hearts than any of us, and they wanted to find ways to help out too. I opened a branch of my foundation they could support. It'll hopefully be a celebration of his life and his recovery in the months to come," Phillips said.
Phillips got to see his former teammate earlier his season in Week 10, when the Vikings came back from down 27-10 in the second half to beat the Bills 33-30 in overtime. Hamlin led the Buffalo defense with 10 tackles in that game.
The out-pouring of support for Hamlin since Monday night shows the brotherhood that exists among NFL players, even when they're enemies for 3-and-a-half hours on game day.
"Damar was close to my locker and helped out with my foundation. We are a brotherhood. It touches very, very hard for us," Phillips said. "We compete like hell when we're out there against each other, but that is a brother that I look across when I look across the line of scrimmage. I'm loving all the support and prayers. I believe in the power of prayer heavily, and I believe that's helping move the needle."