Vikings acquire Cardinals QB Josh Dobbs, trade Ezra Cleveland to Jaguars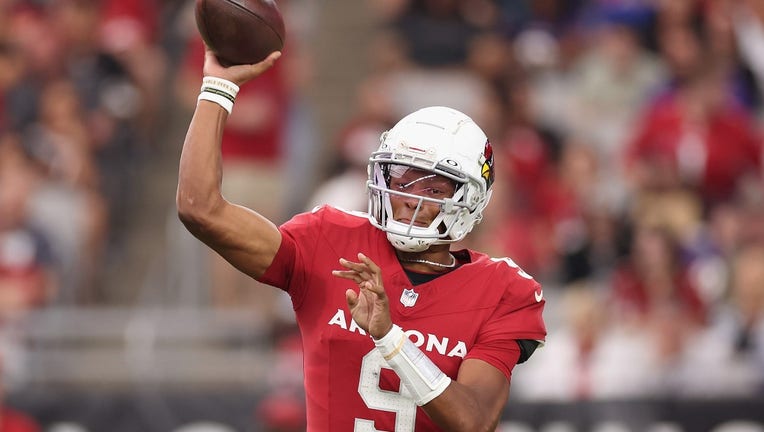 article
MINNEAPOLIS (FOX 9) - With Kirk Cousins out for the 2023 season due to a torn Achilles, the Minnesota Vikings decided to make a move before the Tuesday NFL trade deadline.
The Vikings announced they've acquired quarterback Josh Dobbs from the Arizona Cardinals. They're sending Arizona a 2024 sixth-round pick in exchange for Dobbs, and a seventh-round pick. The Vikings needed to add to their quarterback room, whether it was in the form of another available body for practice or a player they feel could start the rest of the season. Cousins was placed on injured reserve on Tuesday.
"I can tell you we've evaluated and looked at a lot of different things and really with some hopeful guidelines on what we want to do in the short-term, giving our team the best possible chance to continue the success we've been on," Vikings coach Kevin O'Connell said Tuesday. "Our team is still improving, solidifying the quarterback room and the depth there to give us multiple guys that we feel like we can go out and win with was important. We feel like Josh does that."
Dobbs is in his seventh NFL season and had started eight games for the Cardinals with Kyler Murray out. In those eight starts, Dobbs is completing 62.8 percent of his passes for 1,569 yards, eight touchdowns and five interceptions.
Dobbs was a fourth-round pick by the Pittsburgh Steelers in 2017 after having a standout college career at Tennessee. He spent two seasons with the Steelers before heading to Tennessee for the 2022 season. The Cardinals traded for Dobbs during joint practices this summer with the Vikings. Dobbs did not play in the 2019 and 2021 seasons.
Dobbs gives the Vikings a veteran option at quarterback who is also mobile. Cousins exit comes as he's second in the NFL in passing yards, tied for the league lead with 18 touchdowns and led the Vikings out of an 0-3 hole to start the season.
The Vikings have won three straight, four of their past five games and are back to .500 on the season at 4-4, behind the Detroit Lions in the NFC North Division.
"I thought it was important in our process of evaluating our options at the position to make sure we solidified our quarterback room. Josh gives us an experienced player who has started some games, played some good football against some of the best defenses in our league," O'Connell said. "This immediate solution that we found provides us with a really quality player at a time where we were able to go out and get that player without potentially leaving the world of the future and the now. We were able to accomplish both, and help our football team."
O'Connell said Tuesday the team plans to start rookie Jaren Hall at the Atlanta Falcons on Sunday while Dobbs gets acclimated to the playbook. Hall is a fifth-round pick out of BYU. Dobbs could be active in a supporting role.
VIKINGS TRADE EZRA CLEVELAND TO JAGUARS
Acquiring Dobbs wasn't the only move the Vikings made Tuesday. They traded left guard Ezra Cleveland to the Jacksonville Jaguars for a 2024 sixth-round pick. 
Cleveland was a second-round pick out of Boise State in 2020, and almost immediately took on a starting role as a rookie. He played in 13 games and started nine in his first season. He started six games this year, missing the last two with a toe injury, and has 49 career starts in three-plus NFL seasons.
The move likely means Dalton Risner is the starter at left guard for the remainder of the season.
DANIELLE HUNTER STAYING IN MINNESOTA
The 3 p.m. trade deadline passed and star edge rusher Danielle Hunter is staying with the Vikings. The subject of some rumors since the summer as he sought a new contract, Hunter leads the NFL with 10 sacks through eight games.
Hunter is eligible to become a free agent next offseason, and will likely be seeking a big payday.