D-backs slug 4 homers in record-setting barrage, sweep Dodgers with 4-2 win in Game 3 of NLDS
PHOENIX (AP) — The hard-hitting Arizona Diamondbacks rode a record-setting barrage of solo homers in the third inning to a 4-2 win in Game 3 of the NL Division Series on Wednesday night, sweeping the 100-win Los Angeles Dodgers out of the playoffs.
The D-backs return to the NL Championship Series for the first time since 2007, where they'll face either the Phillies or Braves.
Arizona — the No. 6 seed after squeezing into the NL playoff bracket with an 84-78 record — has won all five of its games during the postseason, sweeping aside both the Brewers in a best-of-three series and the Dodgers in a best-of-five.
The wild-card Diamondbacks won with brawn in this one, slugging a postseason-record four homers in the third off veteran righty Lance Lynn, all solo shots from Geraldo Perdomo, Ketel Marte, Christian Walker and Gabriel Moreno.
That gave Arizona a 4-0 lead it wouldn't relinquish.
The NL West champion Dodgers rallied for two runs in the seventh on two-out RBI singles from Chris Taylor and Kiké Hernández off side-armer Ryan Thompson, but lefty Andrew Saalfrank entered and retired Austin Barnes on a groundout.
Will Smith had a one-out single in the ninth off closer Paul Sewald, but Chris Taylor hit a flyout to deep center in front of the 413-foot sign Hernandez flied out to left to end it.
Lynn cruised through the first two innings of a scoreless game — giving no indication what was about to come.
Perdomo started the scoring with a leadoff homer, his first long ball since Aug. 13. One out later, Marte hit a 428-foot drive to right on a 1-0 cutter. With two outs, Walker pulled a 3-1 cutter to left for a 3-0 lead, drawing another roar from the Chase Field crowd.
Then came No. 4: Moreno sliced a 2-1 fastball down the line to the opposite field that right field umpire Gabe Morales called fair. But the umpires huddled and crew chief Todd Tichenor reversed the call to foul, a decision upheld by a video review.
Moreno then drove Lynn's very next pitch — a hanging slider — 420 feet over the left-field wall, flipping his bat high in the air as he started his trot.
A few moments later, a dejected Lynn handed the ball to manager Dave Roberts and trudged toward the dugout.
Lynn gave up 44 homers in the regular season, the most in the majors. The previous mark of three homers in a postseason inning had been accomplished 12 times, most recently by the Dodgers against Atlanta in 2020.
D-backs rookie right-hander Brandon Pfaadt threw 4 1/3 scoreless innings, giving up two hits and striking out two.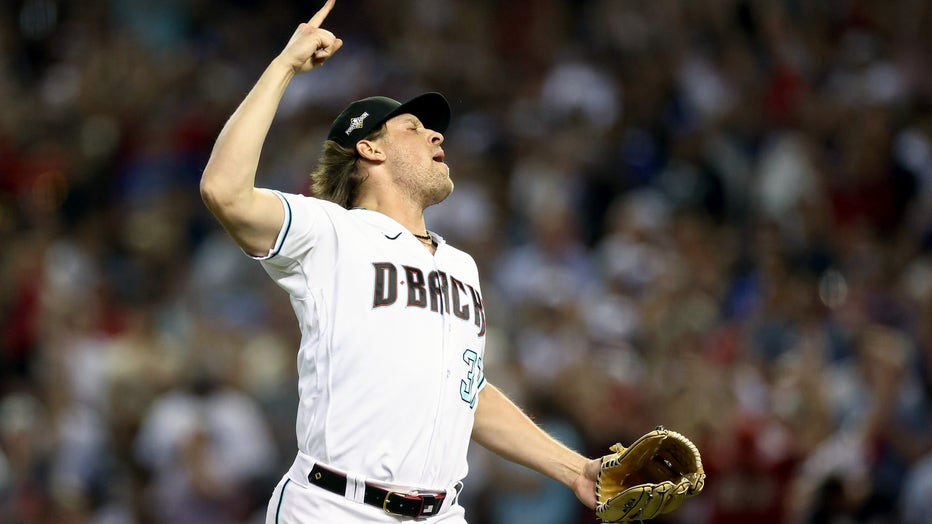 PHOENIX, ARIZONA - OCTOBER 11: Kevin Ginkel #37 of the Arizona Diamondbacks reacts after getting the third out of the eighth inning against the Los Angeles Dodgers during Game Three of the Division Series at Chase Field on October 11, 2023 in Phoenix
While the D-backs thrived, the Dodgers had no answers for a third straight game. A stacked lineup with a pair of former MVPs — Mookie Betts and Freddie Freeman — couldn't make much of an impact throughout the series.
Both All-Stars struck out in the eighth against Kevin Ginkel with a runner on first. Betts finished the series 0 for 11 while Freeman was 1 for 10.
Dodgers changes
Roberts made a few lineup changes in advance of Game 3.
He flipped Smith and J.D. Martinez in the order, dropping Smith to fifth and moving Martinez up to third. Hernández started in place of James Outman in center field.
Emotional first pitch
The four sons of Arizona Diamondbacks general manager Mike Hazen threw out the ceremonial first pitch in honor of their mom Nicole Hazen, who died from brain cancer in 2022.
Hazen's four sons are Charlie (17), John (16), Teddy (15) and Sam (13).
Nicole Hazen was diagnosed with glioblastoma in 2020 and fought the disease for more than two years. She was 45 when she died.
Roof open
It was the first playoff game at Chase Field since 2017 and the stadium's retractable roof was open. The temperature was in the high 80s at first pitch. It was a sellout crowd of 48,175.
Up next
Arizona plays Game 1 of the NL Championship Series at Atlanta or Philadelphia on Monday. The defending NL champion Phillies hold a 2-1 lead in that best-of-five series, with Game 4 on Thursday night in Philadelphia.