Bills' Damar Hamlin discharged from Buffalo hospital after completing comprehensive tests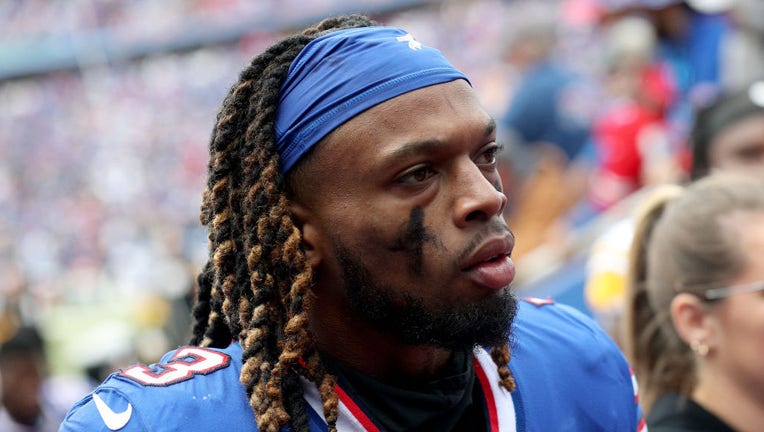 article
Damar Hamlin was discharged from a Buffalo hospital on Wednesday after he was transferred there earlier in the week from the University of Cincinnati Medical Center, the Bills said.
The organization said Hamlin was admitted to Buffalo General Medical Center/Gates Vascular Institute and went through a "comprehensive medical evaluation as well as a series of cardiac, neurological and vascular testing on Tuesday."
"We have completed a series of tests and evaluations, and in consultation with the team physicians, we are confident that Damar can be safely discharged to continue his rehabilitation at home and with the Bills," Dr. Jamie Nadler, the care team lead, critical care physician and Chief Quality Officer at Kaleida Health, said in a statement through the team.
Hamlin's clearance to go home comes a little over a week since he suffered cardiac arrest on the field during the team's game against the Cincinnati Bengals. The Bills said his heartbeat needed to be restarted on the field.
BILLS' DAMAR HAMLIN IS IN 'GOOD SPIRITS' AFTER BEING TRANSFERRED TO BUFFALO HOSPITAL, TEAM SAYS
Hamlin woke up days after being taken to the hospital, and by the end of the week, he was alert and watching the Bills game on Sunday against the New England Patriots from his bed. He was released from the Cincinnati hospital on Monday.
Dr. William A. Knight and Dr. Timothy Pritts held a press conference on Monday providing the latest – and most optimistic – update on Hamlin's condition.
"He watched the game yesterday. When the opening kickoff was run back, he jumped up and down, got out of his chair, set I think every alarm off in the ICU in the process, but he was fine. It was just the appropriate reaction to a very exciting play," Pritts revealed with a smile.
"He very much enjoyed it and enjoys the support from everyone."
Hamlin's status is a sigh of relief for the Bills who are set to play the Miami Dolphins on Sunday in the wild-card round of the playoffs.